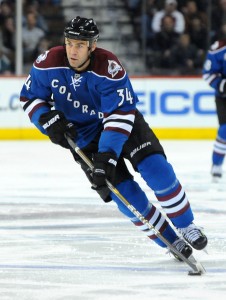 The 2012 trade deadline was more a trade dudline (how many times have you heard that one) but the Avalanche managed to be involved in one of the bigger transactions of the day.
Colorado shipped forward
Daniel Winnik
and
T.J. Galiardi
, along with a 7th round pick in the 2012 draft to San Jose for forward 
Jamie McGinn,
and prospects
Michael Sgarbossa
and
Mike Connolly
.
Though it may feel like a hard hit (Winnik was a fan favorite and
Galiardi's twitter
account had many of us in stitches), GM Greg Sherman did make the Avalanche a better team through this deal.
Dater does a nice job
breaking it down
, but let's take one more quick look at the deal:
McGinn is having a breakout year of sorts and should fit in nicely to the third line. I'll let the fans at "Fear the Fin" do the talking on the pickup:
Hits really f(******) hard, and has good offensive skills. Can produce on power play as well as 5 on 5. He's not very good defensively but he may improve. He's been the bright spot on our trash third line this season…his behindthenet stats aren't that impressive but I honestly think that's more of a reflection of how bad Handzus and Mitchell are. RFA at the end of the season but he shouldn't cost you guys that much going forward. [FtF]
Sad to see McGinn go. It seemed he had his nose in the game nearly every shift. His passing was much improved lately and he really had his head in the game and seeing the ice. I don't think this one is going to go over too well in the locker room. [FtF]
I feel like Ginner was one of our core guys… not in the traditional sense of top 6, but moreso in what he brought to the ice and the consistent effort he put out every night to get the other guys back into the game. For a team whose chemistry already looks to be struggling, I wonder if this will be good in the end. We shall see. [FtF]
So it appears as though the Avs got a guy who is great in the locker room, brings a consistently physical game to the rink every night, and can score a few goals (12 this season) every now and then, or at least as many as many as Galiardi (8) and Winnik (5). He sounds like a classic Avalanche player (except for the physical part, perhaps?) and, along with Steve Downie, automatically will make the Avs tougher to play against.
As for the prospects, it seems that the Avalanche did well in that regard, too.
Mike Connolly
has spent the 2011-12 season in the American Hockey League. He spent the previous three seasons as one of the top players in the WCHA as a member of University of Minnesota-Duluth Bulldogs. He helped lead the team to an NCAA Championship in 2011.
Hockey's Future
has him pegged as a one-day borderline second-line forward in the NHL.
The more intriguing piece is
Michael Sgarbossa
, a 19-year-old left winger currently playing in the Ontario Hockey League. And when I say playing, I mean
playing
. He's
tearing up the OHL
, having scored 41 goals and 39 assists in in 54 games for the Sudbury Wolves this season.
Hockey's Future
has him rated slightly lower than Connolly, but he seems to be an exciting player that definitely has a chance at making an impact with the Avalanche one day.
Overall, a lot of credit needs to go to Greg Sherman in shaping this team. Yeah, I was pretty
pissed
about Downie, but in the short term, at least, he's been nothing but a positive. Sherman has managed to stop the team with some legitimate top-6 players (Duchene, Stastny, O'Reilly, Landeskog, Mueller, Hejduk, Downie), a gritty (and potentially very effective) third line (Olver, McGinn, Jones) and a serviceable fourth line (McClement, Kobasew, McLeod/Porter).
The Avalanche sit two points back of the 8th spot. With 19 games to go, a consistent month of hockey will be enough for the Avs to make the playoffs and gain some valuable experience for the future.
Today will help realize that goal.