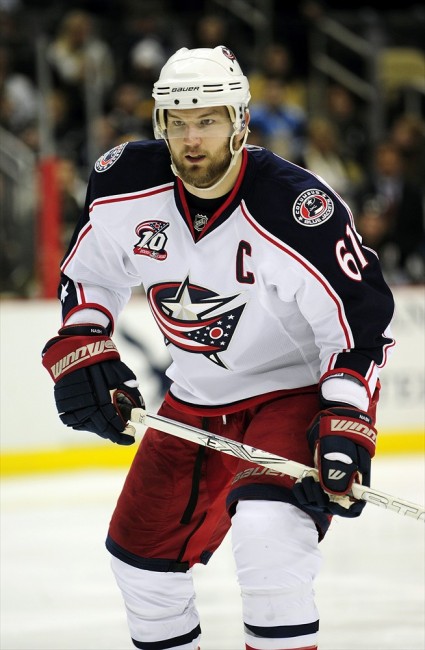 This trade deadline should almost be called the deadline that nearly went according to the script. Only 16 trades were made today and that was just in our target range of 16-18. If you were expecting this blockbuster deadline with lots of fantasy impact, we really are sorry to disappoint. Some things are out of control and this day was one of them. In a sense, however, one could see this coming from a mile away. This does not mean moves were not made but it seemed that there weren't even those prospect for late round draft pick trades that were seen in years past.
When we attempt to break this down, think of your fantasy team first and foremost. With only a few weeks left in the regular season, the trade market was low and impacts were tough to find. Fantasy GM's may be able to make trades easier than the prices that were seen on the actual trade market today. However, based on the trades made, we will attempt to use our "Chutes and Ladders" system to aid your fantasy squads in this crucial stretch.
Let's look at some Ladders….(Rising Up!)
Andrei Kostitsyn, RW, Nashville Predators — This did not look like much on the surface but Sergei Kostitsyn has turned into a nice player in Nashville and the hope is that Andrei can turn into the same. The 27 year old elder Kostitsyn had 24 points in 53 games this season and that was despite spending the last 15 games or so at the equivalent of a fourth line grinder. There seems to be a consensus that Nashville will use him in a bit more offensive of a role and may just pair him with his younger brother.
Cody Hodgson, C, Buffalo Sabres — Buffalo acquires a skilled forward that could fit very well in Buffalo's top six for years to come. It is not just the 33 points in 63 games but it is the idea that Hodgson will only continue to improve offensively from here on out. Skilled pivots that have speed and upside are hard to come by and Buffalo took a shot here. He should produce at about the same rate in Buffalo as Hodgson did in Vancouver. Expect bigger things next season.
Johnny Oduya, D, Chicago Blackhawks — While Oduya did not put up a lot of points in Winnipeg, he was smarter defensively than most give him credit for. He is 30 years old but his 13 points and -9 were pretty decent on an average Winnipeg team. With injuries, Oduya could be thrust into a slightly more offensive role in Chicago and maybe have a few more power play opportunities also. The potential for a slight uptick in all numbers across the board is very possible.
Zack Kassian, RW, Vancouver Canucks — Someone had to go the other way and Kassian was a prospect with physicality that Vancouver craved for a reason. Kassian does have offensive upside so its not a trade made strictly for one dimension as far as the fantasy spectrum. The new Canucks winger provides a hit quotient. He may even play a bit more than the 11:56 ATOI he received while playing with Buffalo. At 21, Kassian has room to develop his game and could be very effective in front of the net.
Jeff Carter, C, Los Angeles Kings — Yes this was from a trade not made on "Deadline Day" but Carter was reunited with Mike Richards (former Philadelphia Flyers). The obvious question is will Carter get back to that 84 points form? That answer is no and not under a Darryl Sutter coached team but he is going to eventually see a bump up in minutes to nearly 20 a game. That is the current projection anyway. It would not be unreasonable to see Carter end up with around 15 points from here on out. That would be a nice fantasy turn for Carter owners who desperately need to see the upside.
Sliding down the chutes……..
Jamie McGinn, LW, Colorado Avalanche — These are real tough to gauge but while McGinn will see an increase in ice time, his production will likely remain the same or slightly decline which makes him a bit of a fantasy downer. This will likely be temporary but for your short term focus, this trade hurts McGinn owners a little bit. At only 23, this player's time will come and if you are in a keeper league, this down will likely turn into an up in time.
Daniel Winnik, LW, San Jose Sharks — Winnik is a defensive forward with some scoring ability but more than likely Winnik ends up on the third or fourth line in San Jose mostly playing against the opposition's best forwards. Daniel Winnik does shoot the puck a good deal but expect that to decrease now. He will not play nearly 18:00 in San Jose, maybe 15 or 16 minutes tops. If he gets you five or six points the rest of the regular season, consider yourself lucky. Winnik will keep his defensive numbers up however.
Samuel Pahlsson, C, Vancouver Canucks — Is it possible for a player to go from next to no fantasy value to none? That answer is yes. Pahlsson will not play 15 minutes a night in Vancouver like he did in Columbus. The 11 points in 61 games probably translates to maybe three points with Vancouver, if he even sees more than "faceoff depth" time. It would be tough for Sami Pahlsson to make the impact he did in the 2007 Stanley Cup Playoffs like he did for the Anaheim Ducks. Just do not expect much.
Tom Gilbert, D, Minnesota Wild — This was a tough call but Gilbert just is not quite the same player he was. Yes he will still rack up solid ice time but his shots and points are way down from several years back. Since his 13 goal season, Gilbert has never scored above six. Even his assists project out to less than last year. Minnesota probably thinks they are getting a guy that could turn it around but at least for the rest of the season, do not bet on it.
Next week we will be back to our usual "Fantasy Chutes And Ladders". Do not forget you can follow us @TheProgramBTR for more on the fantasy landscape as the fantasy playoffs approach. Good luck in Week 20.