"Defense wins championships." This old adage seems to be taken seriously by Colorado Avalanche general manager Joe Sakic, as he built his blue line to be one of the strongest in the NHL. It includes the likes of reigning Calder Trophy winner Cale Makar, Samuel Girard, Ryan Graves, and former 1st overall pick Erik Johnson. The defensive core is so strong to the point where a player such as Connor Timmins is on the outside looking in.
The Avalanche have been incubating defensive talent in their organization over the past few years. Most noticeably selecting Makar and Bowen Byram with the fourth overall pick in 2017 and 2019 respectively. However, with the players they currently have on the roster and depth behind them, it creates a logjam. This begs the question, where would Justin Barron fit in all of this?  
Player Profile
Barron was selected by Colorado with the 25th overall pick in this past draft. During his draft year, his stock dramatically fell. He was projected to go around the top-10 before last season began but ended up in a position where some questioned if he would even be a first-round pick. This was because some scouts believed he lacked offensive upside.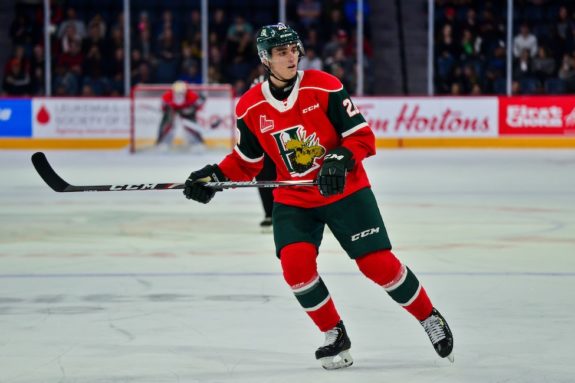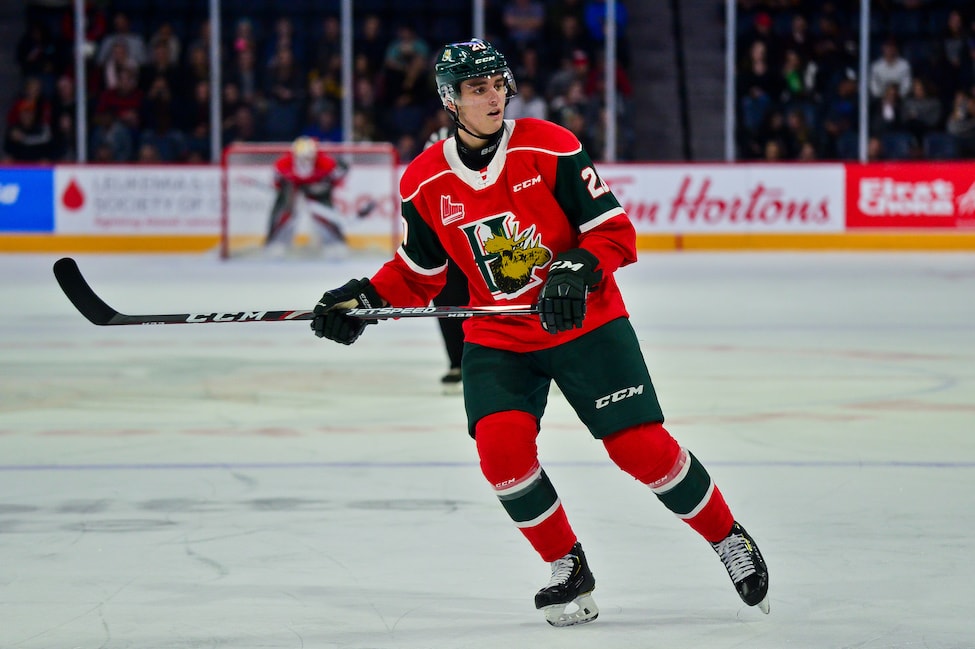 The Halifax native has the tendency to make the safe play, which sometimes comes to his downfall. Instead of making a risky play that could be rewarding, he will be more cautious. This both a plus and minus because he can provide consistency, but lacks creativity. Barron is essentially a solid, yet boring defenseman, which some teams love and others despise. 
Throughout all of this, Barron was arguably one of the best defensemen in the QMJHL last year playing with Halifax Mooseheads. He is an elite skater and has excellent edge control. The Halifax native's mobility is what makes him such a great stay-at-home defenseman. He has all the tools to improve his offensive capability, however, it's unsure if he will develop them into actuality. 
Barron is showing his defensive prowess currently in the World Juniors on a pairing with Montreal Canadiens prospect Kaiden Guhle, as they are being primarily used in a shutdown role. He has all the makings of a potential top-4 defenseman, however, the questions surrounding his game can not be ignored. 
How Far Away Is He? 
The Mooseheads star is most likely around three-to-four years away from being slotted into an NHL lineup. As great as his defensive game may be currently, he still needs plenty of time to develop. Barron is only 19-years-old, and he isn't a star-caliber defenseman like Makar that can enter the lineup at 20. Defensemen usually take a lot of time to progress as a player, Makar was and is an anomaly.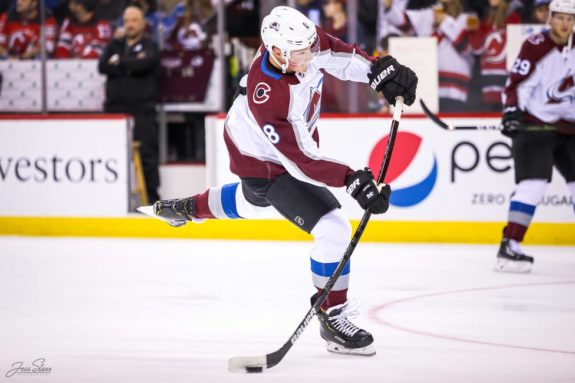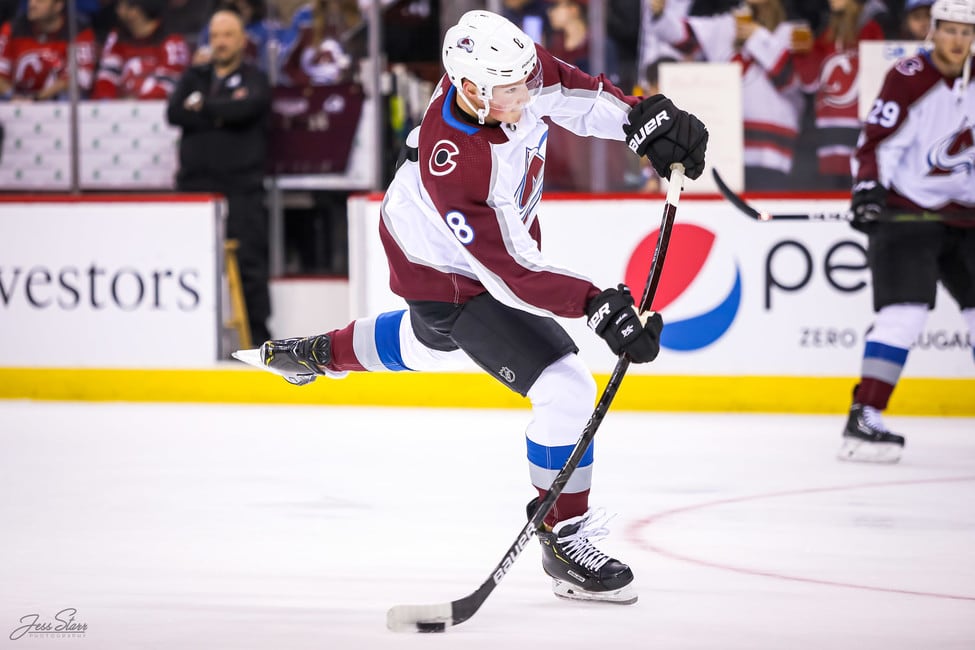 After his stint in Halifax, Barron should spend his time playing in the AHL with the Colorado Eagles. The Avalanche's AHL affiliate has done a great job in developing some of the players that are currently on their roster. Mikko Rantanen and J.T Compher are large examples of that. In his time there, expect to see him work on his offensive game. If he can be a solid two-way option, it would make him extremely viable to head coach Jared Bednar.  
This lines up perfectly with what seems as the Avalanche's timeline. Devon Toews, who was recently acquired by Colorado, will probably be gone by this time as his contract expires after four seasons. Girard and Makar will both continue to progress, with the latter potentially being a Norris-trophy caliber player.
Timmins will hopefully be fully healthy and show off the two-way play he was praised for in his time with the Sault Ste. Marie Greyhounds. Byram will most likely have a season or two of NHL experience, and be ready for some more ice time. This not only makes room for Barron, but his timing will be impeccable with the rest of the Avalanche defensive core. 
What Role Could He Fill? 
Despite the logjam on the blue line, Barron could gain some ice-time on this Avalanche team because he could fit right into the system Bednar employs. The future blue line is loaded with firepower, and they are all young which is a large bonus. When Barron seems prepared for NHL games, expect the defensive lineup to look somewhat like this: 
Graves – Makar
Girard – Timmins
Byram – Barron
The top pairing of Graves and Makar should go untouched, as they are arguably one of the best duos in the league right now, and should still be in that conversation. By the time Barron is ready Johnson's tenure in Denver will most likely come to a close, and Girard will possibly pair with Timmins, leaving a spot as the sixth defenseman on the roster paired alongside Byram.
Byram and Barron played with each other at the 2018 Hlinka Gretzky Cup, where they showed incredible chemistry. It went to the level where some considered Barron to possibly make the 2020 World Junior roster simply to play alongside Byram. Although the two are not playing with each other at this year's World Juniors, they might be paired together once again in the mile-high city.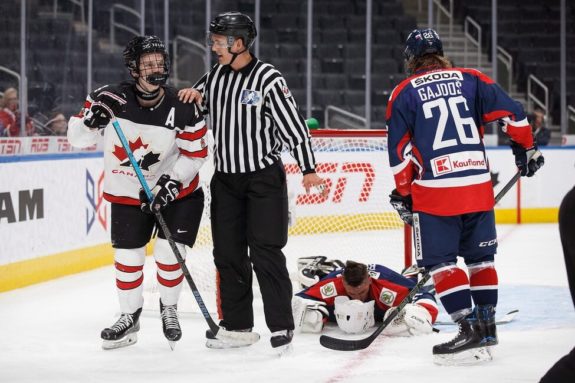 With Barron's stay-at-home playstyle and elite skating, he will allow Byram to flourish offensively. The 25th overall pick could play a role similar to what Charlie McAvoy did in Boston whenever he was paired with Torey Krug. This is not to say they would be on the same talent level, but in terms of playstyle, they could be extremely alike. 
This would, in turn, create symmetry between each pairing in Denver, where there is one defenseman who can be offensively dominant (Makar, Girard, and Byram), and his partner can provide a steady presence that allows him to do so (Graves, Timmins, Barron). Bednar is also a coach who likes to encourage his defenseman to be involved in the play and having a player who can protect the neutral zone on each pair strengthens this sentiment.
In essence, Barron has the potential to fill a role Colorado needs –  a steady sixth defenseman. It will take him a few years to do so, however, if he fulfills the promise he has shown in the QMJHL and World Juniors, the Avalanche blue line will become even more dangerous.
---
---
My name is Ilyas, I'm 18-years-old, I was raised in Toronto, and currently enrolled in the Ryerson School of Journalism. I cover the Colorado Avalanche here at The Hockey Writers.