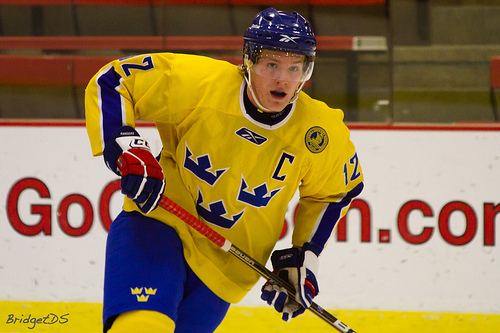 With no end in sight for the NHL lockout, Avalanche fans may have to get used to seeing some of the team's marquee players suiting up for European clubs. To date, three Avs – Gabriel Landeskog, Matt Duchene, and Semyon Varlamov – are playing overseas. How are they doing? And will it be good for their development in the long run?
Gabriel Landeskog
Playing For: Djurgarden (Allsvenskan)
Having played for Djurgarden from 2007-2009 (until he came over to North America to play in the CHL), Landeskog has returned to his roots to play in the second-tier Swedish league.  There are some other notable names in the league this season, including LA Kings superstar, Anze Kopitar, the Philadelphia Flyers' Matt Read, and the Washington Capitals' top prospect, Filip Forsberg. On the team itself, which was relegated in 2012, Landeskog is joined by fellow NHLer, Douglas Murray.
Thus far, Landeskog has dressed for two games (Djurgarden has played 11), and he currently has two goals and and one assist.
Good For Development? NO
As the reigning Calder Trophy winner, the freshly minted Avalanche captain is only hurt by having to delay the process of racking up NHL experience. The quality of competition in Allsvenskan isn't up to par with the NHL, and it's not going to help Landeskog – at this stage in his career – to play against inferior opponents.
Matt Duchene 
Playing For: Frolunda (SEL)
In his first stint in Europe, Duchene finds himself playing in Sweden's top league for Frolunda, a quarterfinalist last season. With two assists in three games, Duchene did this:
http://www.youtube.com/watch?v=v8azmy-7PNw
Good For Development? YES
It's not really arguable that Duchene has been disappointing over the last two NHL seasons. He's had trouble gelling with linemates, and has been maddeningly inconsistent – both health wise and playing wise. Anything that sparks Duchene to find a new level of creativity or energy to add to his game is a good thing, and the SEL has it's share of supremely talented players.
Semyon Varlamov 
Playing For: Lokomotiv (KHL)
The Lokomotiv tragedy and Varlamov's connection to it is heartbreaking, and it came as no real surprise that Varly wanted to play for the team during the lockout. Oddly enough, Varly's decision means that he is now the current backup to former Avalanche prospect, Vitaly Kolesnik.
Varlamov has played admirably, so far. In six games played, he is 3-1-2 with a 2.25 GAA and a .932 save percentage. Lokomotiv currently sits second in the league with 34 points, trailing only Dynamo, of Alex Ovechkin fame.
Good for Development? YES
Goaltenders need to play, and the KHL is one of Europe's best leagues in terms of quality. Clearly, Varlamov has been sharp, and this should only be beneficial when (if) NHL play resumes.