Dr. Jekyll & Mr. Hyde
There is no denying that San Jose Sharks GM Doug Wilson and head coach Todd McLellan are some of the best in the business in their respective roles. Wilson has put together a playoff team every year for over a decade and McLellan has come up with some brilliant moves (moving Brent Burns to forward in middle of 2013 season comes to mind). However, where both these men turn from Dr. Jekyll to Mr. Hyde is with their stubbornness to sign and dress NHL players that offer little to no value outside of fighting.
This isn't the 1980's anymore. Teams can no longer go deep in the postseason with fourth line players who consistently fail to reach as few as 10 points in a season.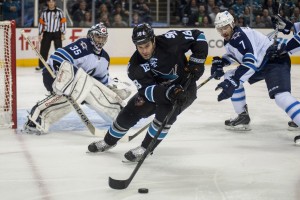 It is mind boggling how a club that annually struggles with secondary scoring is employing three forwards in Mike Brown, Adam Burish, and John Scott, who combined for just six, SIX points a year ago. Not six goals, not six assists, but only six POINTS last season in a combined 119 games. They provide zero offense, none, zilch, nada. And it's not like they play any defense either, as they combined for a minus-26 rating. Not to mention fighting is being fazed out of the league, especially when you consider the grandfathered in mandatory visor.
Need Four Good Lines
Fighting, as many studies have shown, does not help prevent cheap shots to star players. Every team needs a handful of particularly physical/strong players. However, there has to be some skill attached in today's game. The fourth lines in the Stanley Cup Final last year were Kyle Clifford, Mike Richards, Trevor Lewis, and Derek Dorsett, Dominic Moore, and Brian Boyle.
You have to have to be able to roll four lines in the playoffs these days if you want to go deep. When the Sharks are trailing by a goal late, a line with Brown and Burish is not going to cut it. They simply aren't a good enough threat to score.
It is inconceivable that the Sharks didn't dress Tyler Kennedy for a single playoff game during the Kings series but dressed Brown in six out of seven. There is a reason Brown has only played more than 50 games in a season once in his seven year career. He is frequently a healthy scratch. He is a career minus-31 with a points per game average of .09. Kennedy struggled in his first year with the Sharks last season, that is an undisputed fact. But he was acquired for his postseason depth scoring, it took a second round pick to get him. Brown was acquired for a fourth. Kennedy still managed 17 points in his down year, more than double Brown's career high. Teams need depth scoring in the playoffs. Physical play is a bonus from certain players, but not at the expense of any discernible offensive or defensive ability.
Dynamic Trio
Between Brown, Burish, and Scott, the Sharks employ three of the worst forwards in the NHL. There are few established NHL forwards that you could possibly argue are worse than these three. Yet somehow, the Sharks signed both Burish and Brown to multiple year deals despite never giving Scott Nichol, (who everyone will tell you was a much better fourth line player) a multi-year deal. According to behindthenet.ca, Scott was the worst Buffalo Sabres possession player who played more than 30 games last season. Brown likewise was dead last in corsi on the Sharks last season and Burish was last in 2012-13. Obviously somebody has to be last, but these "established" NHL veterans are last behind career AHLers like John McCarthy, and by a good margin.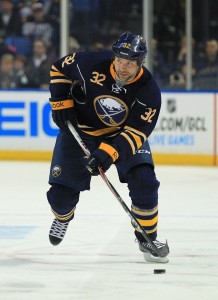 Combined, these three Sharks fourth liners make up $3.7 million of their cap space. Nearly four million dollars. For a little bit more than that, the Sharks could probably have convinced Christian Ehrhoff to return. Heck, even spending all of that $3.7 million on bringing back Manny Malhotra, who signed for just $850K, would have been a better use of money. He had 13 points last year, double what Brown/Burish/Scott combined to produce and that was in 50 fewer games. Not to mention he is one of the best face-off men in the game at nearly 60% every year and is a dynamite defensive center. Would it be a severe overpay? Yes, but sadly still a much better use of that 3.7 million.
For Comparison's Sake
The Sharks are still a really, really good team. But it is difficult to take them seriously as contenders when they continually fail to ice adequate bottom six forwards. The reason the Kings and Blackhawks go deep every year is not because their star players are far and away better than the star players for the Sharks, Ducks, and Blues, they aren't. It's because their depth players are vastly superior. The Blackhawks have Marcus Kruger and Ben Smith on their fourth line. Each of them had over 20 points last season. San Jose's projected fourth line for the opener in LA tonight combined for just 22 total amongst all three of them. Seventeen of those from Andrew Desjardins.
The Sharks are going to open Wednesday with a bottom six featuring two players yet to establish themselves as NHL regulars in Tye McGinn and Chris Tierney.
San Jose bottom six:
McGinn-Tierney-Tommy Wingels
Brown-Desjardins-Burish
While it must be noted that the Sharks are without Raffi Torres, James Sheppard, and Kennedy at the moment, those guys healthy still wouldn't be as good as what the Kings nor Blackhawks are going to feature.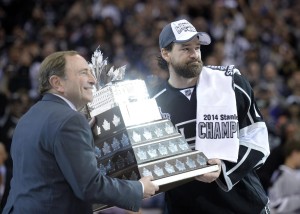 Los Angeles bottom six:
Dwight King—Mike Richards—Justin Williams
Kyle Clifford—Jarret Stoll— Trevor Lewis
Chicago bottom six:
Bryan Bickell—Brad Richards—Kris Versteeg
Marcus Kruger—Jeremy Morin—Ben Smith
The Kings and Hawks have four lines that can each cause opponents fits on any given shift. The Sharks however, consistently feature a fourth line that struggles at both ends and a third that is likewise inferior to its peers while without Joe Pavelski.
Until the Sharks come to this realization that they have been failing to put together a strong enough bottom six (5-2 record in playoff series with Pavelski/Malhotra at 3C, 0-3 with Handzus, Gomez, Sheppard since 2010), they will continue to fall short of winning the Stanley Cup. It is a frustrating truth for a fan base desperately hoping they will finally win the Cup after years of regular season success and playoff flops. Don't blame Joe Thornton, nor Patrick Marleau, they are going to the hall of fame. Blame the lack of secondary scoring that never gets fixed.
Andrew has been credentialed to cover the Sharks since 2010 and the 49ers since 2012. He graduated with his BA in Broadcast Electronic Communication Arts in 2013 from San Francisco State University.