With 91 points and 14 games to go, it is time to take stock of the rest of the Predators' regular season progress. The Nashville Predators are in position to finish with their best season in the franchise's history with 91 points so far and 14 games to go. They have done so behind, or rather in front of, their netminder, Pekka Rinne.
Pekka Rinne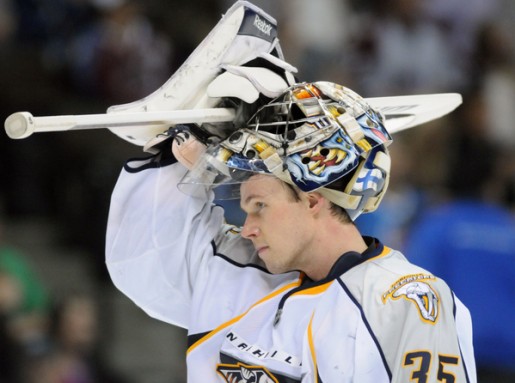 Rinne is having another career year. He gives up a paltry 2.11 goals per sixty minutes and saves 92.7% of the shots he faces putting him at second and third in each category, respectively, in the league. Surprisingly, however, the Predators might have their best chance to make a quality playoff run by putting their star on the bench in the final month.
Predators Slumping
Despite a slump in the last two weeks, in which the Predators have gone 1 – 6, half of those losses were single goal efforts by the Predators, suggesting that a lack of offensive support is somewhat to blame for their recent struggles. In the five losses Rinne started in that time period, he posted an 88.9% save percentage, which remains a respectable rate.
Rinne's stellar statistics have made him a contender for the Vezina Trophy, an award given annually to the best goaltender as decided by the 30 NHL general managers. He was a finalist for the trophy in 2010-2011 and 2011-2012 seasons.
Run to the Cup
The Predators are on track to have the highest point total in the league which would win them the franchise's first ever President's Trophy – a worthy goal. And while President's Trophy winners do go on to win the Stanley Cup about 29% of the time, postseason success it is far from guaranteed to regular season champs.
If the Predators want to make a solid Cup run, they will need to have all hands on deck. That starts with a healthy Rinne who missed eight games with a sprained knee. Just as Colorado Avalanche head coach Patrick Roy started pulling his goalie exceptionally early in games when losing last year, the Predators should start backup goalie Carter Hutton for most of the games down the final stretch.
Carter Hutton has posted a 2.48 goals against per sixty minutes rate and a 90.7% save percentage after playing 14 full games this season, better than Rinne during the last weeks.
With one month, 14 games, and 28 available points remaining in the regular season, now is the time for the Predators to turn their eyes to the playoffs. The Predators are already in good shape to make the playoffs and are looking at a good seed in the Western Conference. A lightened workload for Rinne will ensure that he will be healthy between the pipes for a playoff run.