In the Edmonton Oilers loss to Carolina on Friday, it was more than missing two points and losing their third consecutive game that has drawn concern in Edmonton. In the defeat, rookie defenseman Matthew Benning took a hellacious hit behind the net and didn't return to the game. He will be sidelined indefinitely.
While Benning hasn't been at the forefront of conversations when it comes to the Oilers blue line, this is a big loss for the team. Individually, Benning was performing well beyond the expectations of a rookie defender. He had two goals and 10 points in 41 games and over the course of the current 2016-17 season, Benning sat atop the blue line as Edmonton's leading Corsi for percentage defensemen in 5×5 situations at 53.9%. For a first time NHL regular, he was a possession machine and he was doing so while earning the trust of the coaching staff, getting more ice time and playing against tougher competition. His power play numbers, points per 60 minutes and goals for % were equally as impressive.
To make matters worse, Benning's injury comes at a time that the Oilers can't really afford the loss.
Bad Timing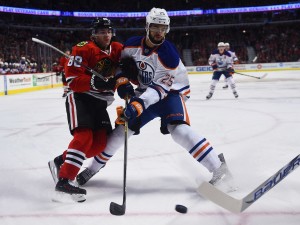 Losing such a young, well-rounded and strong possession defender is bad enough. But, Kris Russell — the Oilers' designated lightning rod of controversy— got banged up, Darnell Nurse is still out with an ankle injury and Eric Gryba has struggled this season to fill the void when called upon. As a result, the Oilers will look to AHL call-ups Griffin Reinhart and Jordan Oesterle to come in and prove the team doesn't need to analyze the trade deadline market to fill the holes left by an ever-depleting blue line.
The Oilers are also on a three-game slide. A similar slide, that barring one stretch this season where the team lost five in a row, Edmonton has been able to avoid most of the season. Earning points in games has been Edmonton's saving grace this season. They've been a good team, but they've also moved slowly up the standings in victory and defeat. The Oilers will now need to try and get back on that trend with only three bonafide NHL defenders.
The Options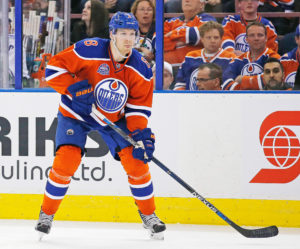 If Benning's injury is serious, there are a couple of choices. First, is allowing for a small stretch of games to see how Oesterle and Reinhart perform. Both have done well in Bakersfield with Reinhart standing out as a player who may have found some confidence in his game. He's got five goals and 11 points in 29 games and he's earned the trust of the AHL coaching staff. He'll likely slot in on the left side of Edmonton's third pair. Oesterle may be Edmonton's seventh defender, sharing time with Eric Gryba.
What might cushion the blow a bit is the bye week that the Oilers have coming. This will give some time for nicked-up players to heal and management to assess the damage. The more non-serious injuries may just need a little rest time while the bigger issues may require formulating a plan.
The second option is implementing that plan. It involves looking around the league to see what is available in the NHL marketplace — an option the Oilers may have been considering anyway.  If some of Edmonton's minute-munching defensemen are not able to go, rentals like Kevin Shattenkirk, Mike Green or others may be a target.
In either case, Matthew Benning has given the Oilers solid minutes and made himself a big part of the conversations that involve any long-term plans for the team's defensive structure. That he's done so as a college signing and a rookie in the NHL bodes well for Edmonton. He was likely an important piece of the puzzle heading into a potential playoff appearance. The Oilers will cross their fingers that he'll be back in time to help them secure a spot.