The Stanley Cup Playoffs finally returned to Winnipeg this year and just as they came they went, but the Jets fans wouldn't be silenced easily. The Jets fans were one of the loudest playoff crowds thus far, all dressed in white for the entire fan-base Whiteout as they were excited to celebrate having playoff hockey back for the first time in 19 years.
The rowdy, packed house heckled out "Katy Perry" chants directed towards Anaheim star player Corey Perry and have been under fire since.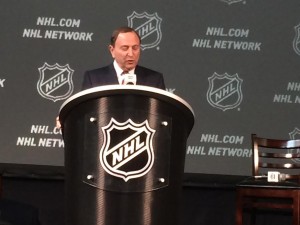 NHL Commissioner Gary Bettman was asked by a reporter from The Sporting News' at the league headquarters during the annual meeting with Associates Press Sports Editors, if he felt the chant by the whiteout crowd were sexist toward the leagues female fan base.
Bettman replied with  "You think that's sexist? Taunting chants aren't intended to be sexist."
Bettman also fired back with referring to the sexist remarks as being taken "overly literal"
As a fan you do anything to get inside the oppositions head. The chant can be taken as a slam at Perry by comparing him to a somewhat prima donna pop star that targets his "manhood" or it can be taken into deeper feelings due to previous heckles from NHL fans toward other stars such as Sidney Crosby, calling him "Cindy Crosby" and the Sedin twins by calling them the "Sedin Sisters."
We continue to see improvements in the way these sensitive situations are treated by such campaigns as the #LikeAGirl campaign and others just like it taking a stand on the way women are portrayed.
Michael is in his first year with the Hockey Writers covering the latest news on the New York Rangers. Michael is employed by the Madison Square Garden Company, having worked with the New York Rangers Hockey Administration Department and with the New York Knicks organization.