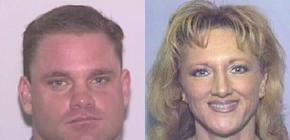 Florida residents Richard Thomas and his wife Sandy were arrested yesterday after authorities seized $200,000 in illegal steroids.  According to WFLA in Florida, authorities are still determining whether Richard "Andy" Thomas was telling the truth when he said that he is the biggest dealer in Central Florida and has sold steroids to many professional athletes including players on the Washington Capitals and Washington Nationals.
At a 10 pm news conference last night, Polk County Sheriff Grady Judd said the Thomas's did not say which individuals they sold steroids to:
"The only thing he said specifically was he sold to the Washington Capitals and the Washington Nationals," Judd said. "We asked him because we knew that would create a firestorm on two more occasions because we don't want to be quoted as saying that. Richard Thomas told us that he sold steroids to ballplayers on those teams. Now, is that one ballplayer? Or is it two ballplayers? We don't know."
Nationals' president Stan Kasten is also looking into the report, but has not released a statement.
Richard and Sandy were both charged with 10 counts of possession of anabolic steroids with intent to sell and deliver, one count of possession with a firearm, 10 counts of importation of anabolic steroids within the state of Florida, and one count of maintaining a residence for selling the steroids.
A few Washington Capitals players have already come out and denied steroid use in their locker room and in the NHL.
Capitals Forward Donald Brashear–
"All I can say is that we get tested two, three times a year and there's never been anybody that tested positive, so, I mean, I don't know if that's true or not. "I would really doubt [teammates or other players taking steroids]. I mean, I would really doubt it. I don't know. It's a tough position; it's hard to say, I mean, maybe there is and we don't know the ones that are doing it. They wouldn't necessarily tell us."
Former Capital and Florida Panther defenseman Steve Eminger–
"No, never, not once [heard anything or saw anything steroids with the Caps]– it was never talked about once," Eminger said. "We got tested two-three times a year. Never once — I don't know, you see guys. Guys aren't extremely ripped or anything."
"I can honestly say I never heard or seen anything about steroids in our dressing room," Fehr said. "That's the first I've ever heard of it."

"Honestly, we have steroid testing — that would be the stupidest thing in the world to take something. That's not even something I've even thought of thinking with any guys on our team."
This sure won't be the last of this story we'll here, so updates will come when made available.
UPDATE: Here's Brooks Laich (the Capitals' NHL Players' Association Representative) on the matter-
We're not worried because I don't think any of our guys have done it or have tested positive for it. The last two seasons we've been tested three times each, which is the maximum allowed. Two, we're not worried because he hasn't specified whether it was 10 years ago. He said he's been selling for 10-plus years. He just threw a name out there and knew the media was going to run with it.
You can read the whole interview here.