The Chicago Blackhawks have a plethora of draft picks for the upcoming 2023 NHL Entry Draft being held in Nashville, Tennessee. This is a prime opportunity for general manager Kyle Davidson to draft a difference maker to don the iconic red Blackhawks jersey. The organization will most likely be taking the closest thing to a sure bet in Connor Bedard first overall. Therefore, it makes sense to make a riskier selection with the 19th-overall pick. Oliver Moore represents exactly where a skill and speed based NHL game is headed. He is clearly the fastest and most agile skater in the upcoming draft and more times than not, elite skaters carve out roles in the NHL as prolific players.
More Than Just a Fast Skater
Moore has superb offensive instincts that pairs well with a very quick release and an accurate shot. He's extremely confident with the puck and he's not afraid to carry it into dangerous areas. I noticed when watching his game that he isn't going to blow you away with a slapshot, but his wrist shot and snapshot are electric. For this reason, he reminds me a lot of Nikolaj Ehlers of the Winnipeg Jets. Both players are left-handers who love to receive the puck on the left side at the top of the point or on the half wall and back the opposition down with their speed. This allows each player to have enough time and space to either shoot or pass, which creates a ton of opportunities at 5-on-5 and on the power play.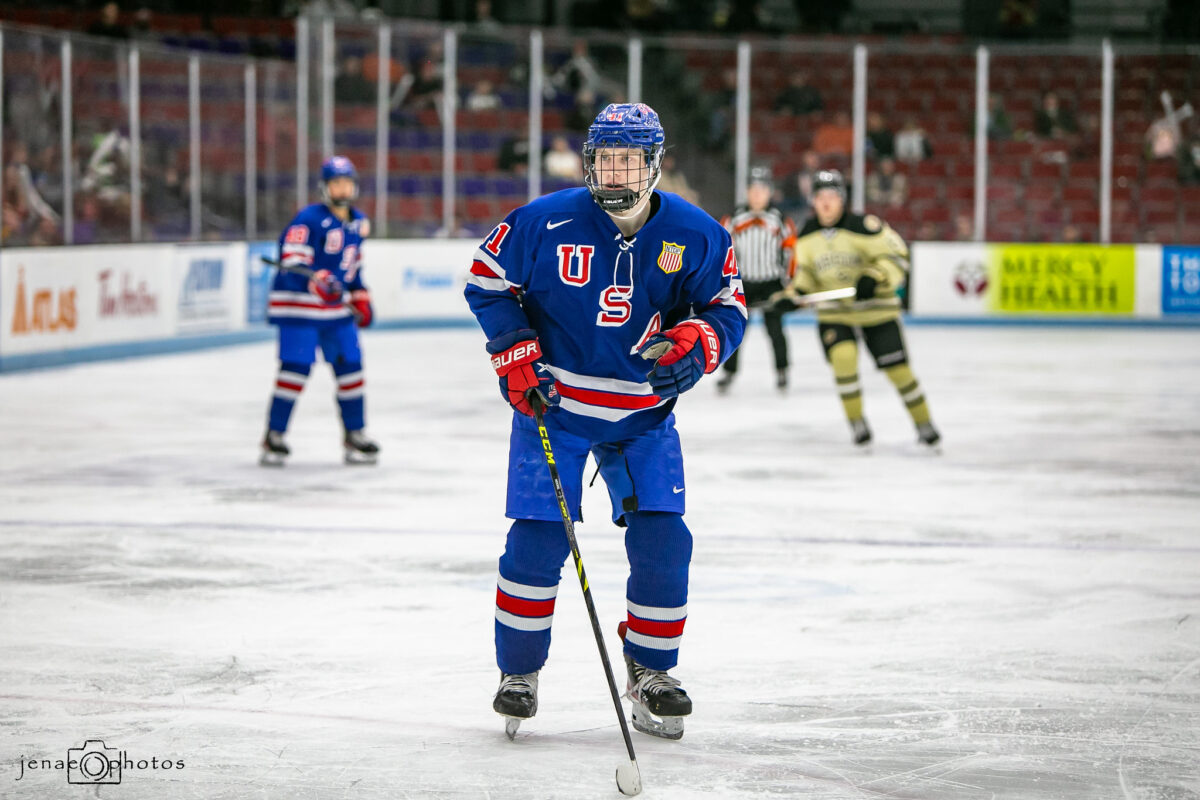 From comparing Moore and Ehlers directly, I noticed Ehlers was a lot better at creating chances taking on multiple defenders at once on the rush, while the majority of Moore's rush chances were in 1-on-1 situations or odd man rushes. This is something he can continue to work on as he develops. One area I thought was more noticeable was his compete level and two-way play. Although he's not the biggest guy, Moore has always seemed to be in a solid defensive position and has the skills of a very good back-checker. A lot of this could just be attributed to his elite speed that gets him into the right position, but its very common for offensive NHL entry draft prospects to have a non-existent two-way game when drafted. For these reasons, I think a better comparison for Moore is Detroit Red Wings centre, Dylan Larkin.
Why He's Falling as of Late
Moore has been ranked highly all season, yet as of late he's falling deeper and deeper when it comes to analyst mock drafts. He is a 5-foot-11, 176 pound, left-handed centre who will need to bulk up in order to have success at the NHL level. For these reasons, he's seeing a Cole Caufield-like decline and perception as draft day approaches. There is also some concern that his game won't translate at the centre position in the NHL.

I don't necessarily see this concern as many players of this build and play style have gone onto become stars as a centre; Tim Stutzle, Larkin, Mathew Barzal, and Brayden Point, just to name a few. As a result, Moore will probably be spending the next two to three seasons playing for the University of Minnesota as he develops.
Why He's Worth the Risk
Moore possesses a skill in the ability to carry the puck into the zone that only a few superstars have. With this skill and just an NHL average two-way game, he could create such a high volume of scoring chances that he puts up 65-75 points once he's developed. The reason I make this claim is because carrying the puck into the zone is twice as likely to lead to a shot on goal or an actual goal being scored compared to dumping it in. To put it simply, Moore has a skill that almost always translates to being an offensive force in the NHL. 
A Chance to Have the Best Transition Team
The Blackhawks have such a unique opportunity to set themselves up to be an elite transition team in the long-term future. As according to Smaht Scouting, the two best transition players in the 2023 Entry Draft are projected Blackhawk Bedard and Blackhawk hopeful Moore in second place.
Related: Oliver Moore – 2023 NHL Draft Prospect Profile
---
Latest News & Highlights
---
This could give the Blackhawks two separate players who could have the ability to carry their own individual line by themselves just because of their transition skills. Mix in other offensively talented prospects like Frank Nazar and Lukas Reichel and the Blackhawks' future top-six could be getting set up very nicely to be filled with tons of high-end skill, speed and talent.
---
---