Just when you thought it was going to be a slow news day, the Chicago Blackhawks made three new hires, including the first-ever female development coach. Also, head coach Jeremy Colliton opened up about the team's early-season struggles and how he envisions the upcoming season to go. Finally, someone who isn't struggling these days is Kirby Dach, as we check in on him with Team Canada.
Historic Hockey Ops Hires
The Blackhawks added three new members to their Hockey Operations Department, who will all be very active at the American Hockey League (AHL) level with the Rockford IceHogs. The team has hired Kendall Coyne Schofield as Player Development Coach & Youth Hockey Growth Specialist, Erik Condra as Player Development Coach and Juan Gonzalez as the IceHogs' Strength & Conditioning Coach.
Coyne is a native of the south suburbs of Chicago. She was a longtime star with the United States Women's National Ice Hockey Team, winning gold and silver medals at the Winter Olympics and six IIHF Women's World Championships. In 2019, she became the first woman to compete in the NHL All-Star skills competition, taking part in the fastest-skater challenge. She has also done some broadcast work with NBC Sports on the national level and with the San Jose Sharks.
Condra is another Notre Dame alum to join the organization. He was originally drafted in the seventh round of the 2006 NHL Entry Draft by the Ottawa Senators. He played in 372 NHL games with the Senators, Tampa Bay Lightning and Dallas Stars. He is no stranger to the AHL, as he was a veteran of 362 games in the league, including 53 this past season with the Colorado Eagles.
Coyne and Condra will both work closely with Derek King and his coaching staff in Rockford. They will help in developing the skills of the players already on the roster while also scouting potential prospects. Coyne, the first female hired for this position by the Blackhawks, will also serve as a local community liaison, focusing on youth hockey programs and clinics.
Gonzalez, a Chicago native, has worked with the USA Hockey National Development Program where he worked with the U-17 and U-18 teams and their off-ice workout programs. He will oversee the strength and conditions programs for the IceHogs. He is taking over for Kristian Skarphagen, who spent the last two seasons in this position.
Colliton Reveals Plans & Hopes
While October of 2019 feels like it was a decade ago after this crazy 2020, you may remember that Blackhawks got off to a very slow start to the season. After just two wins in their first eight games, Colliton expressed his frustrations by snapping "it's not the combos" after a loss to the Philadelphia Flyers.
The Blackhawks were supposed to be a well-oiled machine with a training camp under Colliton, who took over the reins from Joel Quenneville the previous November. So, what was the problem? According to his recent conversation with Ben Pope of the Chicago Sun-Times, it was the effort and commitment of the team.
''The point that I was trying to make is work ethic and competitiveness and team-first decisions, that's what helps you win,'' Colliton said this week. ''If you don't have that as a base, nothing else matters.

''Are [lines] important? Are they something we still talk about all the time? Yes. If they didn't matter, we wouldn't change things around, trying to look for a spark. But there is no spark if there is no work ethic.''

From "Jeremy Colliton, entering third season as coach, hopes to nourish Blackhawks' rediscovered work ethic" by Ben Pope – Chicago Sun-Times, 11/21/20
He noted that things started to change in late December as the team starting to work harder, especially when they didn't have the puck. Colliton was impressed with his team's work ethic during the summer when it returned to the ice after the season was paused.
As he and Pope noted, one factor in the change was finally abandoning his "overload" defensive system to a more standard and aggressive plan of attack. In the old system, the strong-side wing would drop down low to help out the defensemen. While this aided in shot suppression, it made it difficult for clean zone exits and a poor transition game which are so important in today's NHL.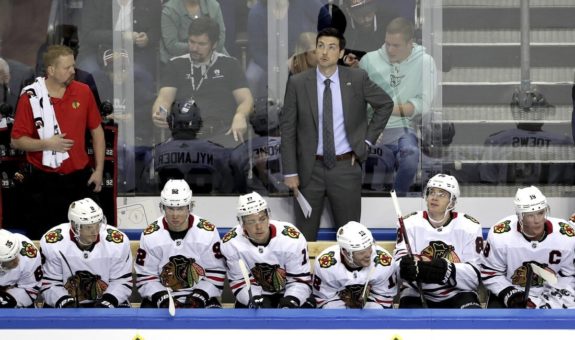 The newer system calls for both wingers to stay higher in the zone and be prepared for a counterattack. This is a risk/reward way of playing, as it both helped the Blackhawks' offense get back on track, but also led them to give the most shots and scoring chances in the entire NHL. Colliton is sticking with this system for the upcoming season. He is confident that the additions of blueliner Nikita Zadorov and defensive-minded centers Mattias Janmark and Lucas Wallmark will help.
''The teams that have success, they're able to control the pace and tempo of the game by playing in the offensive zone,'' he said. ''In order to do that, you need guys that are competitive, hard-working, responsible, play on the right side of the puck. Those guys can add that to our group. The more of them that you have, it pushes everyone in the right direction. It's some peer pressure.''
We shall see if year three is the magic season for Colliton. Despite the low expectations as far as winning is concerned, you want to see a progression from him as a coach. He still has plenty of shortcomings and flaws to work out, most of which come from inexperience. This is the final year of his current contract, so the way the Blackhawks come out of the gate will likely go a long way on whether or not he gets an extension.
Dach Dominating at Camp
Team Canada has assembled quite the roster for their World Junior Championship selection camp. Dach is has been one of the most impressive players over the past week, including during their pair of intrasquad games over the weekend.
Although the youngster was held off the scoresheet in the first game, he was still very noticeable on the ice. In Sunday's game, Dach was given two new wingers in Calgary Flames prospect Connor Zary and Philip Tomasino, the Nashville Predators' 2019 first-round draft pick.
The combination worked extremely well together, combining for four of Team White's six goals in a 6-3 win over Team Red. Dach opened up the scoring by camping out in front of the net and cleaning a rebound.
He assisted on Tomasino's goal to give Team White a 2-0 lead, and this beauty should remind Blackhawks fans of one of the all-time greats to ever play in Chicago.
Kirby Dach is at it again.

This time, he pulls of a fancy spin-o-rama and gets the puck on net, where Philip Tomasino grabs the rebound and makes it 2-0 for Canada White. #WorldJuniors #Blackhawks #preds pic.twitter.com/cZVQh2r108

— Steven Ellis (@StevenEllisTHN) November 23, 2020
Moments later, Dach drove hard again to the net and was rewarded with his second goal of the night, as his domination continued.
And before they can even update the scoreboard, Kirby Dach gets another one: pic.twitter.com/AmOzrfzkIT

— Scott Wheeler (@scottcwheeler) November 23, 2020
The line of Zary, Dach and Tomasino could very well be Canada's first line when the tournament starts on Dec. 26. This is exactly what you wanted to see out of the Blackhawks' rising star. A youngster who has essentially a full NHL season and a taste of the Stanley Cup Playoffs under his belt should be the best player on a rink full of junior players.
If you want to hear more about Dach and all things Chicago hockey, make sure you tune into tonight's new episode of Blackhawks Banter. Our Blackhawks crew will get together to discuss all the latest news and rumors, starting at 8pm ET, as we do every Monday night. Please like The Hockey Writers' Facebook page and subscribe to our YouTube channel to be notified when the broadcast goes live and stay up to date all the latest.
---