Team Canada's selection camp kicked into high gear on Saturday night, as Team White took on Team Red in the first of three intrasquad scrimmages from the oddly quiet Westerner Park Centrium in Red Deer, Alberta. In an event that usually draws in dozens of journalists and media personnel, the best junior players from across the country faced off in front of primarily empty seats, with the voices of fellow players being the only sound echoing throughout the arena.
Team White, led by the likes of Dylan Cozens and Kirby Dach, defeated Team Red 4-2, as players continue to jostle for positioning before preliminary cuts are made. In a fast paced, energy-filled matchup, the first scrimmage came as advertised — with handfuls of speed and skill on full display.
With an astronomical 26 first-round picks at camp, Team Canada once again has a high-octane, offensively driven roster to work with. And what do you get when there's a healthy mix of players battling it out for just 25 roster spots? Scrimmages that are fun to watch with intensity levels through the roof.
Here are three takeaways from the first in what promises to be an exciting set of scrimmages over the next few days.
1. Krebs and Mercer Make Their Mark
If I was going to attempt to acknowledge each and every standout from the first scrimmage, I'd be here until Boxing Day. There are simply too many players to go over, and too many players that I'd omit accidentally.
However, whether you think a certain player deserves recognition or not, it's undeniable that both Team Red and Team White had a player consistently playing at a level above everyone else. Those two names would be Peyton Krebs and Dawson Mercer, respectively, as both rose above expectation and showed the type of value they could bring to Team Canada.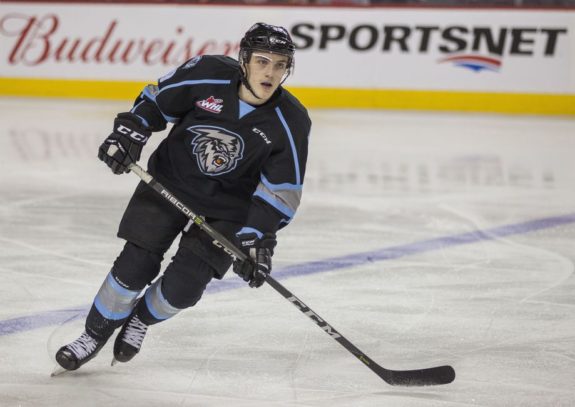 Krebs, a Vegas Golden Knights first-round selection from 2019, was an instrumental figure on Team Red's power play, embracing the bumper role from the left side and distributing the puck to all quadrants of the ice. Whether it was a drop pass to Bowen Byram at the top of the zone, or a dish down low to Samuel Poulin, Krebs found himself teeing up the majority of Team Red's chances on the power play.
Noted by scouts as a "natural leader," Krebs excelled in the smaller aspects of the game as well. Often finding himself in an effective defensive position, the Okotoks product showed off his shifty skating abilities that allowed him to dart around defenders and create space for teammates. Should Krebs continue to embrace his prominent role with Team Red, there should be a jersey with his name on it when camp wraps up.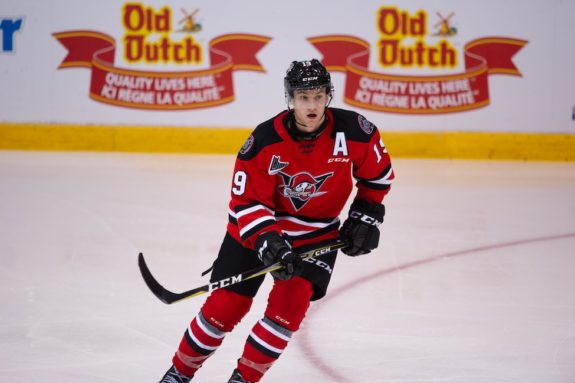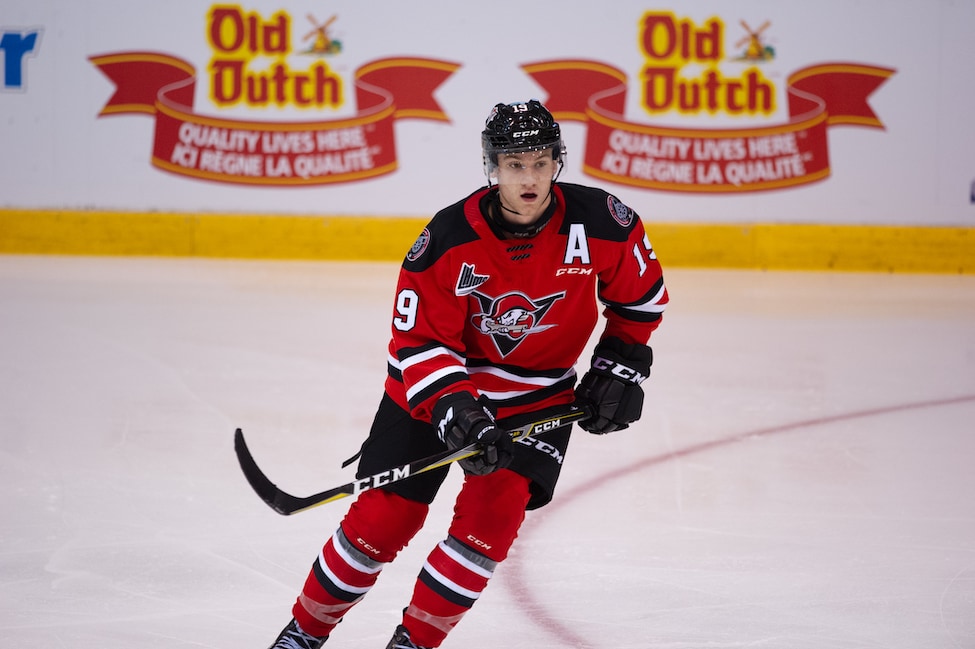 If you said Mercer played better, I wouldn't disagree with you, as the New Jersey Devils prospect proved his worth to the coaching staff on Saturday night. Despite starting on the third line, Mercer was thrust into a variety of situations and he seemed to find an efficient level of success in all of them.
Playing on both Team White's power play and penalty kill, Mercer checked all the boxes when it comes to being a versatile forward, as broadcasters Cam Moon and Craig Button couldn't seem to ignore Mercer's impact on the ice. His defensive positioning and smooth breakout passes helped Team White's transition game, something that would bring value to a team with as much speed as Canada's.
One play in particular caught my eye, in which Mercer was the recipient of a pass on a two-on-one. With Quinton Byfield in pursuit from behind, Mercer wisely drove wider, forcing Byfield to make up more ground and simultaneously opening a passing lane. While the play didn't result in a goal and won't show up on the scoresheet, Mercer's hockey IQ was in the spotlight all throughout the contest.
2. Brochu Shines Between the Pipes
In what could be one of the most intriguing goaltending battles in recent memory, the competition for the Canadian crease became a little more clear following Saturday's action. All four of Canada's netminders found themselves in the game at some point, and it was London Knights' rookie Brett Brochu who seemed to steal the show.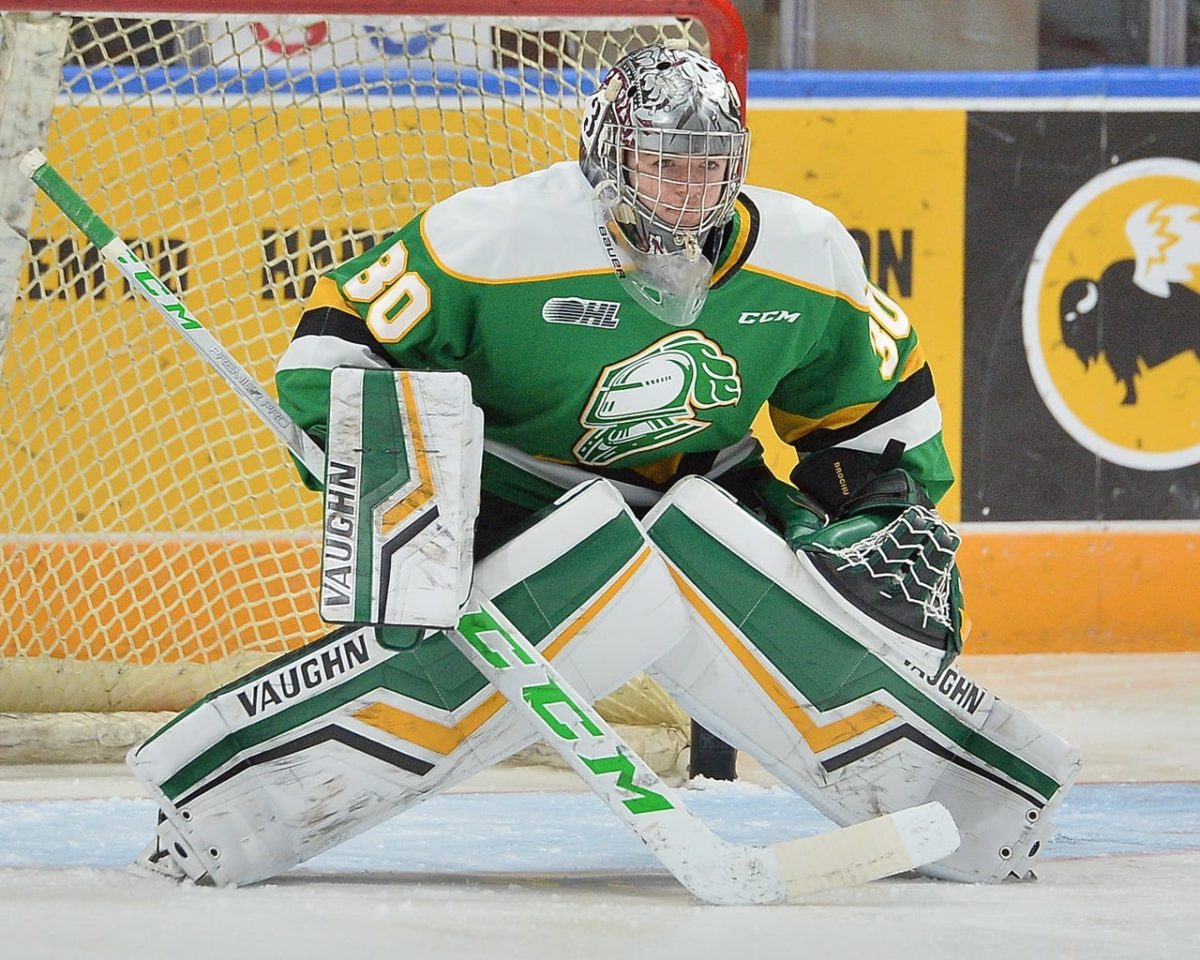 While I had Brochu on the outside looking in at the beginning of camp, Saturday's scrimmage could be just what he needs to establish himself as a household name in the goaltending discussion. After taking over for Dylan Garand midway through the second period, Brochu seemed to bring an even calmer presence to Team White's net, en route to the victory.
Exhibiting his lateral movement on more than one occasion, Brochu robbed Cole Perfetti on a breakaway, sliding elegantly from left to right as Perfetti tried to elevate the backhand. Following that up by robbing Jakob Pelletier point-blank minutes later, it's safe to say Brochu's stellar performance has the potential to turn Canada's goaltending battle into a straight-up dogfight.
3. Harley Begins to Separate Himself
If you expected the "big names" to play their best on Saturday, you wouldn't be disappointed. Dach and Cozens seemed to have their way on offense, Byfield exemplified his physical, two-way ability, and Byram skated circles around the opposition.
However, as much as the focus was on last year's returnees, one non-household name began to distance himself from the competition. Dallas Stars first-round pick Thomas Harley, who made his NHL debut this past season when he suited up in one playoff game, had a stellar showing at Saturday's scrimmage that seemed to fly under the radar.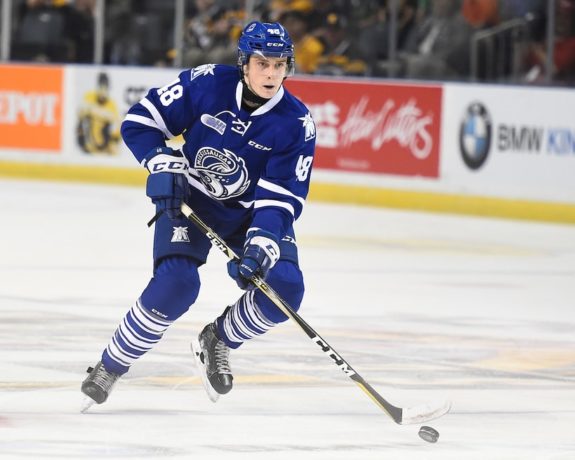 The smooth-skating defenseman was on Team White's top pairing alongside Braden Schneider, and he seemed to blossom into that role as the game progressed. Eliminating passing lanes, knocking down pucks, and playing physical when needed made Harley a notable presence on the back end. Playing an integral role on the Mississauga Steelheads this past season, a top-four role with Team Canada should be well within Harley's realm of expectation.
More Tough Decisions Ahead…
While Saturday's scrimmage did manage to answer some questions, there is still plenty undecided as camp rolls on. An important note is that NCAA players Dylan Holloway, Alex Newhook, and Devin Levi were not eligible to play after crossing the border from the United States last week. Leaving the University of Wisconsin, Boston College, and Northeastern University, respectively, the three are currently in quarantine in Alberta.
This, of course, leaves Canada's coaching staff with even tougher decisions to make in the weeks to come and makes the upcoming scrimmages even more important. With Team White and Team Red right back at it on Sunday night at 8:00pm ET / 5:00pm PT, it'll be interesting to see who takes centre stage in the second scrimmage.
Who was a standout from the first scrimmage? Who's a name to watch in the coming week? Let me know in the comments.
---
---