The Chicago Blackhawks don't need to make the playoffs to have a successful 2023-24 regular season. Though it'd be nice to see improvement after last year's 59-point campaign, this season will be all about growth, development, and building an identity. With Patrick Kane and Jonathan Toews trade rumors overshadowing much of last season, this season should generally feel a little more fun and exciting. Here are three keys to success for the Blackhawks as the rebuild continues.
Blackhawks Need to Find Stability in Net
With Alex Stalock gone, the Blackhawks will likely turn to Petr Mrázek and Arvid Söderblom as their opening night tandem, barring a last-minute acquisition. Despite Stalock's unexpected success, the Blackhawks' goaltending was among the league's worst last season; the team combined for a 3.65 goals-against average (GAA), 28th in the NHL, and an .898 save percentage. Granted, much of that was due to a below-average on-ice product, but the goaltending needs to improve this season with arguably a better group.
Related: Blackhawks Should Find a New Goal Song
---
Latest News & Highlights
---
There's no doubt Mrázek is an injury-prone goaltender. He sustained three groin injuries last season, appearing in just 39 games while recording a career-worst 3.66 GAA. Entering the final season of his $3.8 million contract before becoming an unrestricted free agent next summer, Mrázek staying reasonably healthy would give the Blackhawks a reliable, consistent presence in net. It would also take some pressure off Söderblom, who could very well become the Blackhawks' future No. 1 starter but has appeared in just 18 NHL games.
A relatively full season of Mrázek and Söderblom would also allow Drew Commesso and Jaxson Stauber to grow with the American Hockey League's (AHL) Rockford IceHogs. Both Söderblom and Stauber were unexpectedly thrown into the fire when Mrázek and Stalock suffered injuries last season, and while they held down the fort nicely, they sometimes appeared a little outmatched. Though some NHL time for Commesso and Stauber may not be a bad thing, good health and consistency from Mrázek and Söderblom should be key.
Blackhawks Must Develop Good Chemistry
Adding veteran forwards Taylor Hall, Nick Foligno, Corey Perry, and Ryan Donato signals the Blackhawks will be far from a "tanking" team in 2023-24. Even if the wins don't pile up, all four players are respected, high-character veterans, especially with both Hall and Perry being former MVPs. With that said, finding chemistry should be important for the Blackhawks, with most of last season's group returning as well. Throw in rookies like Söderblom, and it could be an interesting dynamic; you have veterans who have played at the highest level, along with younger players looking to prove their worth such as Philipp Kurashev and possibly Cole Guttman.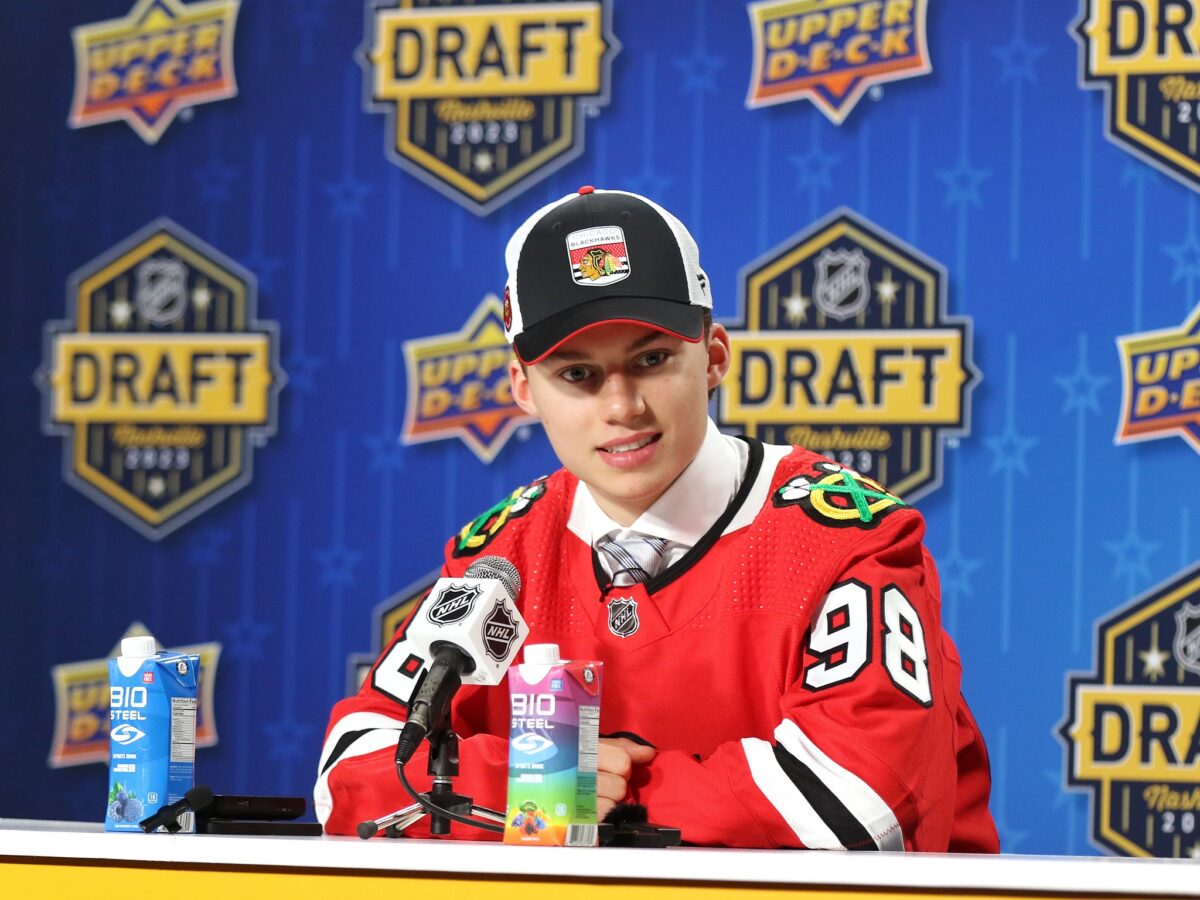 It'll be intriguing to see how the Blackhawks gel early on. General manager Kyle Davidson has done a good job constructing the roster, but that doesn't mean there won't be growing pains. If there's something we learned about the Blackhawks last season, however, it's that they always played for each other while having a grind-it-out identity. Carrying over that mentality should help, especially since the Blackhawks haven't, and probably won't, name a captain this season.

A team can have lots of talent but struggle due to poor culture and chemistry. We've seen it not just in hockey but other sports. Fortunately, for the Blackhawks, head coach Luke Richardson and his staff always got the best of their players last season despite the team's glaring lack of talent, so there's definitely reason for optimism.
Richardson Needs to Set the Right Tone
Speaking of Richardson, hiring the 54-year-old as head coach in June 2022 may be one of Davidson's best decisions yet, if not his best. Obviously, time will tell whether the rebuild becomes successful, but it feels like Richardson should be around long-term and not just a placeholder. He did the best he could with last season's group and was always approachable during his media availabilities. Along with assistant coaches Kevin Dean, Derek King, and Derek Plante, he formed a hardworking culture, something previous head coach Jeremy Colliton struggled to do.
Related: Blackhawks GM Kyle Davidson's 3 Best Trades So Far
For the Blackhawks to have any sort of improvement next season, Richardson needs to continue setting the right tone and getting his players to effectively respond. This shouldn't be much of an issue, considering how well he performed in 2022-23 with a bad-by-design team. He should be a great mentor for Bedard, too, and has already worked with him and some of the Blackhawks' other prospects.
There are many variables at stake for how the Blackhawks perform in 2023-24. They could realistically finish anywhere from bottom three in the league standings to flirting with a wild-card berth, and a playoff appearance would be nothing short of a miracle. From Bedard's impact to how much special teams improve, there are certainly other factors that'll determine the Blackhawks' success, but these three are some of the biggest.
---
---