The Chicago Blackhawks currently have a 15-28-4 record and only the Columbus Blue Jackets have fewer points than them in the NHL. Due to this and Chicago being in a full-on rebuild, they are expected to be major sellers at the trade deadline.
---
---
The New York Rangers, on the other hand, have a 26-14-8 record and are one of the top teams in the Eastern Conference. As a result, they are set to be buyers at this year's deadline, and they reportedly have the Blackhawks' best player on their radar because of it. As a result, these two Original Six teams are becoming potential blockbuster candidates. Let's now discuss why this is the case.
Patrick Kane Is Prime Rental Candidate
Although the Blackhawks have quality trading assets like Jonathan Toews and Max Domi, they have no player with more trade value than Patrick Kane. The future Hall of Famer has the potential to land the Blackhawks a big return in any blockbuster centering around him because of it. There has been plenty of buzz surrounding him all season, but now that the trade deadline is just over a month away, it seems that a move could truly be on the way.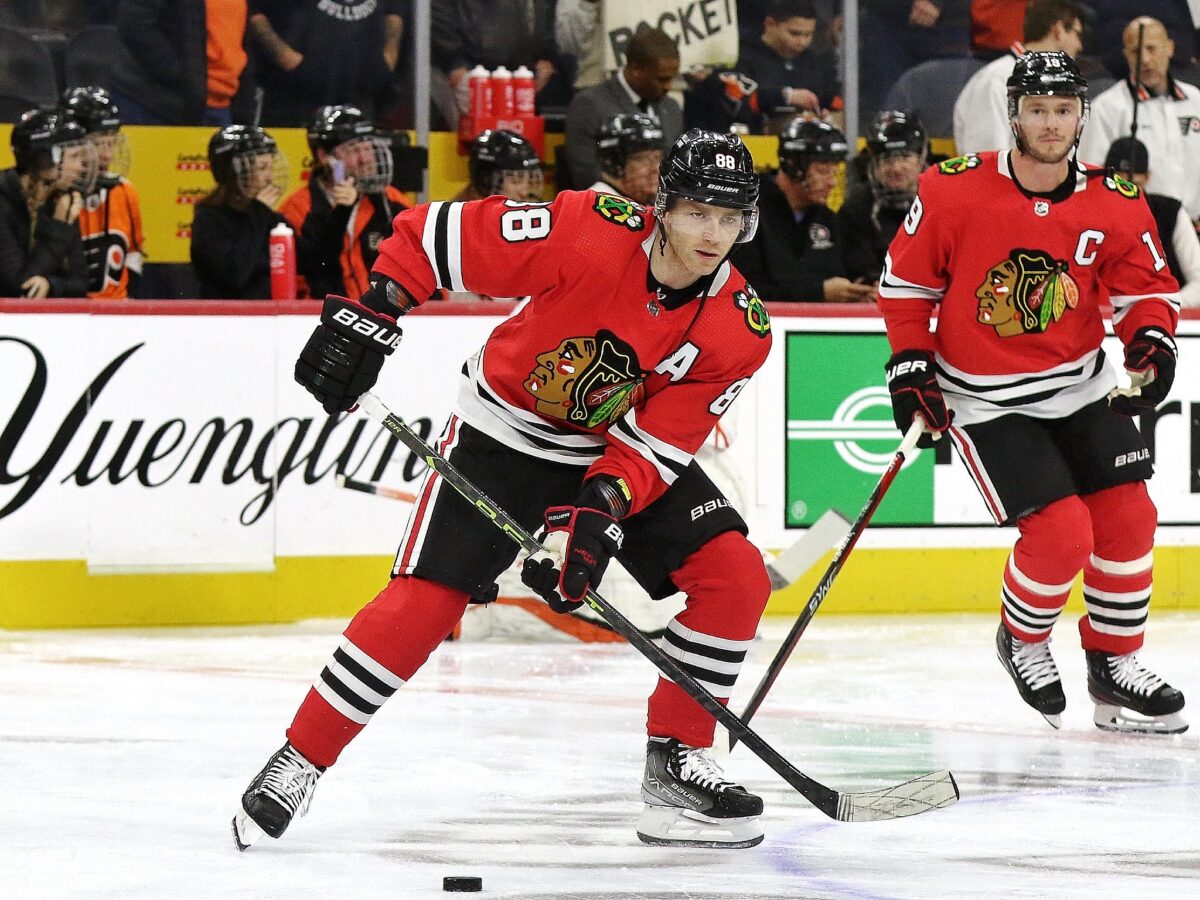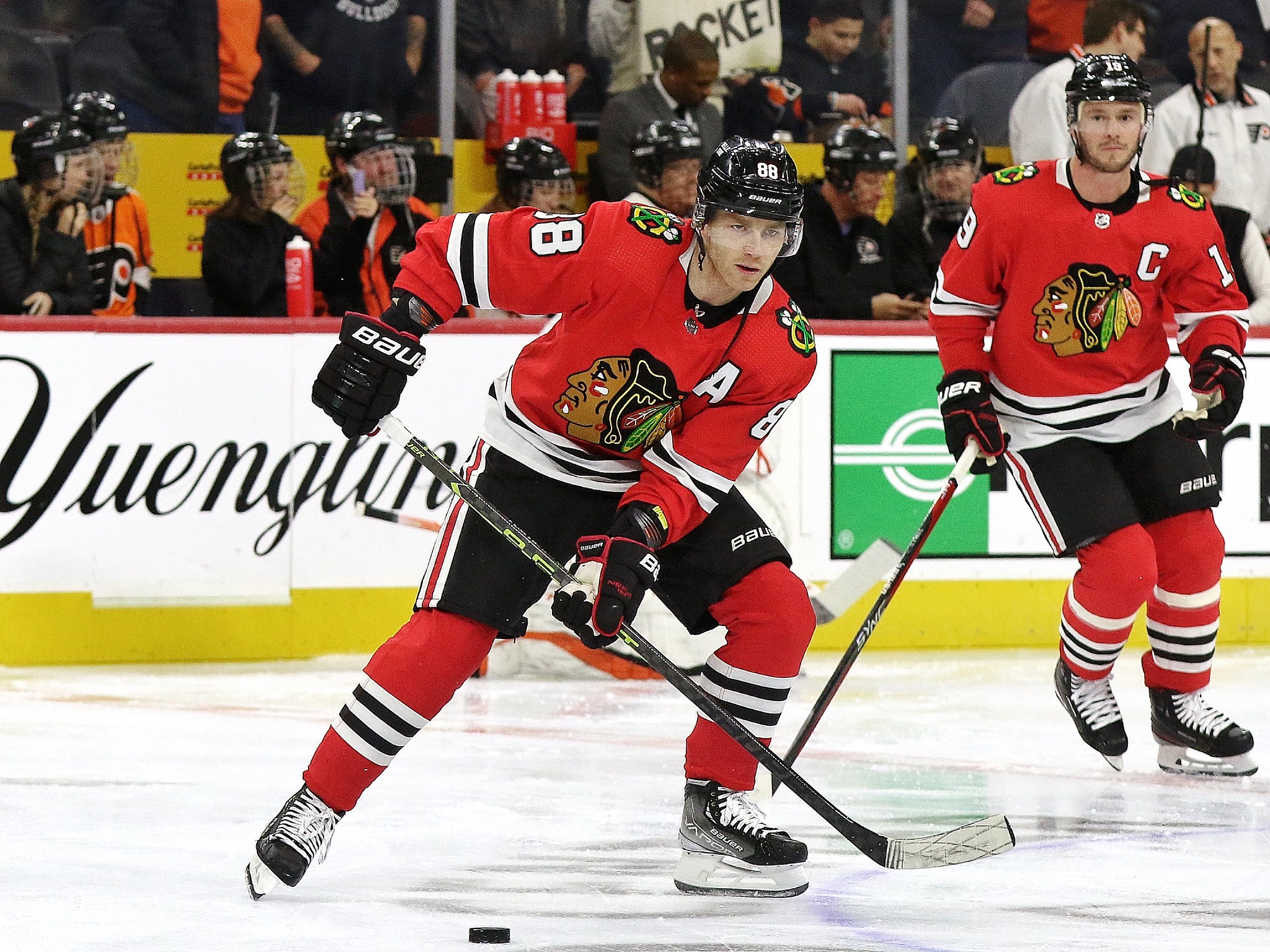 Just about every playoff team would love to acquire Kane, as he is an elite talent who also has three Stanley Cups on his resume. However, he has been negatively impacted by the limited talent around him this campaign, as he has nine goals and 32 points in 44 games. Although those numbers are not bad in the slightest, they are still lower than expected from the Buffalo native. Keep in mind, he produced at an over a point-per-game pace during the previous four seasons and nine times over the last 10 seasons. Thus, if he were to be moved to a contender, it's fair to argue that we would see his offense spike back up while playing with better talent.
Even with his somewhat down year, Kane is still receiving an abundance of interest around the league for his services, and the New York Rangers are reportedly one of the teams currently linked to him. On paper, there appears to be a fantastic match here, so it certainly would make sense for him to acquire him.
Why Kane Is a Perfect Match for Rangers
When observing the Rangers' roster, it is clear that they have a very deep team and have the potential to go on a legitimate run this postseason. Yet, even with this being so, they would be wise to add another star to their group. The Eastern Conference is full of amazing teams like the Boston Bruins, Carolina Hurricanes, Tampa Bay Lightning, and Toronto Maple Leafs, so the Rangers should be considering the prospect of making a major move to help keep up with them. In my opinion, Kane could be the final piece that helps the Rangers potentially pass them.
Related: Blackhawks & Maple Leafs May Make Trade Deadline Blockbuster
---
Latest News & Highlights
---
At the time of this writing, the Rangers currently have Jimmy Vesey on their first line with Artemi Panarin and Mika Zibanejad. Although Vesey has certainly been a feel-good story for New York this season, there's no question that Kane would be a significant upgrade over him in that role. This is especially true when noting that Kane worked magic with Panarin during their days together on the Blackhawks. With that, Kane would of course see plenty of time on their power play due to his excellent playmaking ability.
The Rangers have several other scoring wingers that they could consider like Timo Meier, Vladimir Tarasenko, and Brock Boeser, but there may not be a better fit than Kane. His previous chemistry with Panarin and the fact that he is a proven winner is exactly why the Rangers need to find a way to bring him there.
Potential Blockbuster Between Blackhawks & Rangers
The Blackhawks certainly have some valuable assets worth considering from the Rangers, too. Besides the Rangers' 2023 first-round pick, the Blackhawks could also ask for Vitali Kravtsov and Matthew Robertson in a potential blockbuster centering around Kane. The Blackhawks would also need to retain half of Kane's salary in such a move, as the Rangers would have just enough deadline cap space ($5,281,525) to make it work.
Kravtsov could certainly grab the attention of the Blackhawks, as the 2018 first-round pick has the potential to become a second-line winger at the NHL level. However, his offense has yet to translate over to the NHL level this season, as he has just three goals and three assists in 27 games. A change of scenery could be exactly what sparks him to take that next step in his development, and playing for the Blackhawks could provide him with the opportunity to play top-six minutes.
Robertson, on the other hand, is certainly a prospect that would make sense for the Blackhawks. The 6-foot-4 defenseman has the tools to blossom into an NHL-caliber defenseman, as he offers great puck-moving ability to go along with solid physicality. In 37 games this season with the Hartford Wolf Pack of the American Hockey League (AHL), he has three goals to go along with 12 points. If he is acquired by the Blackhawks, he could be in the running to receive NHL time as soon as he arrives.
Nevertheless, it is clear that the Blackhawks certainly have some solid trade trade worth considering from the Rangers. It will be intriguing to see if these two teams can strike a blockbuster at the 2023 Trade Deadline from here.