After stellar 17-year Hall of Fame careers, Daniel and Henrik Sedin are ready to help the next generation of players find their footing on their paths to becoming NHLers. A recent example of this was helping coach the Canadian Hockey League's best and brightest at the 2023 Top Prospects Game. Despite being on different sides, they both had the same goal, helping these prospects impress the scouts and put on a performance to remember.
---
---
Sedin's Impressed By Top Prospects
As coaches at the Top Prospects Game, both Daniel and Henrik had the opportunity to not just watch the participants but get to know them. Once top prospects in their own right, the twins made sure to point out just how impressed they are with the next generation of NHL players.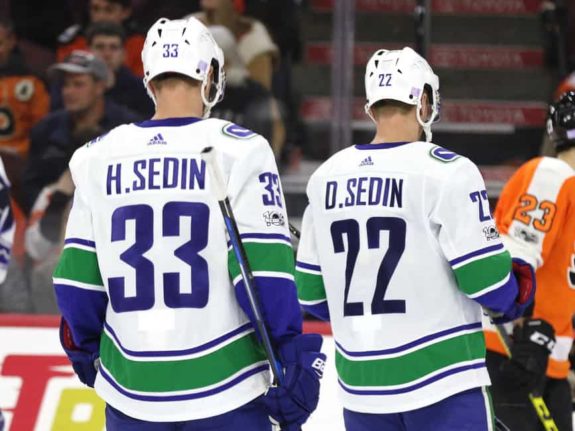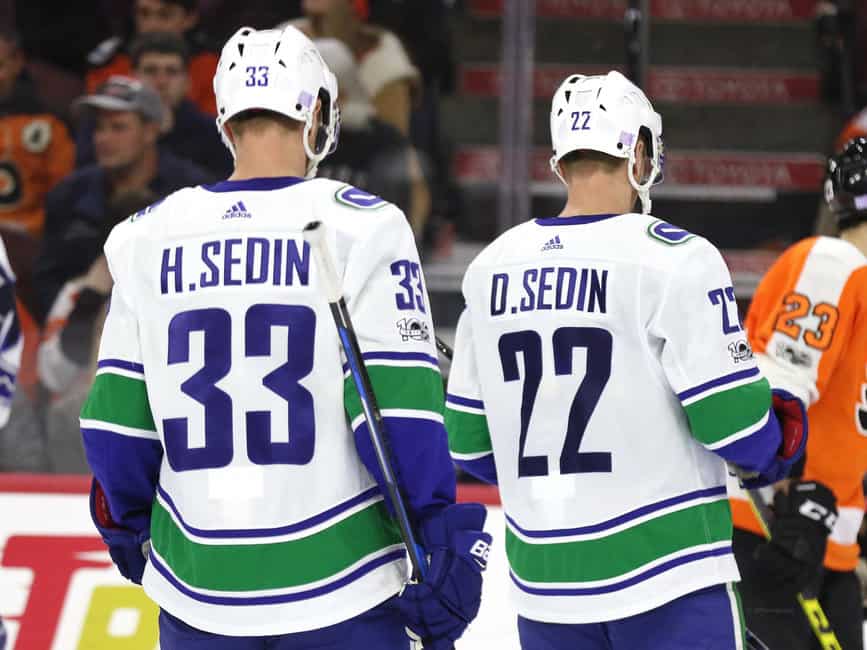 "They have unbelievable speed, skill and everything," said Henrik. "They are miles ahead of where we were at this age. It is great to watch and fun to be around. It is going to be fun being closer to the players and seeing how they act on the bench after a bad shift and a good shift and how they interact with their teammates. That is what we are most interested to see."
Related: 6 Standouts From The 2023 CHL/NHL Top Prospects Game
"They are all skilled," said Daniel. "When we were this age, I don't think kids had this much skill, skate as fast or have the puck as good as they are. It is very impressive how the game has evolved. How they understand the game, how they use their linemates, I think that is what sets apart the best players from the other players."
The Top Prospects Game was also a chance for the Sedins to compare the next generation with some players they had the opportunity to play against. In fact, there were multiple players whose dads played against Henrik and Daniel during their careers, including Denis Gauthier's son Ethan and Radek Bonk's son Oliver. This is not a fact that escaped the twins' minds, as Daniel explains.
Related: Sedins' Hall of Fame Credentials
"There are a few names I recognized. They were all good and had a lot of skill. I have kids this age as well. We are all getting older."
The Sedins understand how much pressure these young prospects are under and were looking for any way to alleviate it. Whether that was joining in during practice drills or just having one on one conversations with the prospects, their presence at the event didn't go unnoticed. Despite being legends of the game, they showed they are more than happy to give back to the game in whatever way they can.
Sibling Rivalry On Full Display
It is rare to see the Sedins separated, but at the Top Prospects Game, they battled it out as coaches of Team White and Team Red. While they understood that this was a showcase for the players, beating the other was definitely something that was on their minds. Henrik did mention prior to the game that a bet would be arranged between the brothers, while Daniel talked a little about how important beating his brother was.
Related: Canucks Showdown: Who's the Better Sedin?
"I don't want to put too much pressure on the kids," Daniel said when asked about the sibling rivalry, "but I told them this morning that I need this win, so that's the pressure I'm going to put on them."
In the end, Daniel and Team White took home the win, getting revenge on Henrik, who not only outscored him but walked away with the victory during the 2011 NHL All-Star Game. Also, after years of Henrik edging him out in career trophies, Daniel can now claim he has more coaching wins. It is great to see that they are still competing, showing that the sibling rivalry is still alive even in retirement.
Honouring The Past
On the bench with Henrik and Daniel were a couple of former Canucks in Ron Delorme and Stan Smyl. The Sedin twins talked about how important a role they, as well as other Canucks alumni, played in their development. Now that they are part of the alumni group, they want to pay it forward and help the next generation, like when they were helped first coming into the NHL.
Related: Greatest Memories from Daniel and Henrik Sedins' Careers
"(Smyl) is a good man," said Daniel about his coaching partner. "He is a smart guy who has been with (the Canucks) organization for so long. He is what a Canuck is. Great person and stands for good values. I appreciate him a lot. The alumni have always been a big part, even when you are players. They were around, and you could talk to them. When you look back, they stand for the culture that the Canucks are today. Give them a lot of credit for what they do. It is amazing to see."
Throughout their careers and now in retirement, the Sedins have continued to follow the path of other alumni and give back to the city. Whether that is through donations to B.C. Children's Hospital or attending community events, they understand how much work the alumni give back and want to be part of that legacy in whatever way they can. They are great role models and people that young hockey players should aim to be like if they have sights on making the NHL.
Sedins Deliver On And Off The Ice
Whether it was the players, other coaches or members of the media, the Sedins' presence and insight left a massive mark on the event. They were approachable and made sure to answer every question directed toward them. The hope now is those in the Top Prospect Game can take what they learned from the Hall of Famers and apply it to their game down the stretch ahead of the 2023 NHL Entry Draft.