The Columbus Blue Jackets held their annual Media Day luncheon on Monday afternoon at Nationwide Arena in advance of the start of Training Camp for the 2023-24 season. For over an hour, members of the front office and players met with the media to discuss the upcoming season. Of course, the number one topic that had to be addressed was the situation with Mike Babcock's resignation and the events that led up to it.

We are going to break down what was said at Media Day in three parts. Today, we are going to review what was said by John Davidson and Jarmo Kekalainen. Then later on, we will address what both new coach Pascal Vincent said and then what the players said.
---
Latest News & Highlight
---
Ownership Speaks First
Before the event got underway, the ownership group led by John P. McConnell released a statement through the Blue Jackets about the frustration of the events of last week. This statement made one thing clear. For now, Davidson and Kekalainen have jobs.
"Our ownership group is deeply frustrated and disappointed by the events of the past week.  We have been in contact with John Davidson, Jarmo Kekalainen and our management team throughout this process and were in full agreement with Mike Babcock stepping down and Pascal Vincent leading our team as head coach. 
"We had candid conversations with our leadership after last season about our goals and expectations for growth and progress on the ice in 2023-24.  Those expectations are still in place and can still be achieved, so we do not anticipate further changes to our hockey leadership team at this time.  Additional disruptions would be detrimental to our players and coaches as they prepare for the opening of training camp in two days.  We will continue to have regular communications with our hockey leadership and are looking forward to an exciting season."
If anything, this statement puts current management on notice. If the ice was thin before, it's on the verge of bursting through now.
Davidson's Statement
To open the presser, Davidson read a prepared statement. You can see it in its entirety below.
"I am very disappointed. We went through a process earlier this summer prior to hiring Mike Babcock as our head coach, but we got it wrong, and that's on us. I can promise you, we will learn from this moving forward. I also understand the criticism that we are getting. It is deserved, but all we can do now is learn from it and do everything we can to help our coaches and players get ready for the season."
"My excitement about our team and what we can accomplish this season is not changed, and we are looking forward to going north. We understand the expectations of ownership, and we will continue to be evaluated every day. That's part of the job. We understand that, but our focus right now is on our players and our coaches, and getting ready for this season. I know this is a major misstep that we have to move past."
"I would like to thank the NHL, and I would like to thank the NHL Players Association. When we first heard of these issues, when we had discussions with both of those groups, we welcomed an investigation. They were very transparent with the information we received. We digested the information, and from there, in talking with Mike Babcock, we decided there was no going back. The resignation went forward from that point on."
"We're coming into camp healthy. We have added quality players to our team. We've built a deep and talented group of prospects. We're excited about this team and where we're headed. We have to get through this situation. On a very personal note, this is one of the toughest times I've been a part of in my long dealings and career in the National Hockey League. It's very troubling for me, but we also know and firmly believe that we have a good group. We care about our people, we care about our staff. We've learned a lot as a group. We've learned a lot to help us go forward, and I plan on going forward. Thank you."
Kekalainen's Statement
Once Davidson was done with his statement, Kekalainen read a prepared statement of his own.
"This morning I had a meeting with the players, and I apologized for any inconvenience (and) awkward situation that this may have put them in. And it was my sincere apology to them. I'm extremely disappointed by what has transpired over the last week. We understood the dynamics of hiring Mike before we did so, and understand the criticism now that it didn't work out the way we planned."
"Mike was hired based on personal relationships we've had with him, the feedback we've received from numerous people in the game that we know and respect and extensive conversations with Mike. It's obviously fair to question our due diligence, but I can assure you that it was done thoroughly. At the end of the day, I believe that Mike Babcock deserved another opportunity to coach. Obviously, that was a mistake, and that responsibility is mine."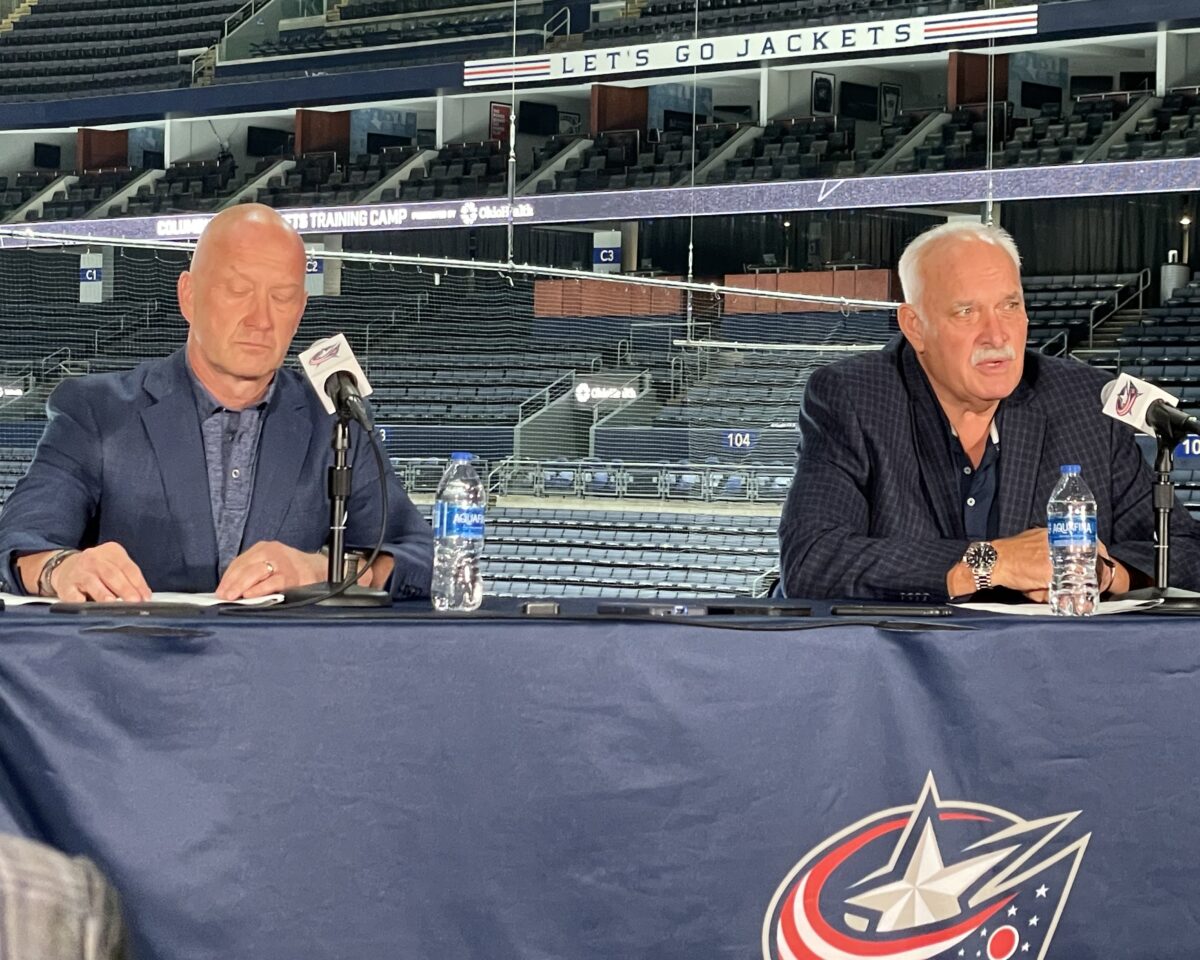 "I do not believe there were any ill intentions on Mike's part in the way he conducted interviews with our players to get to know them. However, whether there was intent or not, some of our players weren't comfortable with his methods and that was concerning. As we gathered information and had numerous discussions both internally and externally, it became very clear that the distractions caused by this were too great and were having a negative impact on our players."
"As a result, we came to a conclusion with everybody involved in the process that the best course of action was for Mike to step down and Pascal Vincent to take over as the head coach of Columbus Blue Jackets. Our organization's built on values that we take very seriously. We value hard character and attitude with the emphasis on pride, professionalism, and respect. These are the ideals that guide how we operate on the ice in the community, and in everything that we do. We are committed to doing the best we can and doing things the right way to represent our organization, city, fans in a manner that earns their respect, trust, and support. Nothing is more important."
"We believe our players and everyone else inside and outside our organization should be treated with respect all the times. Failing to live up to that standard is not acceptable. Are we perfect? No. Can we do better? Yes and we will. Pascal's prepared for this opportunity. He has earned it. While the circumstances are less than ideal, he's a very good coach and nothing should detract from that. He was a strong candidate as we went through the process and looked at earlier this year, and we are fortunate to have him in a position to lead our team."
"And just like JD said and I told this to our team too that for a little while, this is the most excited that I've been going into the training camp. And it's sad that we're here talking about this and disappointing, obviously, but there's a lot of excitement inside the locker room to put this past us, move forward and stick together and make us a stronger team."
Takeaways From Media Portion
Here are a few takeaways from the question and answer portion of the availability that took place after Davidson and Kekalainen read their statements.
Kekalainen said he met with both the leadership group and then the team as a whole on Monday morning. "I believe they are ready to move past this. They want to move past this. They want to use it as something that can make us stronger."
Davidson described some of the process. "What happened was the PA came in, talked to their players privately, which is absolutely their right. They were in touch with Gary Bettman. They had been in touch with me too, and I helped facilitate making sure this is happening the right way. We're completely open, transparent, want it done properly. I got a call when we were up in Traverse City at our rookie tournament from Gary Bettman, actually, I was in a restaurant and I went running out and sat in the car by myself. There was Gary and his whole staff, including Bill Daly on the call, and there was the PA staff on the call. They filled me in with what had transpired through their investigation. And with that, I went to Jarmo and our group, Mike Priest, who represents our ownership, and we started the process of what we were going to do. We had to digest it, figure it out. And with that, Jarmo ended up meeting with Mike Babcock, and basically there was going to be no end to this. This is what we had to do. And the resignation process started at that point. That's the exact traffic."
Davidson admitted when asked about Babcock viewing phones for up to 10 minutes that he didn't feel it was appropriate but also said he doesn't know exactly what happened. "We've never been told that. I have no idea."
Kekalainen admitted that it's not always comfortable for players to go to management with all of their problems. "It's a complex relationship with the management and the player. It isn't always comfortable for them to come to me with their problems. We may be in the middle of a contract negotiation or something, and then they don't wanna let me know that they're having problems."
When pressed on what they've learned about vetting candidates in the future: "I really felt that we talked to enough people with credibility and people that were respected in the hockey world. Probably extend that and do even more of that. But as I mentioned in my statement that I can assure you that the due diligence was thorough in talking to several different people in different positions who would work with them as players, as management, as coaches, in different settings too from the national team to National Hockey League to junior years to American League team. So we felt we were thorough, but we're gonna be more thorough."
More Was Needed
Simply put, there needed to be more done here at all levels of the organization. This was a self-inflicted wound from the word go that had virtually no chance of succeeding.
It was widely known what a team was getting if they hired Babcock. Despite all the clear evidence that was out there, the Blue Jackets somehow still felt he was their best option when there were a bevy of worthy candidates available.
It was the Blue Jackets themselves that originally said that Babcock was the right man for the job. Kekalainen and Davidson each said as much in the original press release. They said they talked with several people. Outside of those they previously admitted, who exactly did they speak to? Speaking to those who were never on Babcock's bad side is a recipe for disaster when trying to properly vet someone for an important job at a crucial time with the franchise.
While the Blue Jackets admitted not doing enough, they called the Babcock hire "one in which they had to get right." He didn't make it to the start of training camp. How many chances is a management group allowed to get here?
It's one thing to be loyal. It's another thing to get multiple chances when there isn't much to show in the success column. The Blue Jackets spent to the salary cap and beyond in 2022-23 and finished in 31st place. In most situations, jobs are lost. The only job lost here was Babcock. And he wasn't even fired. It was a resignation. Davidson said that an agreement was reached but didn't elaborate on specifics.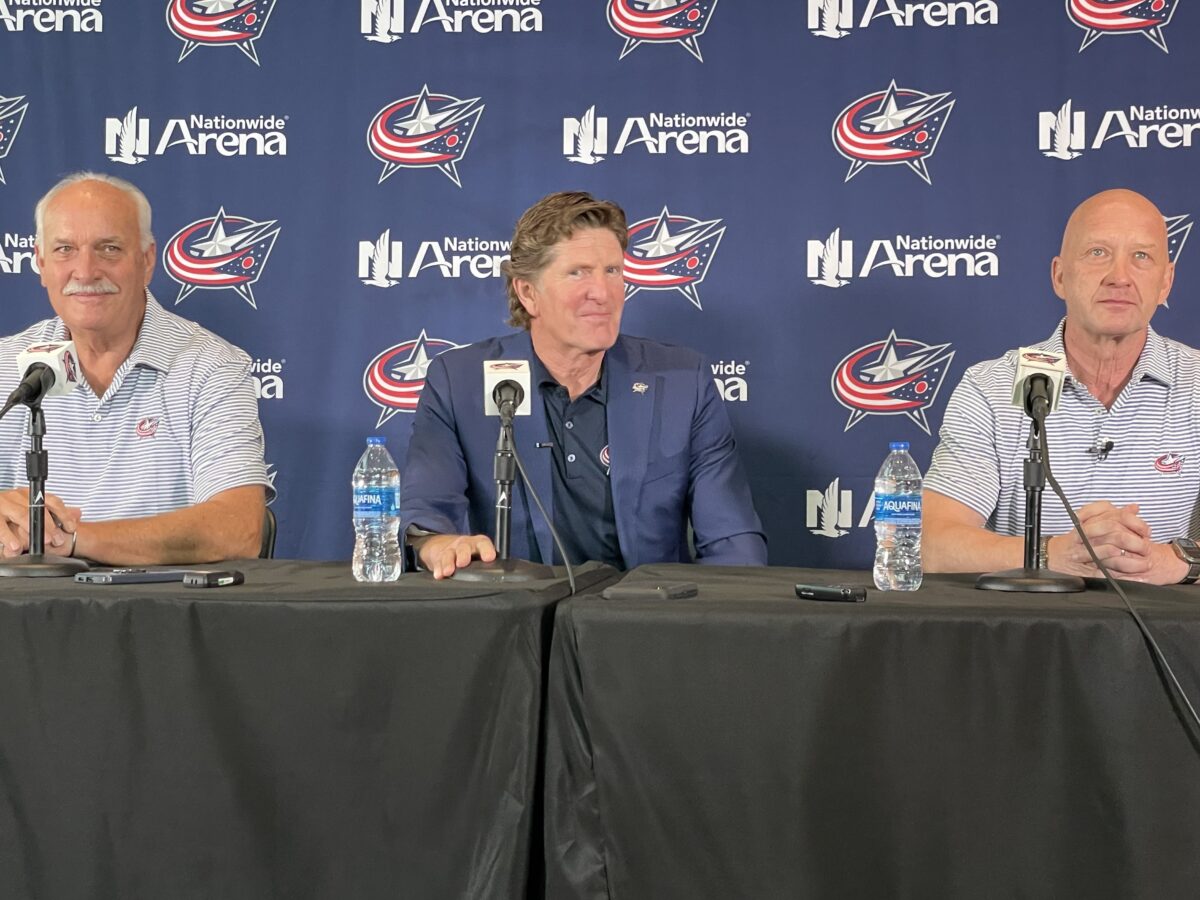 A question to ponder. What's really going on here? The way things were handled from start to finish was flat out embarrassing for a team that has a track record of embarrassing moments. This may stick out as the worst of all and that's saying something. That's because it could have been avoided had proper research been conducted.
At what point does the standard become something more than just being mediocre? This situation shows that the team still has a lot to learn and a long way to go to get to where they want to go. While making the decision to move away from Babcock was the right one, it's step one of about 10.
You May Also Like
Think of the fans. Think of everything they continue to endure with this franchise. We've written for a long time that they deserve better than this. Trust between them and this management team is at an all-time low and for good reason. The fans were counting on them to make good decisions to continue the momentum of a loaded prospect pool. Instead the plan backfired and now they face an uphill battle to keep their jobs long term.
This is not going to be fixed overnight. To some fans, it may never be fixed. Some fans have already said they will not renew their season tickets in 2023-24. They've seen enough. The damage from this could still prove to be long lasting. How do the players feel? Can they work through this together?
The Blue Jackets face a daunting task to get back to a level of respectability. If they want to do that, they need more from this management team. We'll see in due time if they truly learned anything from this completely avoidable situation.