Erik Portillo's rights are currently held by the Buffalo Sabres and he has the option to become an unrestricted free agent this summer according to Jeff Marek on the 32 Thoughts Podcast. The Blue Jackets have a very strong goaltending prospect in Daniil Tarasov, however, they could certainly use some more depth at the position. While Columbus may not historically have been a front-runner for collegiate free agents, they do offer a few things to Portillo that many teams don't, which are quite a bit of familiarity and a clear path to the NHL. 
Portillo's Teammates in Columbus
Portillo currently plays on a team that is very unpopular in Columbus, however, it's a team that is strongly linked to the Blue Jackets: the University of Michigan. It's been over seven years since the Jackets drafted defenseman Zach Werenski from Michigan, and since then, their ties to the school have only gotten stronger. Kent Johnson was selected fifth overall in the 2021 NHL Draft, and then they signed undrafted free agent, and former Michigan captain, Nick Blankenburg last season.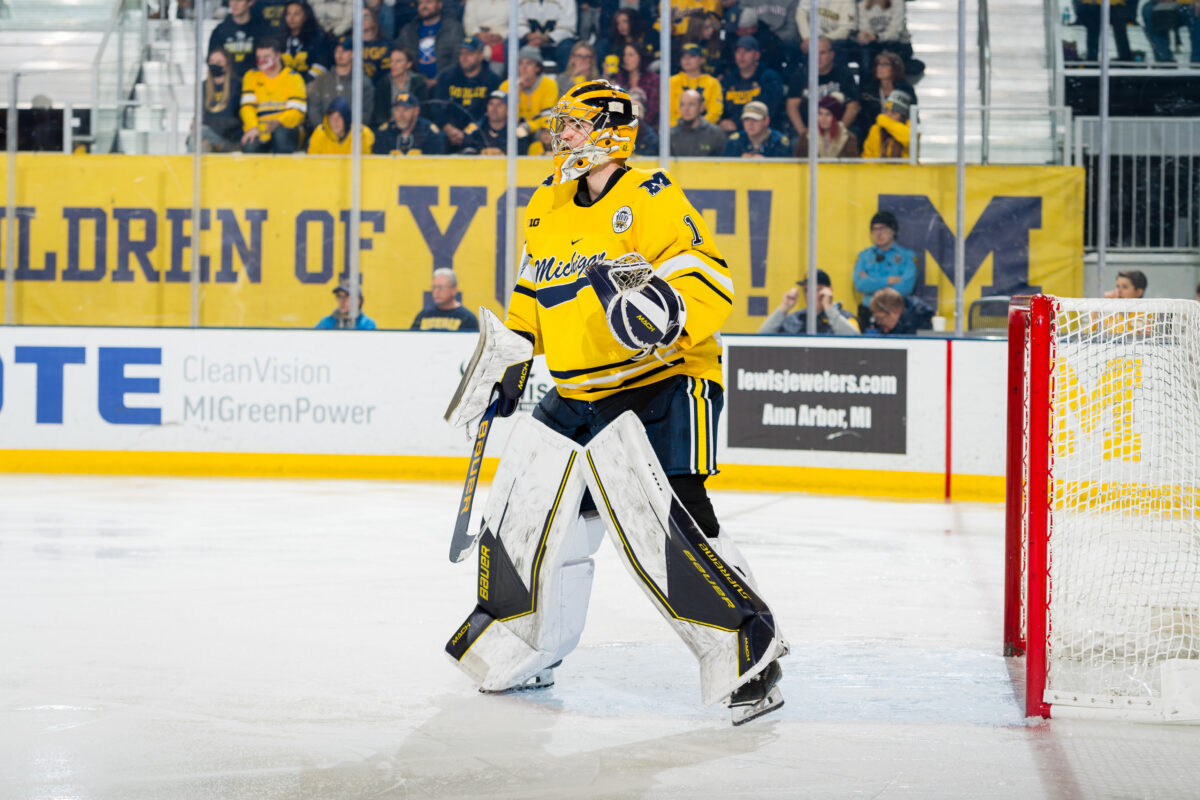 Both Johnson and Blankenburg were teammates with Portillo the last couple of seasons dating back to the 2020-21 season. The 22-year-old Swedish goaltender has been phenomenal at every level of his career to date, and although his play has taken a step back this season, it's understandable considering how much the team has changed. It's hard to say how high of a ceiling he has, but it's clear that Portillo has a chance to surprise a lot of people in the coming seasons. 
Fitting into the Depth Chart
The Blue Jackets goaltending is a mess at the moment, and it's uncertain when that will be resolved. The NHL tandem on paper is supposed to be Elvis Merzlikins and Joonas Korpisalo, while Daniil Tarasov and Jet Greaves mind the net for the Cleveland Monsters in the American Hockey League (AHL). Due to injuries and lackadaisical performances at the NHL level, that has been far from set in stone. Behind the NHL tandem, Tarasov seems to have the highest potential in the organization. Greaves has been decent in both the AHL and ECHL but hasn't proven that he'll be a legitimate NHL option someday in the future.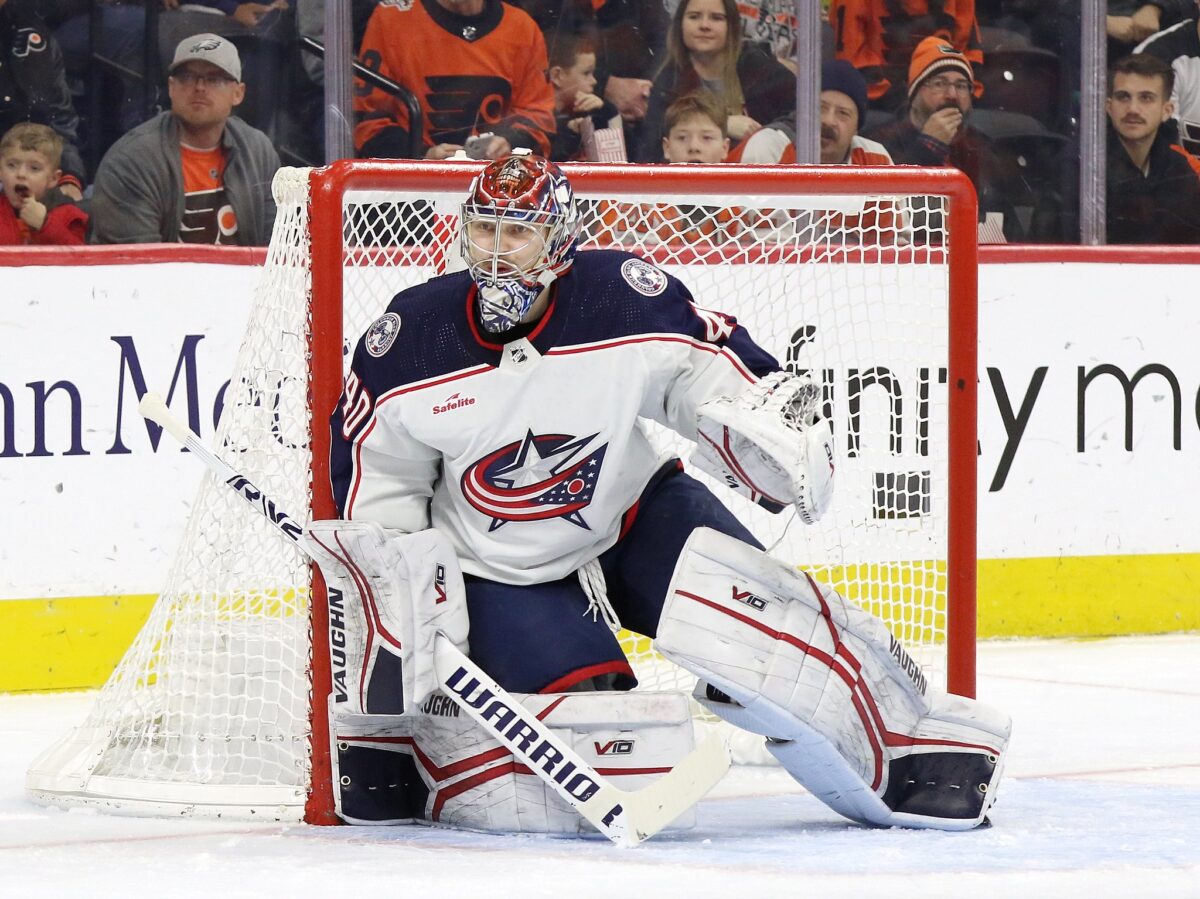 Further down the depth chart, there are two legitimate prospect goaltenders: Nolan Lalonde, who was an undrafted training camp invite who earned an entry-level contract following a solid preseason performance, and 2022 fifth-round pick Sergei Ivanov. Lalonde has struggled to say the least with the Erie Otters of the Ontario Hockey League this season, while Ivanov has been putting together a solid season for himself in Russia. Neither of those two will likely be competing for an NHL spot in the near future if they ever do. As a result, Portillo could realistically jump directly behind Tarasov on the depth chart for next season and immediately become the AHL starting goaltender if Tarasov is given an NHL opportunity. 
Related: Blue Jackets Walking Thin Line In Pursuit of Bedard
---
Latest News & Highlights
---
Portillo would instantly get a major opportunity in the Blue Jackets organization, which he'd be unlikely to receive as a member of the Buffalo Sabres. He'd be competing with players like Ukko-Pekka Luukonen and Devon Levi for the long-term starting job, while the organization recently brought in Eric Comrie and drafted Topias Leinonen in the second round. There's a lot of competition in Buffalo for Portillo, but there's a clear road to the NHL in Columbus if he chooses to go that route.
There are a few teams in the NHL who can offer a similar level of familiarity for Portillo, namely the San Jose Sharks and New Jersey Devils since both have a few players in their system who have been teammates with him over the years. Columbus is the only team that offers familiarity as well as a lack of heavy competition, though. In San Jose, he'd be fighting alongside former teammate Strauss Mann, Eetu Makiniemi, and Benjamin Gaudreau. New Jersey has Akira Schmid, Tyler Brennan, and Jakub Malek plus a fairly young tandem of Mackenzie Blackwood and Vitek Vanecek already in the NHL.
Overall, there isn't a better fit in terms of familiarity with former teammates and a legitimate opportunity to become an NHL regular fairly quickly. It's unlikely the Blue Jackets explore a trade, considering unrestricted free agency would be right around the corner, however, Portillo and Columbus seem like a perfect match if he decides to walk away from the Sabres this summer.
William Espy is a graduate of California State University, Stanislaus. He has been writing about hockey since 2016 on various platforms. He currently covers the Columbus Blue Jackets but had a previous stint covering the Calgary Flames.