In the Columbus Blue Jackets' third game of the 2020-21 season, a 3-2 win over the Red Wings in Detroit, forward Oliver Bjorkstrand tallied what is known as a "Gordie Howe Hat Trick" (GHHT). Rather than three goals, these hat tricks consist of a goal, an assist, and a fight.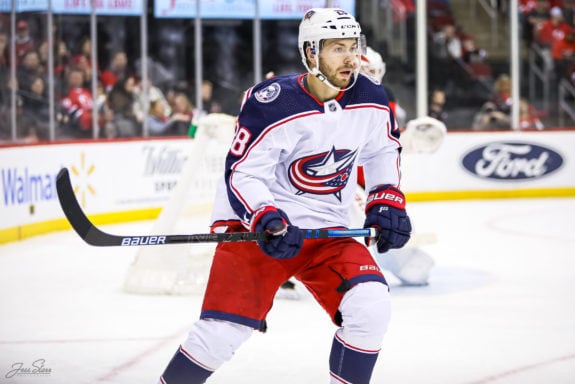 Bjorkstrand tied the score in the second period and assisted on Alexandre Texier's game-winning goal in the third period. With less than a minute to go in the game, he received a five-minute fighting penalty (and a 10-minute misconduct) for tangling with Red Wings' winger Bobby Ryan.
A Little Background on "Gordie Howe Hat Tricks"
Gordie Howe himself only twice accomplished the feat in his long and storied career. The all-time leader in GHHTs is Rick Tocchet, with 18. He's followed closely by Brendan Shanahan and Brian Sutter, each with 17.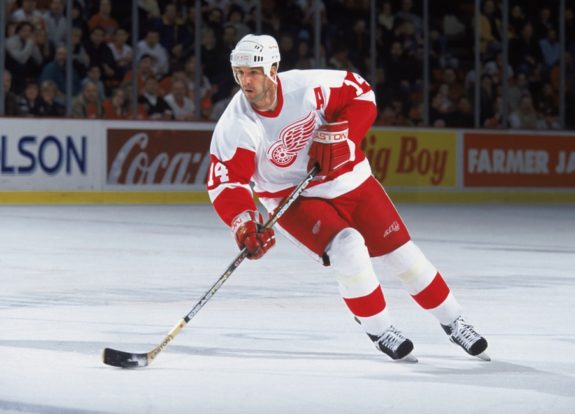 Interestingly, in 2011 Shanahan became the NHL's Senior Vice President and took over responsibility for player discipline. Rather than dishing out punishment with jabs and roundhouse punches, he issued fines and suspensions, usually with an explanation.
Blue Jackets GHHT Fun Facts
Here's some trivia about Gordie Howe Hat Tricks recorded by members of the Blue Jackets:
Bjorkstrand's fight against Ryan was only the second of his NHL career.
Prior to Bjorkstrand, the most recent Blue Jackets GHHT was recorded by Zach Werenski on Apr. 12, 2019, in a playoff game against the Tampa Bay Lightning. It was Werenski's first NHL fight.
While Bjorkstrand was putting the final touch on his GHHT by fighting Ryan, Werenski himself was duking it out with long-time friend Dylan Larkin. (The two were roommates while playing at the University of Michigan.) Werenski didn't have a goal or an assist during the game, and it was only his second NHL fight.
The first GHHT in Blue Jackets history was recorded by Rick Nash on Jan. 1, 2006, in a 6-1 victory over the Pittsburgh Penguins. Nash had one goal, two assists, and nine penalty minutes (a fight and two minor penalties). Nash fought John LeClair after a shoving match with the Penguins' Rob Scuderi. 
Like Bjorkstrand, Nash's first GHHT involved his second NHL fight.
Former Blue Jackets' captain Nash is credited (if you should use that word when talking about fighting) with three GHHTs, one of which included a fight with original Blue Jackets' captain Lyle Odelein.
Current Blue Jackets' captain Nick Foligno came close to a GHHT twice within two weeks during the 2018-19 season. He recorded a fight and a goal (but no assist) in games on Feb. 19, 2019, and again 12 days later.
Only twice in NHL history have two players recording GHHTs in the same game by fighting each other. One involved then-Blue Jacket Fedor Tyutin. On Mar. 9, 2010, Tyutin fought Ryan Getzlaf of the Anaheim Ducks. It was the third leg of Tyutin's GHHT and the first of Getzlaf's.
In the Blue Jackets' first-ever game, Krzysztof Oliwa recorded a fight and an assist, but no goal. Later in the inaugural season, Steve Heinz and Alex Selivanov had games in which they recorded goals and assists and penalties for roughing but not fighting.
Most of the above information came from examining hundreds of box scores of Columbus games at Hockey-Reference.com. (Tip from The Department of Duh: If you're looking for games involving Gordie Howe Hat Tricks, you can skip all of the games in which your team was shut out or only scored one goal. No player can have both a goal and an assist in such games.)
Fighting is Down. Will GHHTs Go Extinct?
For the past dozens of seasons or so, we've seen a decrease in fights and, therefore, fighting penalties. Does that mean an end to the Gordie Howe Hat Trick? Probably not until fighting is banned. And as far as a ban on fighting in hockey is concerned, let me reference a 1963 episode of The Twilight Zone, "Steel," featuring Lee Marvin as a former boxer.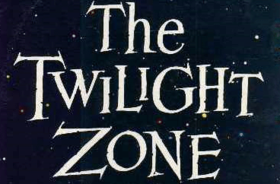 Early in the episode, host Rod Serling says, "Only (these) automatons have been permitted in the ring since prizefighting was legally abolished in 1968." Mr. Serling was astonishingly prescient on many subjects, but when he predicted in 1963 that boxing would be abolished by 1968, he missed the mark. Almost 60 years ago, he recognized that men punching each other in the head was something that needed to be banned. To date, it has not been abolished. Neither in the ring, nor on the ice.
---
---