We continue our summer series, titled Blue Jackets Pressure Points, on the Columbus Blue Jackets. We ask hard questions about the team and attempt to answer them as it relates to the upcoming season and beyond. Last time, we looked at the importance of the fourth line. Today, we turn our attention to what many fans call a sore subject. What can we expect to get from David Clarkson this season?
It's not his fault.
When it comes to the current state of the Columbus Blue Jackets and why things haven't worked out the last couple of seasons, it's not his fault.
Yet, every time his name comes up, many fans point to David Clarkson and want him quickly out-of-town. Many fans still wonder why he's even in Columbus, to begin with.
In case you've lived under a rock and you just woke up from a year-long nap, Clarkson came to Columbus as part of a trade that sent Nathan Horton to the Maple Leafs. Many criticized the move when it first happened, not surprisingly. Unfortunately for the Blue Jackets, they were backed into a dark corner.
Horton's contract was not insured. As a result, the team was on the hook no matter what. Horton suffered a debilitating back injury that has forced him away from the game. The Blue Jackets saw an opportunity to bring a player in who they thought could provide something in Clarkson.
He was a 30-goal scorer. Maybe he could recreate some of what made him successful in New Jersey? Unfortunately, injuries got in the way.
Season Recap
Clarkson was limited to just 23 games in his first full season with the Blue Jackets, scoring just two goals and four points. When he was in the lineup, he played on the bottom six.
The one thing that stood out to me in looking at Clarkson's numbers was his shooting percentage. Granted he played in far fewer games and had fewer shots, but Clarkson had a better shooting percentage than both Alexander Wennberg and Nick Foligno. Clarkson finished with an 8.3, while Wennberg had an 8.2 and Foligno an 8.1.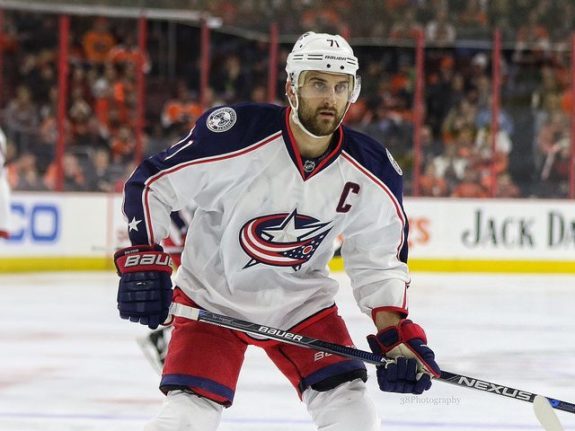 In his career, Clarkson has a shooting percentage of 9.1. So when he was on the ice, he produced at a level slightly below his career average. If he's in for closer to a full season, the potential exists for "some" production.
His individual production isn't good, but take a quick look at the right side of that chart. There's some usefulness there given his role. He at least ranks above a "depth player".
Let's face it. Clarkson likely isn't getting you 20 goals. He might not even get to 10 goals. But to say he is completely useless is just wrong. Assuming his health (and that is a big assumption at this point), I have no issue at all playing Clarkson on the right side on the third or fourth line.
He's not going to live up to the contract at this point. Just look at some of his comparables according to General Fanager. But what can we expect to see this season from Clarkson? Let's look at both extremes.
Clarkson Expectations
We know health is a big concern. We won't know anything until training camp begins as to his status. There at least exists the possibility of a long-term injury. Anytime you have a back injury, you just don't know how it's going to respond. If he can't play due to injury, long-term injured reserve is something the team will look at depending on the severity. Could his career even be over? It's way too early to even go there. Let's see what happens in training camp before entertaining this thought. Aaron Portzline of the Columbus Dispatch recently said he thinks it's 70-30 Clarkson goes to long-term injured reserve.
Strong. Say 70-30. https://t.co/glZqT7qlm6

— Aaron Portzline (@Aportzline) July 30, 2016
Now if he's healthy, chances are he is on the opening night roster. Sorry, don't expect the team to try to bury that contract. At that point, we should expect to see him on the bottom six. Put him with a Nick Foligno and a Sam Gagner and you have yourself a third line. Or you could see him play with a William Karlsson and a Gregory Campbell on the fourth line.
Let's be real. The situation isn't too good here. You have a player playing bottom-six minutes with a cap hit of $5.25 million. Even if healthy, questions do still remain. The Blue Jackets want to play fast. Can Clarkson play at the pace the team wants to play? Can he stay healthy for a full season?
At this point, you have to make the best of the situation. It wasn't his fault Toronto offered that contract, to begin with. It wasn't his fault that Horton's contract wasn't insured. A series of events led us to this point. We have to stay realistic with Clarkson given how everything unfolded.
Here's my prediction. If he is healthy, I expect Clarkson to have an ok season. By ok, I mean chipping in 5-7 goals and playing steady defense. Anything above this would be a win. I'm definitely tempering my expectations simply because of his health.
If his back is too troublesome, then injured reserve is where he'll go. I do hope for his sake that the summer has gone well for him in terms of his health. He is one of the nicest players you'll ever meet and is a giant in the community. It's always unfortunate when an injury takes away from your career.
David Clarkson met with kids from The First Tee at the #USSeniorOpen this afternoon! pic.twitter.com/TH6y8b7Vw6

— Columbus Blue Jackets (@BlueJacketsNHL) August 10, 2016
At this point, though, Clarkson's status is a mystery. The one thing we do know is that the team won't put him in a spot where he'll have to carry the load. The issues with the Blue Jackets run deeper than just one player. The fate of the Columbus Blue Jackets won't be decided because of Clarkson. It will be decided by the play of Sergei Bobrovsky and others who are expected to play better this season.
If there is a ray of hope, it's that there are hardly any expectations on Clarkson. The pressure sits on Bobrovsky, and Ryan Murray and Seth Jones to play at a high level. If healthy, Clarkson can just focus on playing. Maybe that translates into something.
Let's get him healthy first. Then we'll start to worry about other things later.