In the 20 years of the Columbus Blue Jackets, the club has drafted in the top 10 a total of 13 times, mostly due to lack of success on the ice. Yet, over the years, more than 30 top 10 draft picks have suited up for the team. Some arrived via trade, others as free agents. Some had an impact on the team; some barely registered as a blip on the fans' radar. Of course, the most memorable top 10 draft pick in Blue Jackets history is Rick Nash.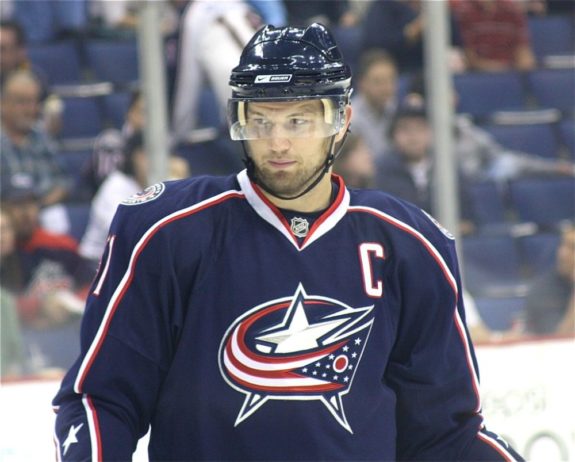 Among top 10 draftees, Nash leads all in both games and points for the Blue Jackets. That's not really a surprise, considering Columbus drafted him 1st overall. He spent most of his early and prime years with the team, appearing in 674 regular-season games, as well as four playoff games, scoring 290 goals and 260 assists (550 total points, regular and postseason).
The Early Years in Columbus
As part of the 2000-01 expansion deal worked out between the NHL and the incoming Blue Jackets and Minnesota Wild, the new teams drafted 3rd and 4th, with Minnesota winning the coin flip. Rostislav "Rusty" Klesla* became the original Blue Jacket, selected one spot behind Marian Gaborik.*
* – See the section Blue Jackets Top 10 Draftees Trivia below.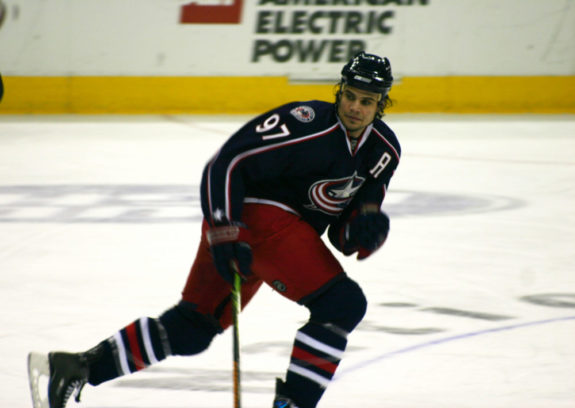 Klesla was the only top 10 draftee to play for the Blue Jackets during their inaugural and following seasons (2000-01 and 2001-02). In 2002-03, he was joined by 1st overall pick Nash, along with free agents Scott Lachance (#4 overall, 1991, New York Islanders) and Luke Richardson (#7, 1987, Toronto Maple Leafs). 
Then-general manager Doug MacLean added a number of other top 10 picks the following season, including draft picks Pascal Leclaire (#8, 2001, Columbus) and Nikolai Zherdev (#4, 2003, Columbus), along with acquisitions Manny Malhotra (free agent; drafted #7, 1998, New York Rangers), Darryl Sydor (preseason trade with the Dallas Stars; #7, 1990, Los Angeles Kings), and Alexandr Svitov (trade with the Tampa Bay Lightning for Sydor in January 2004; #3 2001, Lightning). Lachance, who played 138 games but scored only five points for Columbus, retired prior to the 2004-05 season. No additional top 10 draftees joined the team for that season.
A Cornucopia of Top 10 Draftees for the Blue Jackets
Starting in 2005-06, the Blue Jackets spent five years with a cupboard full of players drafted in the top 10.
2005-06 (11 total): Bryan Berard* (#1, 1995, Ottawa Senators), Gilbert Brule (#6, 2005, Columbus), Klesla, Leclair, Malhotra, Nash, Alexandre Picard* (#8, 2004, Columbus), Richardson, Mike Rupp* (trade with the Phoenix Coyotes, October 2005; #9, 1998, Islanders), Svitov, and Zherdev.
2006-07* (9 total): Berard, Brule, Klesla, Leclair, Malhotra, Nash, Picard, Svitov, Zherdev.
2007-08 (10 total): Kris Beech* (#7, 1999, Washington), Derick Brassard (#6, 2006, Columbus), Brule, Nikita Filatov (#6, 2008, Columbus), Klesla, Leclair, Malhotra, Nash, Picard, Zherdev.
2008-09 (10 total): Brassard, Filatov, Chris Gratton (off waivers, February 2009; #3, 1993, Tampa Bay), Klesla, Leclaire, Malhotra, Nash, Picard, Raffi Torres (trade with the Edmonton Oilers for Brule, July 2008; #5, 2000, Islanders), Jakub Voracek (#7, 2007, Columbus).
2009-10 (7 total): Brassard, Filatov, Klesla, Nash, Picard, Torres, Voracek.
Following the 2009-10 season, Picard and Torres left via trade, dropping the number of top 10 selections on the roster from seven to five. During the 2010-11 season, Columbus traded Klesla for another top 10 draftee, Scottie Upshall (#6, 2002, Nashville Predators).
A String of Blue Jackets Rosters With Four Top 10 Draftees
The 2011-12 season opened with only three top 10 selections on the roster, all home-grown. Nash and Brassard were joined by Ryan Johansen (#4, 2010, Columbus). In February, the Blue Jackets added defenseman Jack Johnson (trade with Los Angeles Kings; #3, 2005, Carolina Hurricanes). Following the season, many fans' hearts broke when Nash headed to the Rangers. The organization signed Nathan Horton (#3, 2003, Florida Panthers) as a free agent. In April 2013, Columbus sent Brassard, two additional players, and a draft pick to the Rangers in exchange for three players, including Marian Gaborik (#3, 2000, Minnesota).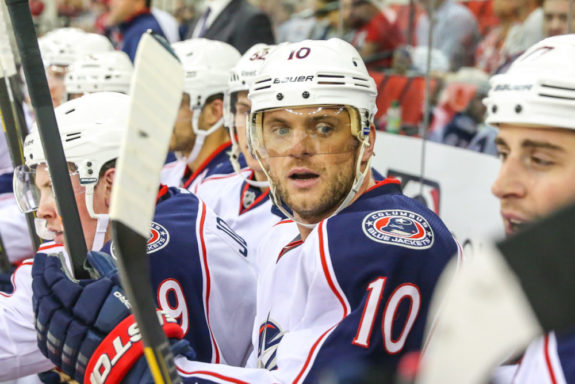 The string of seasons with four top 10 draftees continued from 2013-14 through 2015-16, with the Blue Jackets icing Johansen, Johnson, free agent Jack Skille* (#7, 2005, Chicago Blackhawks), and rookie defenseman Ryan Murray* (#2, 2012, Columbus) in the first of those seasons. Following the season, Scott Hartnell (trade with Philadelphia Flyers; #6, 2000, Nashville) joined the Blue Jackets, and Skille was allowed to walk as a free agent. The 2014-15 roster was stable* (in terms of top 10 picks), with Hartnell, Johansen, Johnson, and Murray.
Halfway through the 2015-16 season, the number remained at four, but the names changed: Johansen went to Nashville in a one-for-one deal that brought defenseman Seth Jones* (#4, 2013, Nashville) to Columbus.
The Seth Jones Years
Before the 2016-17 season, Jones, Hartnell, Johnson, and Murray welcomed fellow top 10 pick Sam Gagner (#6, 2007, Edmonton), who signed as a free agent. Gagner lasted only one season with the Blue Jackets (81 games, 50 points). However, 2017-18 saw the debut of Pierre-Luc Dubois (#3, 2016, Columbus), and in February, a trade with Vancouver brought on board Thomas Vanek (#5, 2003, Buffalo).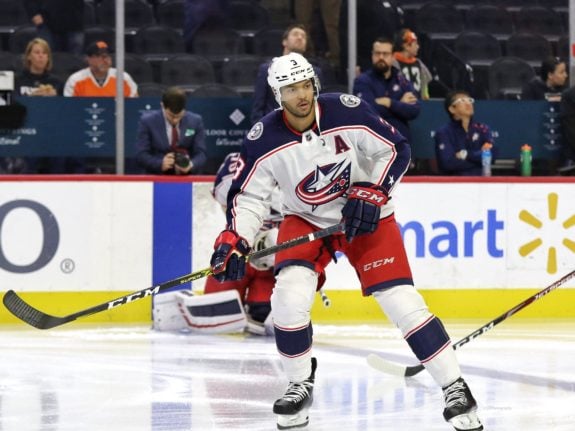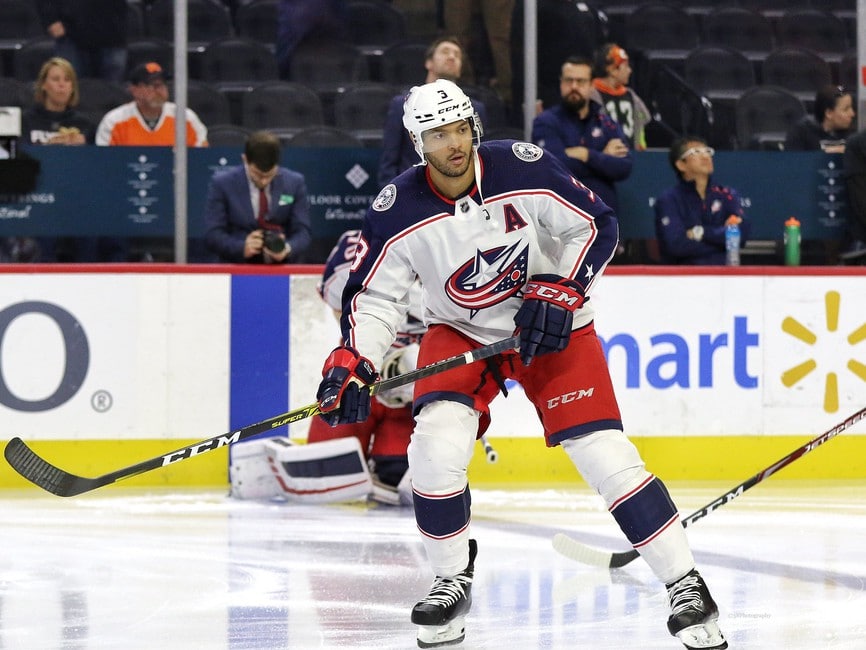 2017-18 was the last in Columbus for free agents Johnson (signed by Pittsburgh) and Vanek (signed by the Detroit Red Wings). Matt Duchene (#3, 2009, Colorado Avalanche) joined the Blue Jackets in a February trade. He, like Vanek, left as a free agent after his partial season in Columbus (Duchene: 23 games/12 points, Vanek: 19 games/15 points). 
Related: Blue Jackets Primed to Pounce on Cap-Strapped Prey
Last season, 2019-20, saw the number of top 10 draft picks on the Blue Jackets' roster drop to its lowest number since Klesla was in his sophomore season: only Jones, Dubois, and Murray remained. And 2020-21? Murray is gone, and Mikko Koivu (#6, 2001, Minnesota) is onboard. Jones is as "untouchable" as any player on the roster, so expect him back. Dubois has yet to sign a new contract, but GM Jarmo Kekäläinen is confident that a deal is imminent. So, as it stands now, it will be a second straight year with three top 10 picks playing for Columbus.
Blue Jackets Top 10 Draftees Trivia
There are lots of interesting tidbits involving players drafted in the top 10 who spent part of their careers with the Blue Jackets:
Although Klesla was a native Czech, he played for the Brampton Battalion at the time the Blues Jackets drafted him, the same junior team from which Nash was drafted two years later.
In the 2000 draft, Minnesota selected Gaborik one spot ahead of Klesla. Gaborik would later play 24 games for Columbus, spread over the 2012-13 and 2013-14 seasons, recording nine goals and 13 assists.
Berard was the only #1 pick other than Nash to play for the Blue Jackets.
At the 2004 Entry Draft, Columbus traded down, sending the #4 pick to Carolina for the #8 pick and a 2nd-round pick. Carolina drafted Andrew Ladd, who has played 950 NHL games, scoring 249 goals and recording 289 assists (538 points). Columbus used the #8 pick to select Picard, who played 67 games and registered a total of two assists for his entire NHL career. And that 2nd-round pick? Columbus used the #59 pick on Kyle Wharton, who played exactly zero NHL games.
The Islanders originally drafted Rupp #9 in 1998, but he never signed with the team. He was redrafted in 2000 by the New Jersey Devils, #76.
In 2006-07, the Blue Jackets iced nine top 10 draft picks. Under three different coaches (Gerard Gallant, Gary Agnew, Ken Hitchcock) and two general managers (Doug Maclean, Jim Clark).
Beech's departure from the Blue Jackets ended up as quite the whirlwind. On Jan. 10, 2008, Columbus placed him on waivers. He was picked up that day by the Vancouver Canucks, who placed him on waivers on Jan. 23 after only four games (two points). The Washington Capitals would claim him, but he never played for the team, as they placed him back on waivers three days later. He was then picked up by the Pittsburgh Penguins, for whom he played five games (zero points). That was his last stop in the NHL. However, he played another 11 seasons with various European teams.
Speaking of Beech, during January 2008, he played both for and against the Blue Jackets – in the span of two weeks.
Skille was a Blue Jacket in the 2013-14 season and again in the 2014-15 season. But not in between. Following the 2013-14 season, he signed as a free agent with the Islanders (Jul. 1, 2014). Three months and three days later, Columbus claimed him off the waiver wire, making him a Blue Jacket for a second stint – without playing a single game for any other team.
While the number of top 10 draft picks on the 2014-15 Blue Jackets' roster was unchanged from the prior season, the roster as a whole saw lots of shakeups – five in-season transactions involving 13 players and four draft picks.
Jones and Johansen, both #4 picks (three years apart), crossed paths at the airport in Columbus as they traveled to join their new teams.
(There's a bit more trivia coming up – former Blue Jackets' top 10 draftees who are considered among the worst draft picks of all time.)
Top 10 Draftees' Impact on Columbus, Great and Small
The various top 10 draftees who suited up for the Blue Jackets had varying impacts on the team. Nash is the most accomplished player in the history of the Blue Jackets. Both Nash and Richardson served as captain of the team. 
However, according to HockeyLists.com, three of the five biggest draft "busts" since 2000 are among the players named in this article. TheSportster.com, one could say, is a bit kinder – only two on this list make their Top 25 NHL Draft Busts of All Time. (Hint: The two players who appear on both lists have names that rhyme with "Spilatov," and the third may be related to the captain of an interstellar spacecraft that moves at warp speed.)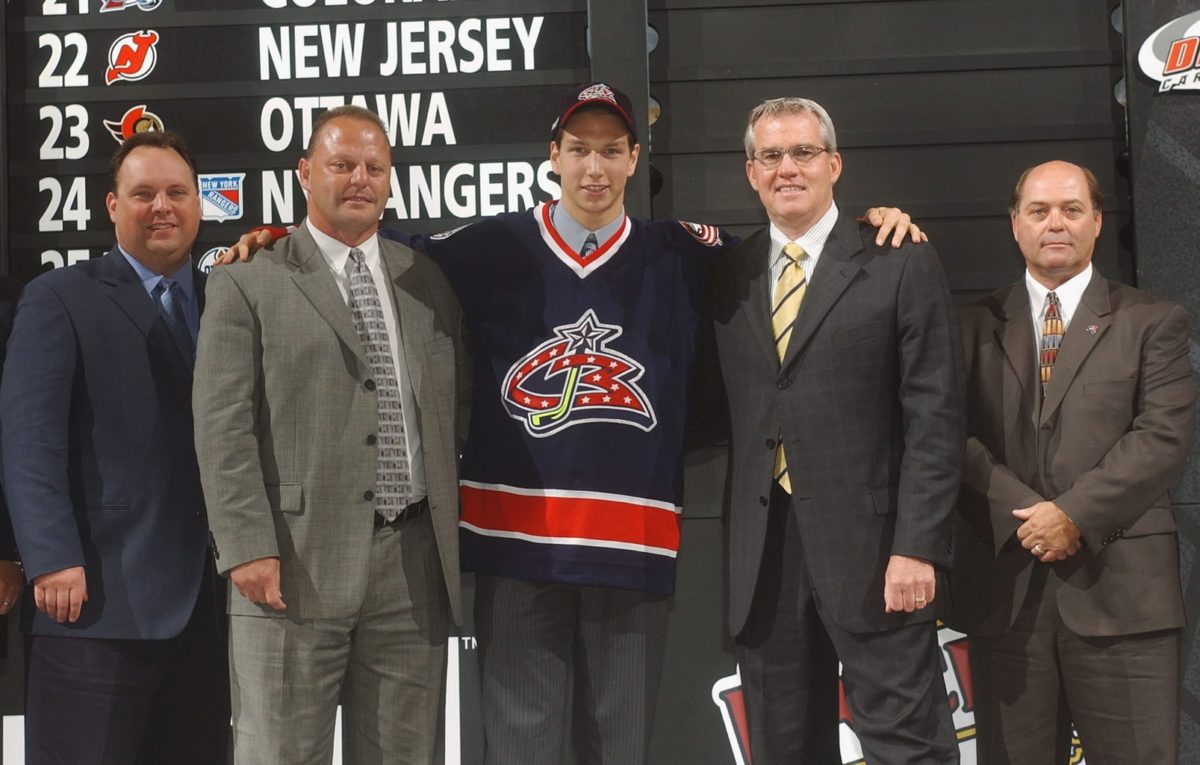 A dozen of these top 10 draft picks, both home-grown and imported, have played more than – approximately – three seasons' worth of games for the Blue Jackets, regular season and playoffs: Nash (678), Klesla (519), Johnson (456), Murray (367), Jones (356 – still active), Malhotra (348), Johansen (320), Brassard (309), Zherdev (283), Dubois (260 – still active), Voracek (245), Hartnell (238).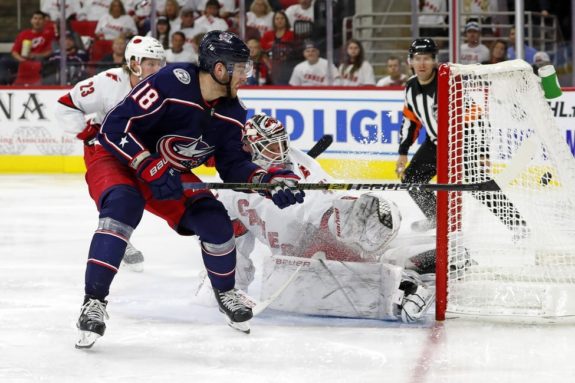 A dozen of the players have scored over 100 points for Columbus: Nash (550), Jones (215 – and counting), Johansen (200), Zherdev (181), Dubois (177 – and counting), Brassard (169), Johnson (163), Voracek (153), Hartnell (146), Malhotra (145), Klesla (134), and Murray (113).
On the flip side, a number of top 10 draft picks had very short and/or unproductive stays in Columbus. Eight of them played less than a half season's worth of games (regular season and playoffs combined): Gratton (6), Beech (16), Upshall (21), Vanek (25), Duchene (33), Gaborik (34), Horton (35), and Rupp (39). 
Ten players drafted in the top 10 scored fewer than 20 points for the Blue Jackets: Picard (0), Gratton (1), Lachance (5), Rupp (6), Upshall (7), Beech (9), Skille (13), Filatov (13), Sydor (17), and Horton (19).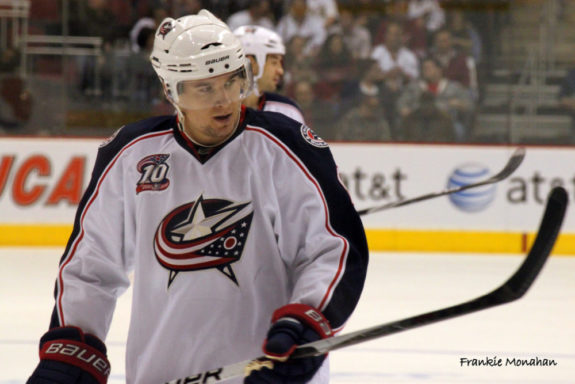 All-in-all, drafting, signing, and trading for players drafted in the top 10 has been quite the mixed bag for the Blue Jackets. But Jones, likely a future James Norris Trophy winner, and Dubois, the top-line center, are a good base upon which to build. Barring a trade, don't expect Columbus to draft in the top 10 any time soon. But with Kekäläinen at the helm, adding a top 10-er to the roster might happen. Maybe even this season.
---
---