There have been rumors recently that there's a possibility that the San Jose Sharks could be talked into moving out of the fourth overall pick. With the St. Louis Blues currently owning picks 10, 25, and 29 in the first round of the 2023 NHL Draft, it's possible general manager Doug Armstrong could assemble a competitive package of picks and a prospect or two to make the jump from 10th overall to fourth to secure a prospect with a higher ceiling.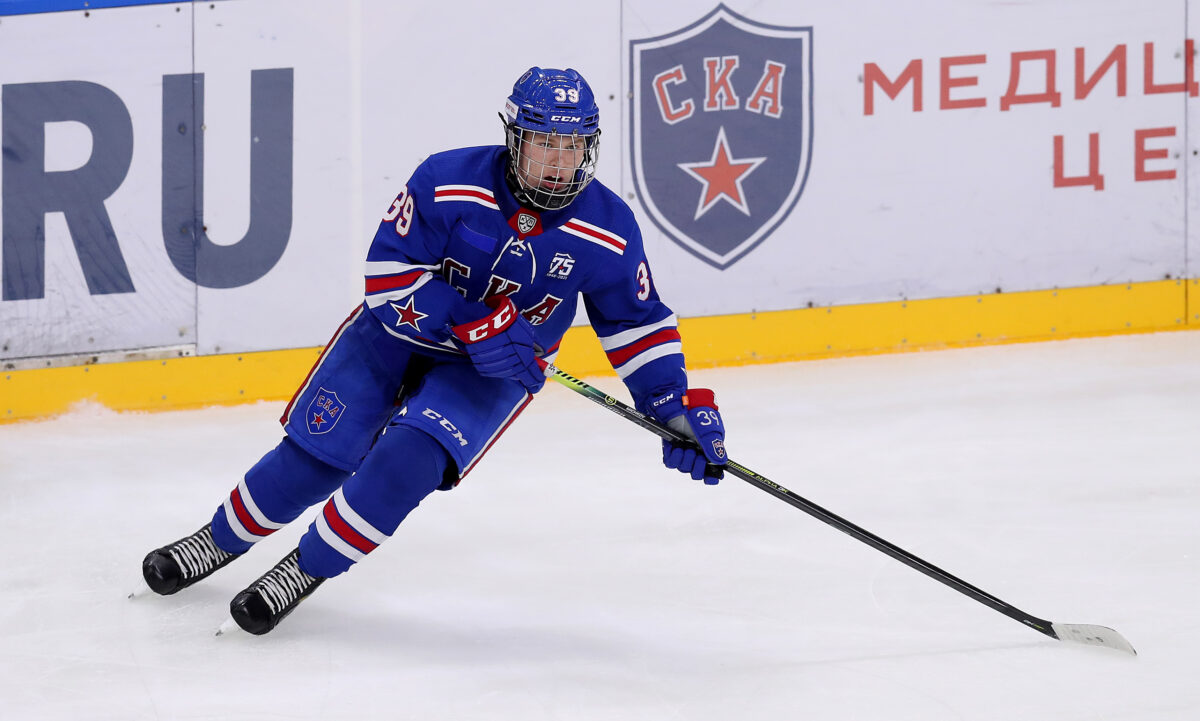 In this forward-heavy draft class, top prospects Connor Bedard, Adam Fantilli, and Leo Carlsson will likely be off the board within the first three selections. But an elite-level talent could still be available at pick four: Matvei Michkov. It would take a massive haul to be in the position to pick him, and the Blues would not be the only club looking to move up if the 18-year-old Russian winger was still on the board. But if they were able to make a deal happen, they should be eager to select a player who could alter the course of their franchise for years to come.
Matvei Michkov Scouting Report
Age: 18
Hometown: Perm, Russia
Size: 5-foot-10, 148 pounds
Shoots: Left
Position: Right wing
Statistics: 27 games, nine goals, 11 assists, 20 points, 14 penalty minutes (HK Sochi – KHL)
Viewed as the second-best prospect in the class by some, Michkov is regarded as the greatest Russian prospect since Alex Ovechkin. Offensively, he's second to only Bedard from this class. His creativity with the puck and high hockey IQ are perhaps his greatest tools. While he isn't well-renown for his speed, he's able to utilize his creativity and elite stickhandling to maneuver through the offensive zone like a magician.
His creativity with the puck extends to his shot – whether it's a wrister, backhand, or the famous "Michigan" lacrosse-style goal you see above. His ability to attack the net from any angle is unparalleled, often leaving opposing the opposition clueless about how to slow him down.
Related: 2023 NHL Draft Guide
---
Latest News & Highlights
---
His size (5-foot-10, 150 pounds) is on the low end of the NHL norm, and not possessing high-end speed for someone that small may be of concern to some. His game as well is not without flaw. While he's a playmaking genius, some scouts reflect that he relies too much on making a spectacular play on his own over utilizing his teammates and setting up scoring chances. However, that's a skill that can be learned as he gets older and is surrounded by higher caliber talent than that of SKA St. Petersburg and HK Sochi of the Kontinental Hockey League (KHL).
Related: Matvei Michkov – 2023 NHL Draft Prospect Profile
Ultimately, the issue that may cause him to slip on draft night is his commitment to play in Russia. He's currently signed to play in the KHL through the 2025-26 season, meaning whoever selects him will likely have to wait a minimum of three years before he can join their club. So whichever organization opts to take a chance on Michkov, they're doing so knowing they'll have to have a great deal of patience since he won't be in the fold immediately.
Where Michkov Fits with the Blues
Michkov would immediately slot in as the Blues' number one organizational prospect and would be one of the top 10 prospects in all of hockey. If Armstrong were able to swing a deal to move up in the draft to select him, he would likely have to give up at least one of their top prospects in Jimmy Snuggerud or Zachary Bolduc. Though in gaining someone of Michkov's caliber, they would be fine with that trade-off. He would not be in the organization right away, so he will have to be monitored by the Blues from afar.
Michkov Would be the Future
If selected by the Blues, he will be the building block of the franchise going forward. He's a generational type of player that they hope may never get a chance at obtaining again if everything goes right. The elite skillset he possesses and nearly limitless potential could alter this franchise's direction for the next decade or more. He would not be able to be a part of the Blues' "transition" or "re-tooling" due to his contractual obligations in the KHL. But hopefully, by the time he's ready to call St. Louis home, the club will have established a strong supporting cast for Michkov to join and elevate the team back to glory.