The St. Louis Blues possess a rich history of hockey as a franchise over the last 53 years. They have had Hockey Hall of Famers pass through town and many have left large impacts. They have also retired eight numbers in franchise history – let's take a look at them.
No. 2 – Al MacInnis
On July 4, 1994, the Blues acquired defenseman Al MacInnis from the Calgary Flames along with multiple players and a pick. The Flames regretted this trade immediately, despite winning the Stanley Cup in 1989 with MacInnis, who became a Blues legend.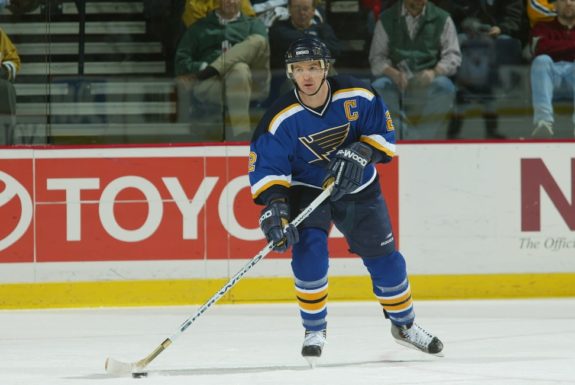 MacInnis kicked off his Blues career with three seasons of 40 or more points. In his fifth season with the club, he took home the 1999 Norris Trophy with a 62-point season where he scored 20 goals.
That would be the only Norris victory of his career. In 2002-03, he tallied 68 points and finished second in Norris voting, nearly winning another.
---
---
He scored 452 points in 613 games over 10 seasons with the Blues and remains as one of the most accomplished Blues' defensemen in the history of the franchise. MacInnis had his No. 2 retired in 2006.
No. 3 – Bob Gassoff
The Blues drafted Bob Gassoff in the third round of the 1973 NHL Draft, he was a left-handed defenseman from the Medicine Hat Tigers of the WHL.
In his four seasons with the Blues, he was an enforcer on the back-end. He got into fights often and had 866 penalty minutes in those four seasons. He was becoming an all-around defenseman for the Blues in his last couple seasons as well. He tallied 24 points in 77 games during the 1976-77 season.
He tragically died in a motorcycle accident at the age of 24 in 1977. The team retired his number in October of 1977.
No. 5 – Bob Plager
The Blues acquired Bob Plager in a 1967 trade from the New York Rangers involving Rod Seiling. He came to St. Louis as a 24-year-old defenseman and spent over a decade calling the city home.
He was the ultimate leader on the ice and would defend his teammates every chance he got, tallying 760 penalty minutes over the 11 seasons he spent with the Blues.
Plager was near the top of the list for people most excited to see the Blues win the Cup in 2019 and it was amazing to see him witness it. It's a moment that will live forever in franchise history.
He is a St. Louis sports legend and one of the great ambassadors for not only the game of hockey, but the Blues franchise as well. They retired his number in a large ceremony on Feb. 2, 2017. The Blues scored a 5-1 victory over the Toronto Maple Leafs on that night.
No. 8 – Barclay Plager
The next Plager to have a massive impact on the Blues was Barclay, another defenseman who wasn't afraid to get mix it up on the ice. His impact on the franchise and the birth of the franchise was special.
Like his brother Bob, Barclay was traded from the Rangers to the Blues. That deal also involved Blues' legend Red Berenson as well. Barclay would go on to play his entire 10-year career with the Bluesm as he never played in an NHL game before his trade to St. Louis.
He was as steady a defender as there was in the league in the 1970s. Eight times he scored over 20 points from the blue-line, and his competitive spirit was unmatched.
He was a rock-solid hockey player – there is no other way around it. He passed away in 1988, but fortunately got to see his number retired in 1981. He was also a great ambassador for hockey and the Blues after his career.
No. 11 – Brian Sutter
A former captain of the team, Brian Sutter epitomizes what it meant to lead a group of men on and off the ice. He is another rare player to have spent a 12-year career with one franchise.
During his prime, he was a stellar two-way forward, scoring over 60 points in a season on seven occasions. From 1982 to 1985, he scored 308 points in 306 games. During that stretch, he finished top-15 in Hart trophy voting and top-16 in Selke Trophy voting three times each. He was also a three-time All-Star.
He was one of the most competitive leaders the Blues have ever had and wanted nothing more than to win games. He had his number sent up to the rafters in December of 1988, directly after the end of his career.
No. 16 – Brett Hull
Brett Hull was a former sixth-round pick in 1984 and turned his career into a Hall of Fame one. The Calgary Flames gave up on him and dealt him to the Blues in 1988, a trade that would go down as one of the best in team history.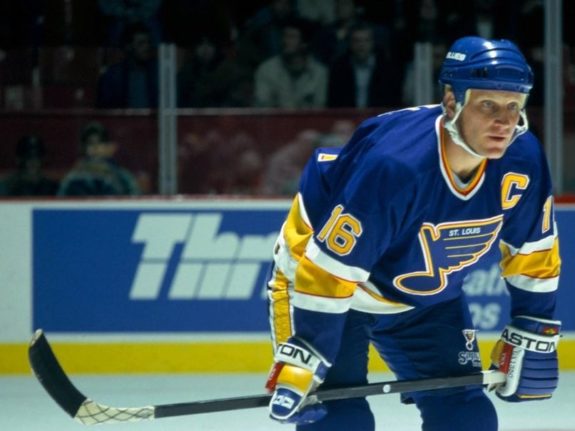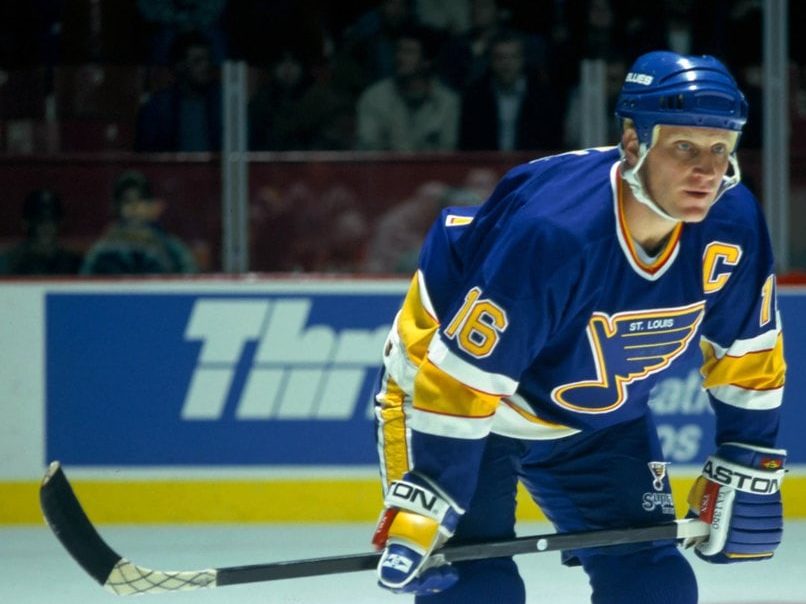 He had a ridiculously good career over 11 seasons with the Blues. From 1990 to 1992, he scored 228 goals in 231 games, which will never be done again. His chemistry with Adam Oates was off the charts.
With 527 goals, he has a stranglehold on the franchise record for goals with the closest active player insight being Vladimir Tarasenko with 214. Golden Brett was the most dominant offensive threat the Blues have ever had, not only was he that, he was one of the more interesting personalities in team history as well.
Hull's No. 16 was retired after he ended his career in 2006. He remains as one of the greatest athletes in St. Louis city history.
No. 24 – Bernie Federko
The Blues took Bernie Federko with the seventh pick of the 1976 NHL Draft and he immediately jumped into the lineup as a 23-year-old center.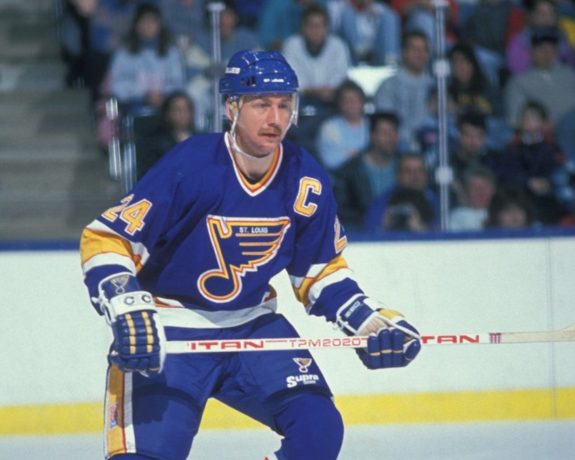 He had 10 seasons in a row with more than 70 points scored, during that stretch he scored 853 points in 679 games. He was an elite passer and possessed a good shot as well. He was the ultimate center for the franchise, he was one that was a top-six staple for many seasons.
He is the all-time franchise leader in both assists (721) and points (1,073). He never won any major awards and only made it to two All-Star games, but he is in the Hockey Hall of Fame and deservedly so.
He ended his career with the Detroit Red Wings for one season and the Blues retired his No. 24 a couple of years later in 1991.
No. 44 – Chris Pronger
The Blues sent Pronger's No. 44 into the rafters on Jan. 17, 2022, prior to a divisional matchup against the Nashville Predators. It was a well-deserved honor for one of the best defensemen to ever wear the blue note.
The Blues acquired Pronger in a 1995 trade for Brendan Shanahan from the Hartford Whalers. He became of the most intimidating defenders in the history of the game. This move shaped the Blues' success in the 1990s and early 2000s, but it wasn't enough to get them over the hump. Success should never be taken for granted though, the Blues made the playoffs in all nine of his seasons.
Standing at 6-foot-6 and 220 pounds, Pronger was physical and could defend, as well as score. He won a Hart Trophy as a defenseman in 1999-00, which is as rare as it gets. He won the Norris Trophy as the league's best defenseman that same season, and six other times he finished in the top five in voting for the trophy.
Despite never leading the Blues to a championship, he was one half of one of the best defensive pairings hockey has ever seen with him and MacInnis. There were nearly eight full seasons of Pronger and MacInnis, and despite never winning a Cup together, they were a tremendous duo. Pronger had 356 points in 598 games as a Blue, including 84 goals, which is third in team history among defensemen behind MacInnis and Alex Pietrangelo.
I would not be surprised to see a few active players eventually get their numbers retired with the Blues. It is a massive accomplishment and one that all eight of these players deserve.
---
---
---
Latest News & Highlights
---