With the NHL season progressing beyond the halfway point of the season, NHL teams are beginning to take inventory of not only their own teams' strengths and weaknesses but other teams as well. The NHL's March 3 trade deadline is rapidly approaching and the time that teams and general managers have to gather information regarding players who could be available for a trade is getting shorter by the day. Per a source, the St. Louis Blues had not only two notable scouts in attendance for the Detroit Red Wings and Columbus Blue Jackets game on Saturday, Jan. 14 but their Vice President of Hockey Operations, Peter Chiarelli as well.
With the Blues struggling to gain momentum and traction toward a playoff spot this year, they could find themselves on the outside looking in with two notable trade chips in Vladimir Tarasenko and team captain Ryan O'Reilly. The question now becomes who the trio was looking at and considering throughout the matchup and whether the Blues could be considering a deadline addition or two.
Current State of the Blues
Now midway through January, the Blues join the Colorado Avalanche and Nashville Predators in a battle for the fourth spot in the Central Division but far behind the Minnesota Wild by a margin of at least seven points. With only the top three teams in each division making the playoffs, the Blues' playoff hopes have turned to the Wild Card. However, the two Wild Card spots for the Western Conference are currently occupied by the Calgary Flames and Edmonton Oilers. The opportunity to gain ground on these teams is dwindling and the time to begin making the difficult decisions regarding the soon-to-be free agents is nearly upon us.
Related: Blues Should Be Cautious to Keep or Extend O'Reilly & Tarasenko
---
Latest News & Highlights
---
With 14 guaranteed NHLers currently under contract for the 2023-24 season and approximately $12 million in cap space available, speculation regarding trade returns has begun to swirl. Here are three players that the Blues could be interested in from the Detroit Red Wings.
Tyler Bertuzzi
The high-scoring winger, Tyler Bertuzzi should be at the top of most teams' trade targets this trade deadline. With a cap hit of $4.75 million, the 27-year-old is in the final months of his current contract and could likely be searching for a new franchise to join and a city to call home. He is arguably one of the Red Wings' top rental candidates and a player who is too valuable to lose without retaining any assets in return.
During the shortened 2020-21 COVID-19 season, Bertuzzi appeared in only nine regular season games scoring five goals and seven points before a back injury derailed the remainder of his season. He bounced back in a big way the following season with 30 goals for the first time in his NHL career, compiling 62 points in 68 games. He is a proven power forward who is a scoring threat any time the puck is on his stick. He is a player who has top-line abilities each night, is capable of playing on either wing, and excels on the power play.
His six goals on the man advantage were a career-high and helped Detroit's team power play improve from 11.4 to 16.3 percent. The Blues may be pessimistic when it comes to trading for a player with a back injury who could be out of the lineup for long stretches at a time. Nevertheless, with a lack of high-end scoring talent under the age of 30 on the Blues' current roster, Bertuzzi is an intriguing name to consider.
Filip Zadina
The 23-year-old of the Czech Republic is another intriguing option for St. Louis. Drafted sixth overall in the 2018 NHL Entry Draft, Filip Zadina has yet to find the true offensive success that made him such a coveted draft choice. To date, the left-shot winger has scored 61 points (25 goals, 36 assists) in 169 NHL games over five seasons while averaging 15:09 of time on ice. It is important to note at this point that Zadina is currently listed on Detroit's Injured Reserved list after breaking a bone in his leg by blocking a shot in early November. His return to action has been anticipated over the past week and could happen shortly.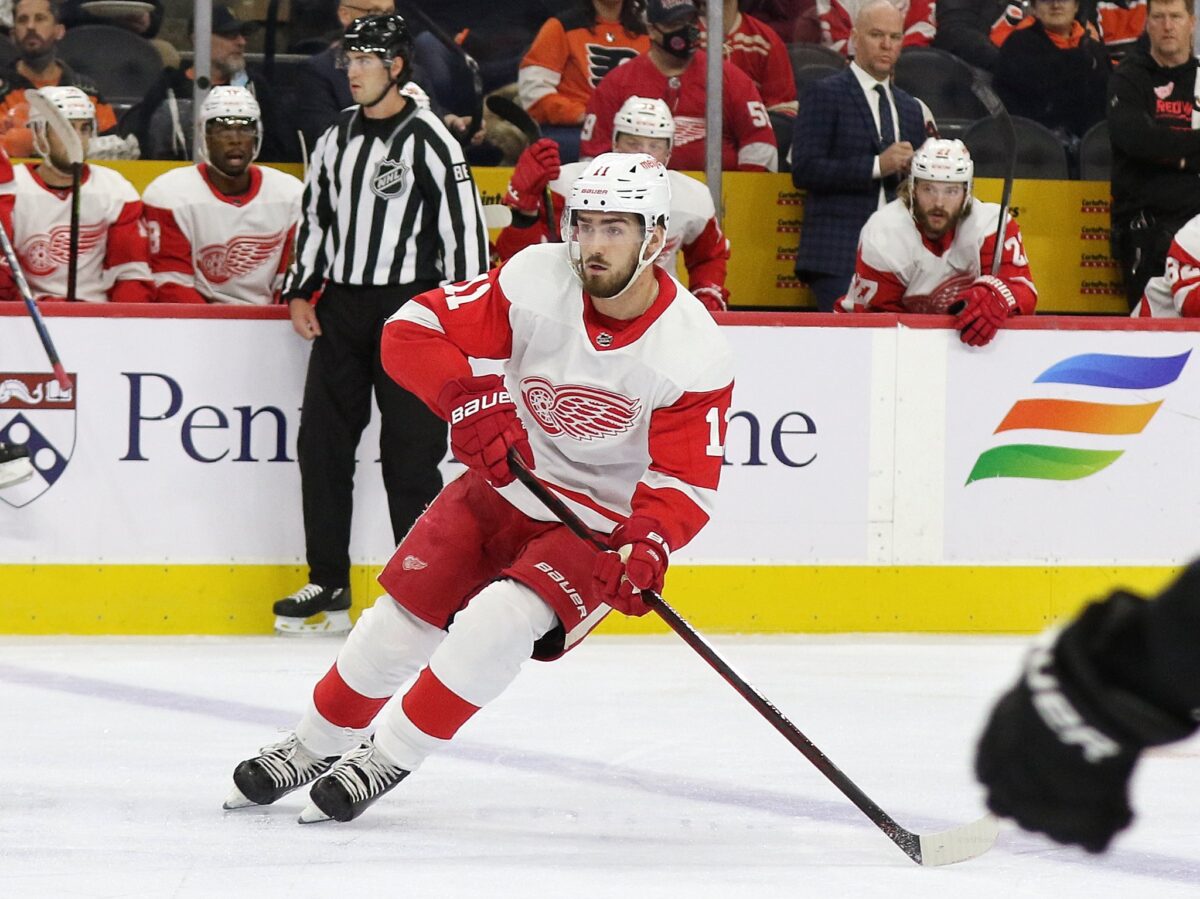 Zadina is a player who could be viewed as an under-the-radar trade package option for the Blues and is currently signed through the 2024-25 season at a low $1.825 million price tag. He is a player who has yet to pay dividends and find his offensive stride in the NHL but still shows flashes of offensive talent. He has been shuffled through the Red Wings' lineup with linemates like Pius Suter, Robby Fabbri, Michael Rasmussen, and Adam Erne. If he is to find a path to that offensive success, it will likely need to come from talented playmakers like Brayden Schenn and Robert Thomas on his line.
Dominik Kubalik
A middle-six forward for Detroit, Dominik Kubalik is currently under contract through the 2023-24 season at $2.5 million per season. The former Chicago Blackhawks forward who scored 30 goals in his 2019-20 rookie campaign has regressed scoring only 45 goals in 175 games between the Chicago and Detroit organizations since. After slowing down offensively with the Blackhawks, he seems to have found his offensive scoring touch once more while currently on pace for 26 goals this season. Kubalik is a player who has the capabilities to play anywhere in a top-nine role and could be viewed as a viable depth-scoring option for any team he plays on. At 27 years old, he still has several years left in his prime that the Blues could take advantage of to bolster their scoring depth in the current likelihood they are unable to retain O'Reilly and Tarasenko.
Should the Blues' struggles continue over the coming weeks, the desire to bring in new faces to the forward group could grow. The organization currently has the goaltending duo of Jordan Binnington and Joel Hofer under contract through the 2024-25 season and will not be in search of a new goaltender anytime soon. On defense, the franchise currently has at least 11 options available to them to fill six slots on a given night. They could use this strength in a multi-player trade package to acquire any of these three players, perhaps even two.
Mike is a writer for The Hockey Writers and covers the St. Louis Blues since November of 2021. He has a keen love for statistical analysis, prospects, signings, and trades. Follow Mike on Twitter for further Blues or Central division hockey discussions, interview requests, or to provide content info.