St. Louis Blues' defenseman Kevin Shattenkirk was having himself a career year.
In a game versus the Washington Capitals on February 1st, he was involved in a harmless play with non-other than Alex Ovechkin. He collided with the Great 8 where he fell to the ice in some discomfort. Upon further evaluation from team doctors an MRI revealed that he had a torn groin and torn abdominal muscles on both the left and right sides.
Just a week after his first All-Star appearance his season was put into jeopardy as he required abdominal surgery. Not the type of news the Blues Brass and fans wanted to hear as he was second among d-men with 40 points (8 G, 32 A).
Everyone in the Blues organization should get excited as the New Rochelle, NY native has been participating in competitive drills in practice. The Blues are in the middle of a 6-day road trip that sees them with three days off in between a home stand that could potentially have Shattenkirk taken off the IR. He is expected to evaluate his condition once the road trip is over.
Shattenkirk has taken another step toward his return, now battling in the corners. He won't play on this road trip but he's getting closer.

— Jeremy Rutherford (@jprutherford) March 20, 2015
With the Blues in a great position heading into the post-season there is little rush getting him back into the lineup on their current road trip. His injury status was updated to week-to-week on March 10th. He has been skating with the team for about three weeks following a couple weeks of rehab. St. Louis has played 23 games without him going 13-8-2 over that span.
March 28th was the date some had circled on their calendar as a possible return for Kevin Shattenkirk at the time of his surgery. #stlblues

— Andy Strickland (@andystrickland) March 21, 2015
During yesterday morning's skate head coach Ken Hitchcock said that his return should be cautioned and it will be difficult to determine where to slot him back into the lineup if he is ready to go.
Where can Shattenkirk Contribute?
There are a few players who will be auditioning for a chance to play along side him, one being recently acquired Robert Bortuzzo who plays a tough, stay at home, no non-sense brand of hockey. He would be the ideal fit for the free-wheeling style of hockey that Shattenkirk likes to play. It would be the third pairing, something Hitchcock has hinted at as his initial spot when activated from the IR. (He will move to first pairing when he feels comfortable.)
Odds are he won't be playing the same type of game where he left off, especially if he is not given his average ice time of 22:54 per game. Possibly the most impressive stat to go along with his ice time is his points per 60 minutes for d-men, he leads the league in that category with 2.14. Mike Green is the next closest at 1.99 to give you an idea of how much he contributes when he plays.
Of his 40 points, 24 of them have come on the powerplay, the Blues rank 4th in the entire league with a 22% conversion rate on the man advantage. Shattenkirk has been involved in 48% of the Blues PP goals averaging 3 minutes and 23 seconds per game which leads the Blues. They could really use his his vision and poise as the power play quarterback.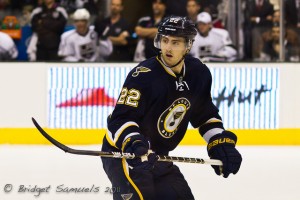 His void on the left side has been filled in the mean time, but his presence will be a significant boost to the lineup. Although St. Louis might have to wait a a week or two until he suits up again they will accept him back with open arms.