Thomas Chabot THW Close-Up:
Date of birth: 1/30/1997
Place of birth: Ste-Marie-de-Beauce, QC, CAN
Ht: 6'2″     Wt: 179 lbs
Shoots: Left
Position: D
NHL Draft Eligibility: 2015
Twitter: @ThomasChabot1
THW The Next Ones Rankings (February): 21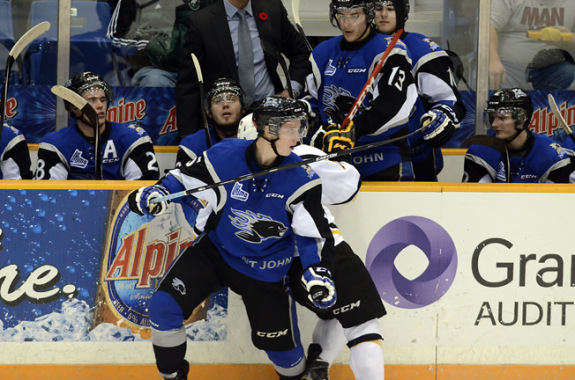 Other Rankings:
THW War Room Rankings (March): 23
HockeyProspect.com (February): 12
Last Word On Sports (February): 29
Craig Button (March): 15
CS Final Rankings for North American skaters (January): 15
***
Last year, Chabot was a one-dimensional defenseman, and that dimension was offense. His skating allowed him to make space, gain entry to the zone, and set up shop to create scoring chances. The defensive aspects of his game were an afterthought. He'd pinch frequently, get caught out of position, and as a result his plus/minus floundered. I'm not the biggest proponent of plus/minus, but you can't argue that a -29 is irrelevant.
This season, the coaching staff and general manager sat down with Chabot and told him to change his game. They wanted to see him use his size, clear players from in front of the net, make his stick more active, and play better positionally. He's learned to be more responsible and it's benefited his game twofold. He leads all defensemen on the team in points, but gets back into the play effectively to break it up.
Chabot is superb breaking out of the zone. Whether he's carrying the puck or giving clean, crisp outlet passes, his transition game is excellent. He doesn't possess the heaviest shot, but he keeps it low and accurate for his forwards to deflect it. There are times in every game he still gets beat because of poor positioning, but it's gone down drastically since last season. I'd like to see him use his body more often, but that will come when he grows into his 6'2″ frame.
I've been intrigued with Chabot since last season to see if he was anything other than an offensive defenseman. If you would've asked me last year where I'd rank him I'd have said late 2nd round with the possibility of dropping to the 3rd. His game has done a complete 180 and is on an upward trajectory a la a Travis Sanheim of last year's draft. With his newfound defensive awareness, Chabot has become a fantastic two-way defenseman that will be climbing up draft rankings until June's draft.
Where Will He End Up In June:
His defense still needs some fine tuning and for that reason I'd say he gets picked in the late first round.
Scout's Honor:
"A strong passer who delivers pucks with good timing and accuracy…has the ability to read the play and pick-and-choose his spots…has a powerful stride that generates power but could improve the overall quickness in his feet…willing to join the offensive attack…handles the puck well…not a big point shot but gets it on net consistently…reads the play well in his own zone and defensively he has the size and reach to close off lanes…good transition defender that moves the puck up ice. (December 2014)"
"A silky, smooth skater, Chabot shows high potential as puck moving defensive prospect.  He has the speed to join or lead the rush, and get back defensively.  He has the edgework and agility to pivot quickly and cover large areas of the ice, or to walk the line and open up passing and shooting lanes.  He is calm and composed with the puck, has good stickhandling ability and can make a strong pass either to start the transition, or set up a play from the blueline. His shot is decent, and he has good accuracy, but he could stand to add some more muscle, and make it even harder.Defensively he has good positioning and is willing to play a physical game in front of the net and in the corners."
Ben Kerr – Last Word On Sports
Statistics:
Bio/Interview(s)/Links:
Interview with Buzzing The Net
International Tournaments:
Chabot has never played for Team Canada.
ETA:
3-4 years
Risk/Reward Analysis:
Risk: 2.5/5   Reward: 4/5
NHL Potential:
2nd pairing two-way defenseman with offensive potential
Strengths:
Fluid skating
Speed
Breakouts
Transitional play
Defensive responsibility
Intelligent in the offensive zone
Flaws/Aspects He Needs To Work On:
Adding more muscle to his frame
Using his body more frequently
Pinching less
Fantasy Hockey Potential:
Offensive: 6/10    Defensive: 5/10
NHL Player Comparison:
– NHL comparison: Keith Yandle
Video(s):
***
THW's The Next Ones prospect profile template design architect: Chris Ralph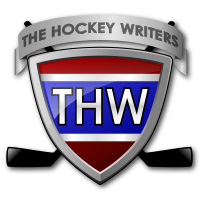 The archives of THW contain over 40,000 posts on all things hockey. We aim to share with you some of the gems we've published over the years.