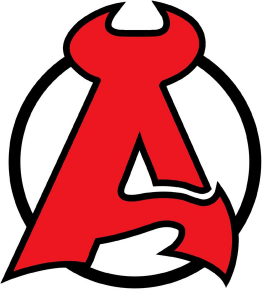 What could possibly be better than attending a hockey game against your biggest rival? There is the roar of the crowd, the singing of the goal song after the horn blares down upon you, and, of course, fast-paced action as your team does their best to bring home a victory. How about being able to throw a teddy bear on the ice instead of a hat? Maybe you prefer bringing home a bobblehead doll besides the sweetness of victory?
The release of the Albany Devils promotional schedule for the 2013-14 season is filled with a ton of excitement. During select games at the Times Union Center, fans will be able to get their Devil Dawg paws on special items to bring home and also thank some of the bravest people to call this city home. Which games should Albany fans circle right now on their calendar and be sure to attend? Which promotions stand out above all the rest? There is something for everyone so let's get started on the Top 10 Albany Devils 2013-14 promotions!
The Best of the Albany Devils Promotional Schedule
#10: Pucks and Paws Night
Saturday, March 15th, 2014, 5:00PM vs. Hartford Wolf Pack
Devil Dawg does a lot of work prior to and during games for Albany Devils fans. He high-fives people of all ages, reminds visiting fans that there is a better team on the ice than their own, has the magical ability to instantly turn a child's frown upside down if their team is trailing, and is always willing to be the most camera-friendly pooch in the entire city of Albany. How can fans possibly repay him? By bringing some of his dearest canine friends to the game! Devil Dawg loves people but on this night fans can bring their own four-legged pals to watch the Devils battle the Wolf Pack alongside the Devils jolly red mascot.
Devil Dawg also mans the crease every now and then.
#9 Dollar Dawg Night: Hot dogs and soda $1 each, Free admission for kids in Halloween Costumes
Wednesday, October 30th, 2013, 7:00PM vs. Syracuse Crunch
The leaves are changing color. The cold is starting to creep in. This means one thing: Halloween is just around the corner. Break out the costumes and celebrate the scariest day of the year one night early at the Times Union Center! Less than 24 hours before there is an endless amount of candy at home, fans can devour hot dogs and wash them down with a soda for just a dollar each. Best of all, kids dressed in their costumes get free admission as captain Rod Pelley and the Devils look to spook the Crunch into defeat.
#8 Teddy Bear Toss
Saturday, December 14th, 2013, 5:00PM vs. Hartford Wolf Pack
Fans celebrate three goals by a player by throwing hats on to the ice. Well, once again the Albany Devils will look to help the Albany Boys and Girls Club as well as other charities with the annual Teddy Bear Toss. Fans are encouraged to bring a stuffed animal bear to the game and during one of the intermissions they will get to throw the bear onto the ice! As a bit of added excitement, fans close to the glass must be aware of flying bears from above! Besides supporting their Devils and hoping to also throw hats for a hat trick by Joe Whitney, fans can smile knowing they will be helping charities from around the Albany region.
Look at the smiles on all of the kids and adults faces.  Who does not love the Teddy Bear Toss?
#7 SEFCU College Nights: $10 Tickets for College Students
All Friday Home Games
Tired of studying? Has that ten-page paper about Tim Sestito's impact on the Albany Devils have you feeling drained and in need of a distraction? Well, there is finally a cure and it costs just $10. Fans can head on out to the Times Union Center every Friday evening the Devils are home and watch the Devils take on various opponents in their quest to reach the Calder Cup Playoffs. For those college students at least 21 years old, Friday home games also coincide with $2 drafts at the arena for an hour preceding the opening faceoff. For college students of all ages, the Devils will give fans a voucher for a dollar dog and a dollar soda. There is no better way for fans to spend their Friday nights after a long week of grinding through classes.
#6 Fan Appreciation Night, Backpack Giveaway (First 1,500)
Saturday, April 19th, 2014, 5:00PM vs. Springfield Falcons
The final home game of the year is a long time away. During the past three seasons, the final home game also meant the final time Albany Devils fans got to see their boys on home ice. As stated in my season preview for the team, this year will be different since the Devils will have plenty more hockey after this night. Fans should be sure to be in attendance as the Devils thank them for their support of Albany's pro hockey team. They will also take home a backpack to store all of their precious Devils items.
#5 Happy Hour: $2 Drafts from 6PM-7PM preceding all Friday Home Games
Enough said. See you on the concourse.
#4 Bobblehead Doll Giveaways (First 1,500)
Saturday, January 25th, 2014, 2:00PM vs. Adirondack Phantoms
Saturday, February 22nd, 2014, 5:00PM vs. Norfolk Admirals
There is no better place for fans to spend these two Saturdays than at the Times Union Center watching the Albany Devils battle two quality opponents. The Devils just split a weekend series with the Admirals in Norfolk in a pair of games that ended in shootouts. By January, the Devils and Phantoms race for the Time Warner Cable Cup will be in full swing. These two games will have quite an impact in the standings as well. Besides all of the on ice drama, the first 1,500 fans in attendance will bring home a bobblehead doll. One of the top promotions of the year for every team that gives out bobblehead dolls, these two dates should be circled in black permanent marker on every calendar fans have in their home.
#3B Veterans Day Special: Free admission for all Veterans, Thanksgiving Food Drive, Dollar Dawg Night
Monday, November 11th, 2013, 2:00 PM vs. Bridgeport Sound Tigers
One of the most emotional moments at all sporting events takes place during a stoppage in play when the host team honors military veterans. On this Veterans Day, the Albany Devils have free admission for Veterans as they commemorate the honor and courage these brave people showed for our country. All veterans should come on out to the arena for free and cheer on their hometown team. All other fans must join our veterans and take part in the Thanksgiving Food Drive and continue to give back to the people in our country. The Albany Devils will be sure to quench their fans' thirst and feed their appetite as this game is another Dollar Dawg Night.
#3A Military Appreciation Night: All active and past members free
Saturday, April 12th, 2014, 5:00PM vs. Providence Bruins
The Albany Devils will once again stand up and remove their hats for our nation's military. Active military members as well as past military members will have free admission to this game as the Devils take on the Bruins. All Devils fans should be in attendance to not only support the Capital District's top hockey team but also give thanks to the men and women responsible for allowing us to be able to simply attend a hockey game.
#2 Holiday Special $10 Tickets for All, Zamboni Bank Giveaway (First 1,600)
Saturday December 28th, 2013, 5:00PM vs. Portland Pirates
A few days after Christmas and four days before the New Year, this is the perfect way to celebrate the winter season. After all of their holiday shopping, fans will be able to watch the Devils play the Pirates for just $10. Also, the first 1,600 fans will also be able to resurface the top of their dressers and save up for their next Devils game with a Zamboni Bank!
#1 Post-Game Team Autograph Session, Post-Game Public Skate
Sunday, January 26th, 2014, 3:00PM vs. Binghamton Senators
Sunday, February 23rd, 2014, 3:00PM vs. Utica Comets
Sunday, March 30th, 2014, 3:00PM vs. Binghamton Senators (Includes a Team Poster giveaway)
You watch them score goals on the ice. You watch them hit and get hit at all ends of the rink. You feel their pain after the agony of defeat but share in their excitement after an exhilarating victory. Now is your chance to meet Mike Sislo, laugh with Keith Kinkaid, talk defense with Jon Merrill, and get their autographs. This is your chance to skate on the ice in which they fight for two points every home game. These are your Albany Devils. The Times Union Center is your home. This is the best promotion any fan could ever desire.
Leo is in his second year with THW. He covers the 3-Time Stanley Cup Champion New Jersey Devils and the Albany Devils of the American Hockey League. You can follow Leo on Twitter, @LeoScaglioneJr.