When the 2015-16 NHL season began, a lot of talk surrounding the Arizona Coyotes was about the younger players and for good reason. Rookies Max Domi and Anthony Duclair have flourished in their first three months in the desert, sophomore forward Tobias Rieder has improved on his solid performance from his first season and Oliver Ekman-Larsson is leading Arizona's high-scoring defense corps. However, a couple of veteran players have stepped up for the Coyotes in recent weeks: Mikkel Boedker and Shane Doan.
The Captain
Doan's career began in 1995, back when the Coyotes franchise was playing their final year as the original Winnipeg Jets. Two decades later, Arizona's captain is playing like one of the young guys. In the last two games, Doan has gone on a scoring tear that has etched his name in the franchise record book. Entering Tuesday's game against the Chicago Blackhawks, Doan trailed Dale Hawerchuk by three goals for the Coyotes/Jets franchise record for goals. The Coyotes captain made up that ground with his second career hat trick, although the celebration was rather subdued as Chicago ended up with a 7-5 win. Two nights later, after fans showered the captain with hats during warmups, Doan surpassed Hawerchuk's mark with a pair of goals in a 4-2 victory against, in a rather poetic twist, the current Winnipeg Jets. The record-setting goal came off a beautiful setup by Max Domi, who was just shy of seven months old when Doan began his career in 1995.
Doaner gives, Doaner goes, Doaner sets an @ArizonaCoyotes franchise record. https://t.co/xSSBUT5ioh

— NHL (@NHL) January 1, 2016
Great Dane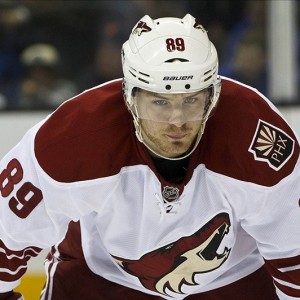 It was almost a year ago that Boedker saw what looked to be one of the best seasons of his career cut short due to a ruptured spleen. Arizona's offense suffered greatly after losing Boedker as they averaged less than two goals per game in their final 37 contests of the 2014-15 season. Despite missing almost half of last year, Boedker has been one of Arizona's top offensive weapons this season. His 30 points in 37 games not only eclipses his point total from last year (28 points in 45 games), but also leads the Coyotes in scoring. Not only has Boedker's scoring been plentiful this year, it has also been timely. Four of his 12 goals have been game-winners, including three overtime winners.
Boedker has thrived in the new 3-on-3 format as his great speed has led to a pair of breakaway goals in the extra frame. All of this success is coming after Boedker signed a one-year deal during the offseason, meaning that the Coyotes will be looking to find a way to keep their talented Danish forward in the desert after this season.