Between the Pipes: A Revealing Look at Hockey's Legendary Goalies
, by Randi Druzin (2013, Canada: Greystone Books. Paperback. Pp. 256. $19.95. ISBN 978-1-77100-014-7)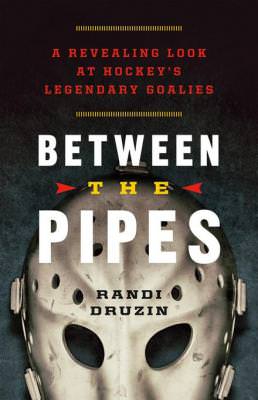 As writers, or even just as fans of professional sports, we often don't realize the extent to which we idolize the players we watch. Whether it's because we see them on television or simply because they have an indescribable skill set in their given profession, we hold these men and women on a pedestal of unreachable heights.
But every so often, we are reminded that these players – these 'gods' – are human. They are flesh and blood just like the rest of us. Some of them filled with angst and nerves before every game. Others are suffering with their own demons and find a way of self-medicating to make it through their career.
In Randi Druzin's book, "Between the Pipes: A Revealing Look at Hockey's Legendary Goalies" the former CBC and Global writer and producer reminds readers of this simple fact. Players, coaches, and anyone that we look up to in professional sports are human. More than that, she humanizes the game of hockey through player anecdotes.
Look Past The Goalie and Between the Pipes
Focusing on twelve former and current National Hockey League goaltenders, Druzin outlines the way in which these specific players struggled throughout their playing careers. As the title suggests, it reveals some of their darkest moments, while sharing some of their greatest triumphs.
Broken up into separate sections, each goalie's career is covered from beginning to end. Often littered with juicy facts that no average fan would know about their heroes. From Terry Sawchuk bursts of anger to Patrick Roy's befriending of his goal posts – it's a book that provides every hockey fan with a chance to become that fly on the wall.
Each section is a pathway into that specific player. Looking at their award winning seasons, Druzin doesn't take away from their heroic careers as hockey players. In fact, she provides the reader with context and explanation as to why Ken Dryden and Martin Brodeur should be idolized – something I'll talk about in a minute.
But with each praise of their talent, Druzin grounds the reader by providing some specifics into the troubles or the quirks that each goaltender came with. For example, she writes about Sawchuk and his trouble connecting with others. She writes about his home life – his broken family – and how his temper ultimately led to his demise.
"In the next few years, there's going to be a new dimension added to goaltending right around the league. Offense. Ron Hextall is revolutionizing goaltending the way Bobby Orr changed defines. Pretty soon, the young goalies coming up will play the way Hextall does."
— Philadelphia Flyers Legend, Bernie Parent in 1989
Druzin uses quotes from many sources – interviews included – to deepen the conversation on her subjects. She references articles from newspapers, magazines and quotes former reporters and teammates giving the reader a chance to understand the players' relationships with each other as well as fans and media.
Legends: In Their Heads and Between the Pipes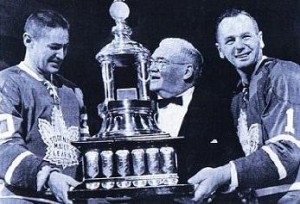 Throughout the book, readers are reminded of the talent possessed by the twelve goalies that Druzin writes about. They are Vezina trophy winners – either for having the lowest goals against average in the league or by being voted the winner for the more recent goaltenders. They are members of the Hockey Hall of Fame. But most of all, they are all goalies possessing skill sets that allow them to post statistics amongst the top in the game.
"I don't think Terry enjoyed his successes. That's what happens when you're depressed; you don't have the capacity to enjoy what you've accomplished. I just never saw that joy in him."
— Former Toronto Maple Leafs teammate Ron Ellis
Druzin not only incorporates these accomplishments throughout her writing on each individual goalie, but she also provides a short list of their career stats at the end of each section. She includes their all-time rank among NHL goalies showing their overall domination during their career.
But why these particular goalies? Why did Druzin focus on this individual position?
"Goalies are truly a breed apart," she told me over Twitter. "They stand apart from other players in terms of insight and mental toughness. I picked these particular goalies because they made big contributions on the ice and were compelling personalities. In my mind, that is what makes a goalie legendary. It's about more than stats and trophies."
And her book demonstrates that throughout it's almost 300 pages. Each section titled 'the something' – a term that sums up the goalie's life and career. Terry Sawchuk is The Tortured Soul. Johnny Bower is The Gentleman. And Patrick Roy is The Cock of the Walk.
Each goaltender is defined by their play on the ice and their characteristics away from the rink. With the early tenders, the stories intersect – Sawchuk playing alongside Bower and Jacques Plante's influence on Bernie Parent.
"This is a storyteller's book, and as such it is also a reader's book. You don't have to be a goaltender to enjoy it; you just have to be a reader who loves words, loves sports and appreciates the sorts of insights that will never be found in 140 characters or less."
— Roy MacGregor in the book's foreward
The book is filled with the most interesting information about some of the games greatest goalies to ever take to the ice. It's a Hall of Fame calibre book filled with Hall of Fame goalies – a page-turner that will open your eyes to the human within these heroes. Twelve stories about twelve players, Druzin reveals to you their world away from hockey.
Questions or comments? You can follow Andrew or Randi on Twitter @AndrewGForbes and @RandiDruzin