The Boston Bruins are blessed with one of the NHL's best one-two punches. Patrice Bergeron is perhaps the prime example of a complete first-line center, as the league's top defensive forward and a key contributor on the power play and the penalty kill. He's also a perennial 20-30 goal scorer. David Krejci is an excellent second-line center when fully healthy. He's a strong puck-handler, creative passer, and reliable in his own zone.
Bergeron is locked up for the next five years, signed until he's 36 years old. Krejci's contract is up one year before that, signed until he's 34. Both play a style of hockey that ages well in the NHL. Barring injury, they should be the top two centermen for the next four years. Beyond that, the Bruins' center position is uncertain.
Third Line
Ryan Spooner
For the majority of the past two seasons, the third line has been centered by Spooner. He's a dynamic skater, one of the best in the league, and a worthy playmaker, especially on the power play. His deficiencies are plentiful, however. He has trouble containing his opponents in his own zone, he's not very strong on the puck, and he's often criticized for his inconsistent effort. Additionally, he won an abysmal 39% of his face-offs last season.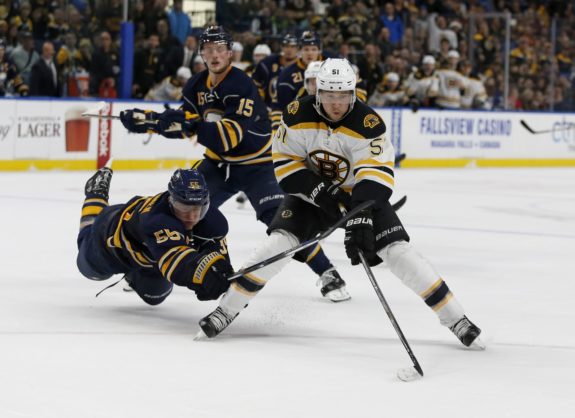 The general assumption was that Spooner would not be a Bruin this season. A lackluster 2016-17 season frustrated fans and the media. However, his inclusion in the preseason lineup has seemed more than just an attempt to increase his trade value. He's looked like a different player so far. Showing the same elusive skating ability, he's also added a physical edge to his game. It's no wonder. At age 26, this will be his last opportunity to show the Bruins that he deserves to be the long-term center of that line. He will be a restricted free agent (RFA) again in the 2018 offseason.
The Bruins are also putting him in a position to succeed. David Backes will most likely be his right winger. It will give his line a physical presence as well as somebody to take face-offs for him should he continue to struggle. Spooner's left winger will likely be one of the fast and skilled young players vying for the final few roster spots. Last season, he showed some occasional chemistry with sniper Frank Vatrano, but their combined inconsistency was problematic.
Austin Czarnik
Czarnik would be an intriguing option should the Bruins decide to move on from Spooner. While he's not the skater Spooner is (few are), he's still a speedster. He has the ability to open up lanes and distribute the puck. He's a more willing shooter than Spooner, so his goal-scoring ceiling is likely higher.
.@ACzarnik7 on his two-point (G, A) night against Detroit: "Nothing is given. I know I have to work hard every single day." pic.twitter.com/4xUAqSZs0n

— Boston Bruins (@NHLBruins) September 20, 2017
The biggest problem is that he's small. The diminutive center is listed at five-foot-nine and 160 pounds. As such, he suffers from a few of the same deficiencies as Spooner. He's not very strong on the puck, nor does he battle well on the boards. His 13 points in 49 games last season were unimpressive, but they came with inconsistent playing time and varying linemates. In the past two seasons, he's been a point-per-game player in the AHL. He hasn't proven it in the NHL, but he's looked fantastic this preseason. In two games, he's registered two goals and an assist while looking dangerous on the power play.
The problem is that Czarnik may not get the consistent playing time necessary to show whether he can handle the job. With Riley Nash solidified as the fourth-line center, Czarnik's playing time will come either on the wing or via injury, and neither of those scenarios guarantees consistent enough playing time to adequately showcase his skills.
Czarnik turns 25 this season and will be an RFA next offseason. The Bruins will use him if they need to, but they may not be keen to drive his price up unnecessarily. His preseason deployment may reflect that. Thus far, he's only played in two of the five games. Despite his effectiveness, it doesn't seem like he's under serious consideration for a lineup spot.
Jakob Forsbacka Karlsson
The Bruins see the soon-to-be 21-year-old as the type of player who could study under Bergeron and eventually take over for him. The similarities go beyond the fact that they were both drafted by Boston with the 45th overall pick. While his offensive game still needs to develop, he's considered an excellent three-zone player who could play in all situations.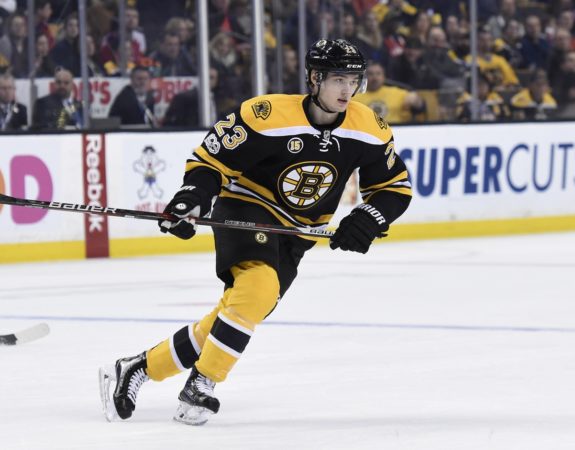 The Swedish-born, Boston University product signed his entry-level contract and played in the last game of the 2016-17 regular season. The Bruins clearly covet him as a future asset, so he'll be ahead of the undrafted Czarnik in the pecking order. (Czarnik just can't catch a break.) Additionally, he is one of the primary reasons why Spooner is considered expendable.
With the emergence of Anders Bjork and Jake DeBrusk as potential effective top-six wingers, the Bruins may think they can contend this season. Spooner is more of a known quantity, so he would be the choice to center the third line on a potential contender. Forsbacka Karlsson may have to get his feet wet on the wing or marinate in the AHL.
Fourth Line
Nash only has one more year on his contract, and that likely means he won't be a Bruin next season. That's because Boston is flush with players who could center the fourth line. Tim Schaller, Noel Acciari, and Sean Kuraly are the best options. They each skate well, play a hard-nosed game, and possess enough skill to register some points.
Schaller is turning 27 and is an unrestricted free agent (UFA) after this season. The Bruins have made a minimal investment in him, so he's the least likely to assume the mantle. In fact, he's not guaranteed to make the team. Acciari is a year younger and has an extra year before he becomes a UFA. He also has plenty of experience centering that line. If the Bruins want to build a classic, bruising fourth line, Acciari may be the answer.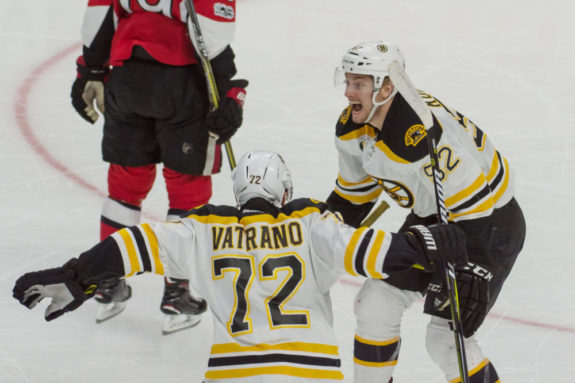 Kuraly is only 24 and will be an RFA next offseason. The Bruins can make him as much or as little a part of their future plans as they want. He showed his talent while filling in for a hobbled Krejci in last season's playoffs and he's still young enough to build on it.
The ideal scenario for the Bruins is that their surplus of prospects spills over into the bottom-six. A third line centered by Forsbacka Karlsson and a fourth line centered by Czarnik or Kuraly might look more like having two third lines. If there's one thing the Bruins have learned in recent years it's that rolling four legitimate lines is a surefire way to become a contender, and they're starting to trend that way.