The Boston Bruins had a rough road trip which, fortunately for them, concluded with a 4-1 victory over the Ottawa Senators. Leading up to the pivotal win was a streak of three losses—two of which came in overtime. Boston only salvaged four of the eight points up for grabs on the tour north of the border. Throughout the road trip, many seemed critical of Brandon Carlo and John Moore.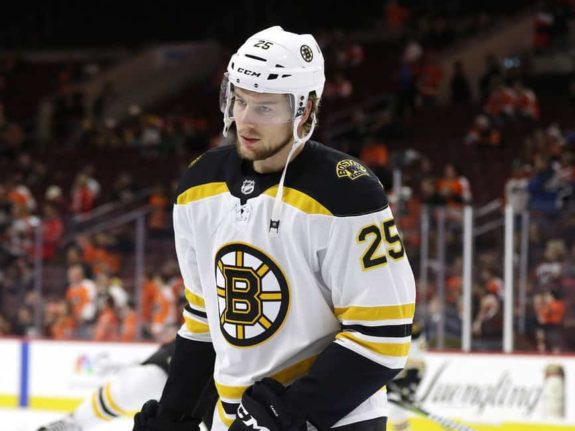 With injuries to Charlie McAvoy, Kevan Miller, Torey Krug, and most recently Urho Vaakanainen on the back end, Carlo and Moore have been given more responsibility. For the most part, they've been up to the challenge. Neither defenseman has crumbled under the pressure, and they could be the Bruins' saving grace as the team weathers the injurious storm.
Carlo certainly had his struggles in the overtime period in Boston's game against the Vancouver Canucks, but that shouldn't overshadow just how valuable he's been. The same can be said about Moore—though he has just one point this season, his defensive play has more than compensated for his lack of offense. It must also be remembered that it is blueliners like McAvoy and Krug who pack the offensive punch, not Carlo and Moore.
Brandon Carlo
Since his rookie season back in 2016-17, there have been high expectations for Carlo. He potted six goals and 10 assists while maintaining a plus-minus rating of plus-9. In the seasons that followed, the 21-year-old hasn't put up quite as good numbers. Last season, Carlo tallied just six helpers in 76 games, and in nine games this season the defenseman has registered two assists.
It's easy to read the stats and say that Carlo had a bad 2017-18 season and that he needs to ramp up his production if he is to bounce back during the 2018-19 campaign. However, is offense really Carlo's greatest asset? The Colorado native brings far more to the table than offense. His decision-making in the overtime period against the Canucks was obviously flawed; he dove onto the ice to break up a 2-on-1 instead of committing to the open man and letting Jaroslav Halak take on the puck-handler. The miscue led to Bo Horvat's game-winning goal.
.@BoHorvat and @BBoeser16 play give-and-go before Horvat scores a pretty backhander in overtime for our @REMAXWesternCan Move of the Week. pic.twitter.com/Wo01oOfktf

— Vancouver #Canucks (@Canucks) October 21, 2018
Outside of that instance, it's hard to pinpoint a play in which Carlo has been downright bad. He is everything but a liability in his own zone, constantly getting better body position in order to thwart the opposition of getting to prime scoring locations. So far this season, the defenseman has averaged 20:24 in ice time and has recently been bumped up the first unit in the wake of injuries to McAvoy and Miller.
Carlo will make mistakes as he did against the Canucks, but that's to be expected of a player who would likely be in college right now if he wasn't playing in the NHL. He will have his fair share of off nights, but he will have his good nights as well—like when he robbed two goals from the Senators on Tuesday. Offensively, Carlo is still honing his game but he may never eclipse 30 or 40 points in a single season—but that's okay. His role is as a valiant defenseman who can go up against the opponent's top two lines and log minutes on the penalty kill. Anything at the opposite end of the rink is a bonus.
John Moore
Moore has also seen some criticism—mainly by fans on social media. The 27-year-old was brought to Boston via free agency this summer. Some saw it as just another small ripple like the rest of the Bruins' free-agent acquisitions (Halak, Chris Wagner, and Joakim Nordstrom).
The Illinois native's best performance production-wise came during the 2016-17 season with the New Jersey Devils. In this campaign, Moore put up 12 goals and 10 assists in 63 games. However, scoring goals and tallying helpers aren't the defenseman's strengths. He is more known for playing stand-up defense behind his own blue line, and that's just what he's done for Boston thus far.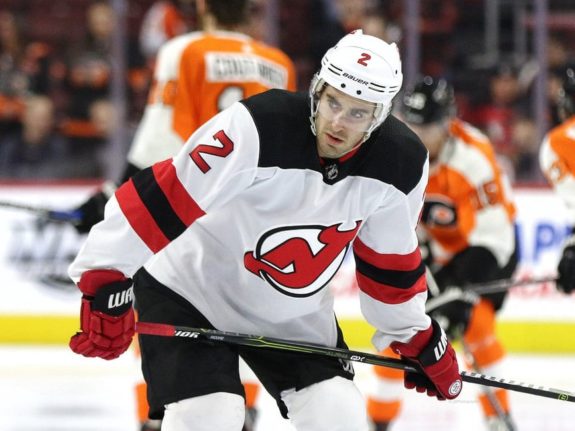 He's only nine games into his Bruins career, but Moore has been valuable. When the team's defense is 100-percent healthy, it is expected that No. 27 will play alongside Krug on the second pair. This would mean Carlo and Miller would be on the third pair with Zdeno Chara and McAvoy making up the top duo.
That formula seems to make sense—head coach Bruce Cassidy had a similar setup last season which featured a shut-down defender and a more offensively-gifted blueliner on each of Boston's three defensive units. Krug has of course been criticized for his defensive play (and in many cases, rightly so), which proves Cassidy's confidence in Moore's defensive capabilities if the two were to be paired up as they were in training camp.
It may be hard to miss Moore and Carlo's efforts if you're only looking at the stat sheet. Don't be misled by goals and assists—Moore and Carlo are valuable defensemen who do way more than create offensive opportunities.
I cover the Boston Bruins and NCAA Hockey here at The Hockey Writers. Born and raised 10 miles north of Boston, I developed a love for the game of ice hockey at a very young age. There's really nothing better than this sport, though steak is a close second.