With the Boston Bruins captain Patrice Bergeron announcing his retirement, the club is faced with the daunting task of filling the void left by his departure. On the ice, replacing a six-time Selke Trophy winner (an NHL record) just doesn't happen.

His departure also leaves the Bruins searching for the 21st captain in franchise history. While there are a few names that jump out as obvious favorites, could the organization possibly name a surprise player as their next captain?
Who Will be the Next Bruins' Captain?
Brad Marchand
Brad Marchand, the little ball of hate, has grown into a leader for the Bruins as his career has progressed. Hockey fans outside of Boston find it shocking that he is a strong candidate to follow in Bergeron's shoes as the next captain. However, in recent years, Marchand hasn't crossed the line with some of the antics he has pulled throughout his career. He's led by example and brought a much more disciplined approach to his game.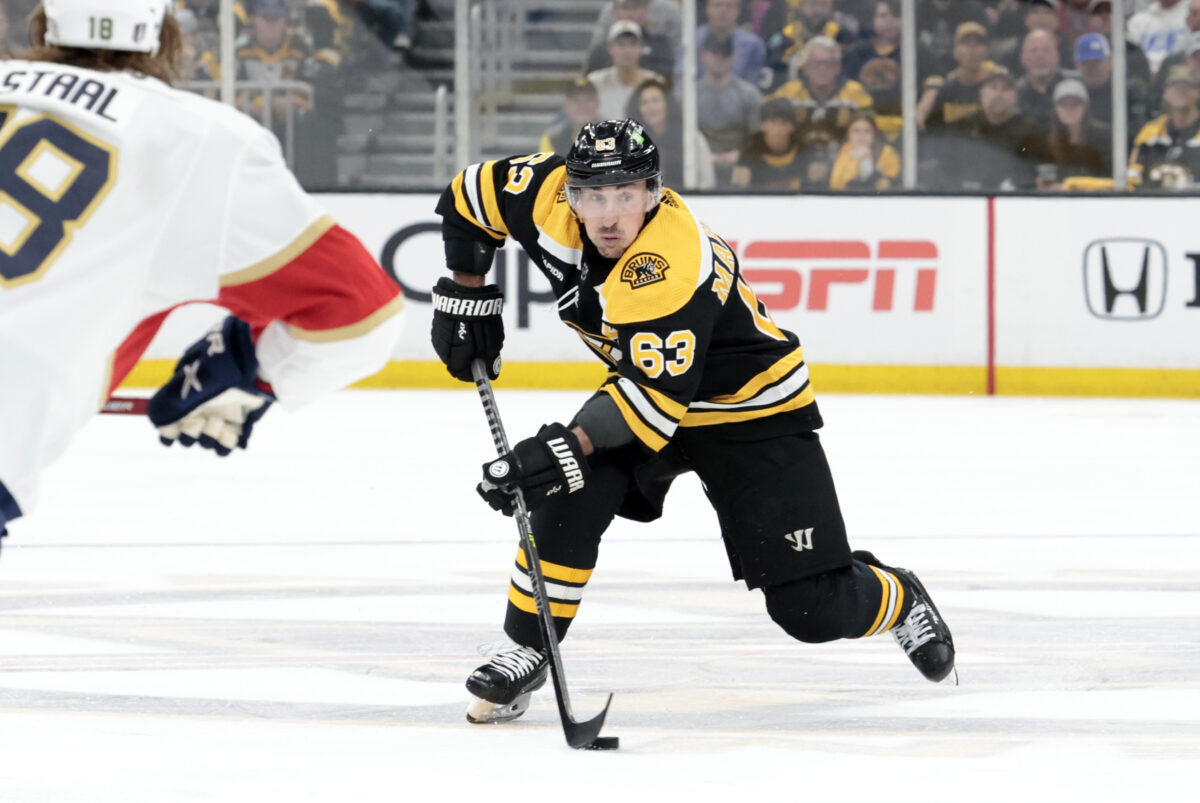 Marchand is now entering his 15th season with the black and gold, and has put together a career that will etch him in as one of the Bruins' all-time greats. He is set to become only the fourth player in franchise history to play 1,000 games, joining Ray Bourque, Johnny Bucyk and Bergeron. That's some pretty solid company to keep when looking at a 100-year-old franchise.
---
Latest News & Highlights
---
During the first four games of the Bruins' first-round matchup against the Florida Panthers, Marchand demonstrated his leadership qualities in an excellent manner. With Bergeron sidelined, Marchand seemed to step up his game by letting his play do the talking, rather than letting his opponents get under his skin. He avoided post-whistle confrontations and focused on winning hockey games. This showcased the maturity level that Marchand has reached and also the effect playing alongside a player like Bergeron has had on him.
Charlie McAvoy
Drafted in the first round, 14th overall in the 2016 NHL Entry Draft, Charlie McAvoy has become a key cog on the Bruins' blue line. McAvoy is signed long term as his contract doesn't expire until after the 2029-30 NHL season. McAvoy is up to the challenge judging by his message in the Bruins' tribute video to Bergeron.
"What you've built here is special, I promise I'll do everything I can to take care of it. I love you. I know we'll be friends forever, and I wish you the best of luck in your next chapter with your beautiful family," he said during his tribute.
Bergeron himself gave his endorsement of McAvoy as a leader: "So, yeah, it means a lot, and I know these guys will be great. 'Chucky' [McAvoy] is a character guy and a very bright young man. So, they're in good hands with all these guys; all the leadership and the guys before me like 'Zee' [Chara] and the rest of that crew. So, that meant a lot from all the guys. It was pretty cool," he said when asked about McAvoy's tribute message.
Related: Patrice Bergeron's Journey From Sitting in the Net, to "Mr.Selke"
McAvoy has gained plenty of playoff experience and already playing in one Stanley Cup Final is valuable for the lessons that come with it. At 25 years old, he knows what it takes to get there and he has had two of the best leaders to learn from in Zdeno Chara and Bergeron.
David Pastrnak
David Pastrnak is a third favorite potential captain, but it would be a shock to see him with the "C" ahead of either Marchand or McAvoy.
Much like McAvoy, Pastrnak is locked up long term and will undoubtedly play a significant role in the Bruins' future. He has grown into a leadership role and also played on Bergeron's line seeing first hand how a great leader handles themselves on and off the ice.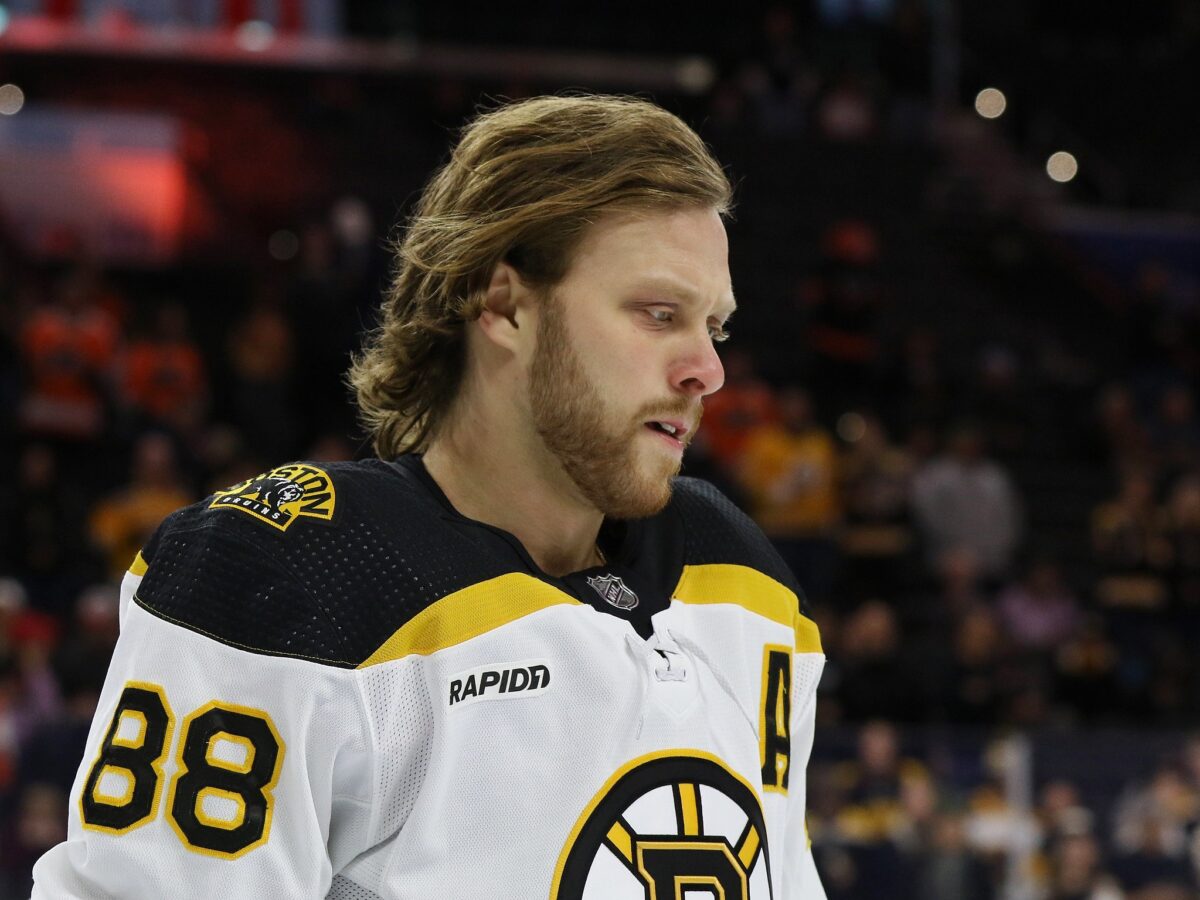 Pastrnak has worn an "A" on his jersey for the past two seasons as well. The sharp-dressed sniper is best known for scoring goals, but he is also maturing into a leader for the franchise.
Dark Horse Captain Candidates
Charlie Coyle
Charlie Coyle is seen as a dark horse that could also be captain material. However, through 11 seasons in the NHL, he hasn't stepped into a full-time official leadership role with a letter on his jersey, although he has worn the "A" for the Bruins periodically.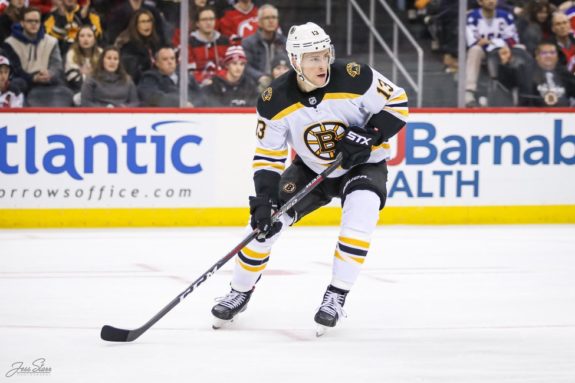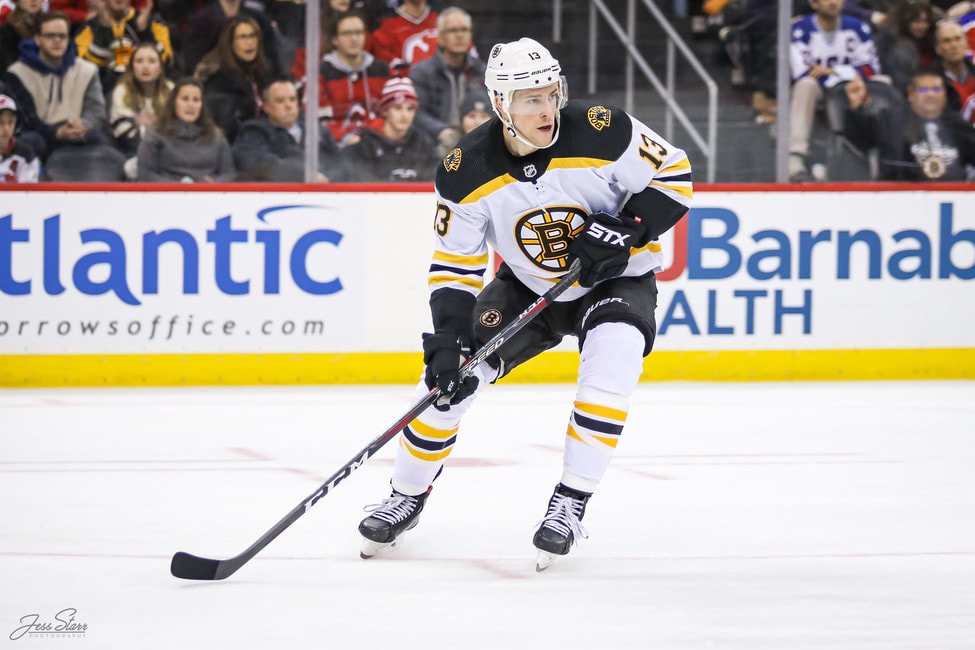 Despite that fact, Coyle brings the morals and play style the Bruins would like to see from a captain. Now entering his sixth season playing in his home state, he will be leaned on more heavily for leadership within a changing Bruins' locker room. Coyle will likely have the letter "A" etched into his jersey full time this season at the very least.
Brandon Carlo
When looking further back in team history, the Bruins have had defencemen captains their club for extended periods of time. Bourque wore the "C" for 15 seasons, the longest serving captain in franchise history. Chara's captaincy lasted 14 seasons, so it won't be shocking to see the organization name another defenceman as their next captain.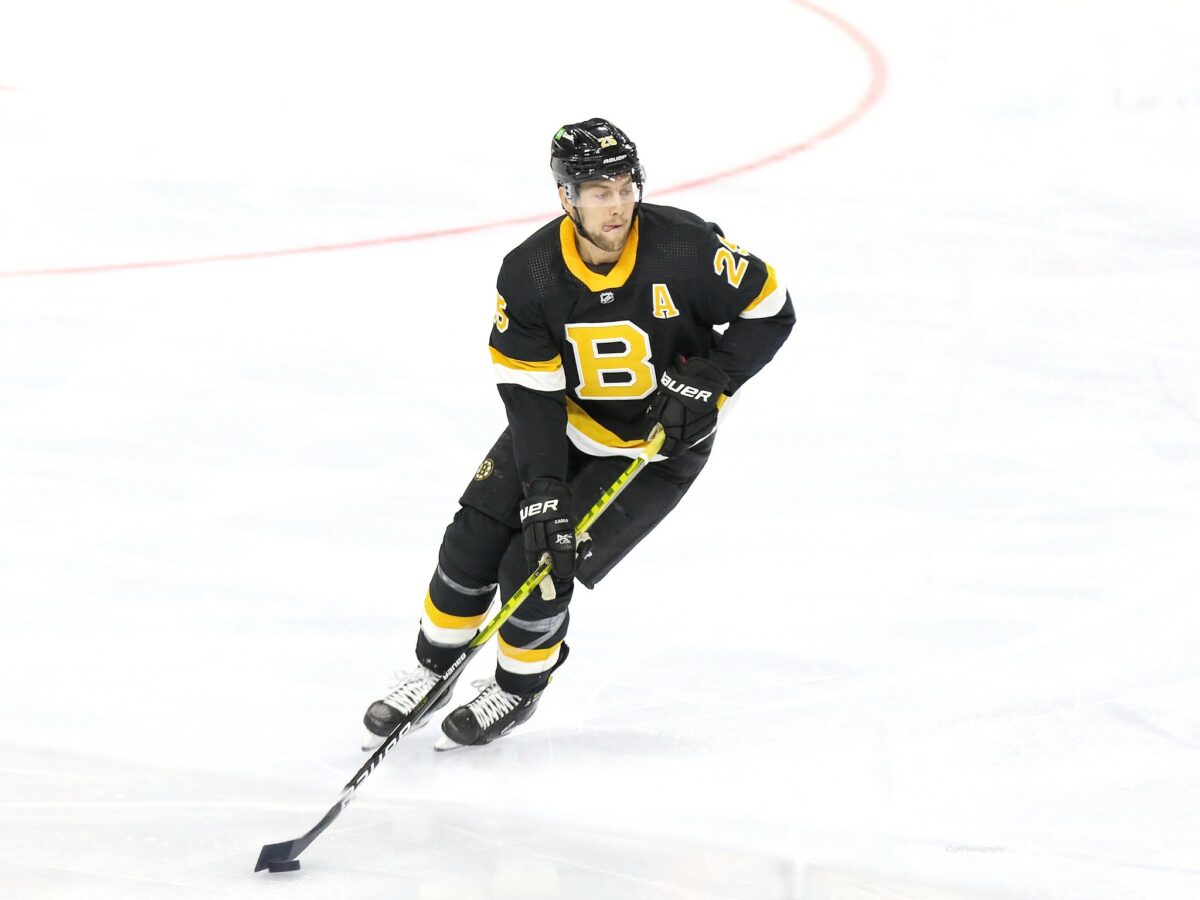 Brandon Carlo, although at times criticized for not being physical enough for his size, brings a stout defensive game to the club. He is perceived as a quiet leader within the group and while his name is not on the scoresheet often, he plays a vital role for the Bruins.
Marchand Deserves to Take on Captaincy Role
Although the Bruins have many qualified players who each have their own persuading cases to be named the next captain, Marchand is the most likely to receive the honour in the near future. With two years remaining on his contract, he will serve as a bridge and help transition the team from the former core into their new identity in the post-Bergeron era.
McAvoy would then be able to take the reins over from Marchand, should he decide to follow Bergeron's lead and retire when his contract expires. Until that time, I believe this is Marchand's locker room and deservedly so after having spent most of his career taking in lessons from Bergeron.
---
---