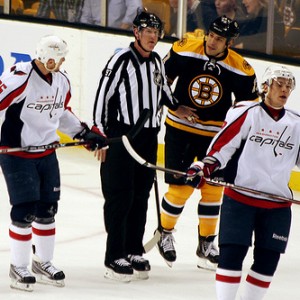 Grow up around the game of hockey and three basic keys will be hammered into your head: skate as hard as you can, shoot the puck and hit something. Do each of these and you'll be successful–whether it's by scoring goals or winning hockey games.
For a full 60-minutes, the Boston Bruins had no problems going back to the basics to beat the Washington Capitals on Saturday, 4-1.
The Capitals? Well, that's another story.
But let's focus on the Bruins. The line of Milan Lucic, David Krejci and Nathan Horton broke out Saturday, combining for six shots on goal, eight hits and nine points, a nice breakout from the lack of production seen as of late from the team.
"When you're not playing good, you want to be better," said Horton, who picked up a goal and two assists in the game. "You got to really, when you come to the game, you got to turn it on. I think like I said, we have to play like that every night."
It was evident from the drop of the puck that this line was off to a good start after Horton set the tone with a monstrous hit on Eric Fehr in his first shift. With 14 minutes played, the game's scoring started off with Lucic feeding the puck from behind the net to Horton who fired one home for his first goal in nine games. Shortly after, Lucic muscled off Mike Ribeiro and found Krejci wide open to beat Michal Neuvirth and score the second of the game.
"They showed exactly what we need to see from them on a more consistent basis," said Bruins coach Claude Julien. "They were skating the north-south type game, they were forechecking, being physical. Because of that, they were turning pucks over, and not only that, they were strong on the puck, and they made their chances count."
What matters is that each of these players made a varied difference on the ice. Lucic continued to develop his playmaking abilities, Krejci made efforts at both of ends of the ice (including putting a puck off Johnny Boychuk's skate that sailed past Anton Khudobin) and Horton turned into a physical monster, hitting everything that moves and taking down Matt Hendricks in a fight in the second period. It was Horton's second career Gordie Howe Hat Trick.
"That's what our team is all about, I guess," said Horton. "When we play like that style, we finish our checks. That's how we know it's a good game. That's our style."
The Bruins travel to Pittsburgh and will face-off against the Penguins on Sunday. It will be the second game in as many days for both teams.
Follow Mike on Twitter for more Bruins updates, news and commentary
Mike Miccoli covers the Boston Bruins for The Hockey Writers and has been a credentialed member of the media for all Bruins' home games for the past five years. As a former player, coach and official, Miccoli has been around the game of hockey since the age of three. Along with his work on THW, Miccoli has also been published in the New England Hockey Journal, Improper Bostonian magazine and on BostInno.