When the Boston Bruins signed Kenny Agostino to a one-year, one-way contract during the 2017 offseason, there was a lot to be excited about. As the reigning Most Valuable Player in the AHL, Agostino hasn't just been waiting for a full-time NHL gig. Instead, he's done everything he can at the AHL level to excel and potentially accelerate the process. Part of that acceleration process came during the 2016-17 season when the fifth-round pick from 2010 scored a career-high 24 goals and 83 points in 65 games and another five goals and 10 points in 10 playoff games.
Despite that production, however, Agostino wasn't given a big audition at the NHL level. Instead, he played in just seven games last season with the St. Louis Blues, scoring one goal and three points in the process. In 17 career games, Agostino has scored two goals and five points, but at 25 years old, he finally looks ready to take the next step and make the NHL roster for the Boston Bruins.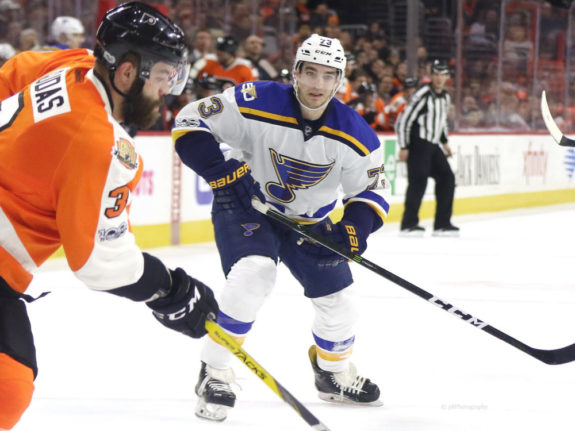 While his production at the AHL level has earned him recognition and his work-ethic has made him an attractive name in training camp, Agostino is far from a lock to make the Bruins' opening-night roster. As is stands, the Bruins' have a plethora of players who could step up and take on big roles with the big club this season. Whether it's Anders Bjork, Danton Heinen, Jake DeBrusk, Austin Czarnik, Jesse Gabrielle or any other combination of players vying for jobs, the competition is indeed fierce. It's for that reason that Agostino needs to continue doing what he's doing. While every player is fighting for a job, all any of them can truly do is show up every single day and work as hard as they can – something Agostino did Thursday in a preseason win against the Philadelphia Flyers.
Agostino Earning His Stripes
Despite not making a big impact against the Montreal Canadiens on Monday, Agostino bounced back in a big way Thursday when the Bruins welcomed the Flyers to town. It was evident from each and every time Agostino took the ice that he was looking to make an impact. Fortunately for both Agostino and the Bruins, he certainly did make an impact – recording an assist on the Bruins' first goal of the night and then scoring the overtime winner for the team just over three minutes into the extra frame.
.@kennyagostino with the overtime winner 🚨 pic.twitter.com/UNHyuwYvYI

— Boston Bruins (@NHLBruins) September 22, 2017
Recording a point on both Bruins' goals of the night didn't happen by accident, either. From his very first shift, it was obvious that Agostino was going to be an impact player with the puck and away from it. Luck is a real thing in sports, especially in hockey when the point of the game is to put a tiny rubber puck in the back of a net on a sheet of ice that stretches 200 feet. Bounces happen and plays can be made in the most bizarre ways. Still, there's a reason why some players appear to be "luckier" than others, and it has to do with putting themselves in a situation to benefit from that lucky – Agostino has proven he can do that at Yale and at the AHL level, now he's ready to show it at the NHL level as well.
Earning Praise From the Right Person
Thursday's was an impressive showing from the Morristown, New Jersey-native who managed to get behind the Flyers' defenders, flying on a breakaway and scoring on a slick dangle past Flyers' goalie Alex Lyon who allowed both of the Flyers goals after Brian Elliott stopped all 18 shots that he faced on the night. The performance didn't go unnoticed either as Agostino earned first star honors on the night and also earned some praise from head coach Bruce Cassidy.
#NHLBruins Cassidy on Kenny Agostino, "He's a player who can help the team."

— Shawn Hutcheon (@ShawnHutcheon) September 22, 2017
When talking about Agostino, Cassidy pulled no punches when he said: "He's a player who can help the team." Take that for what it's worth, as it certainly isn't a guarantee that the winger will be on the Boston Bruins' roster once the regular season starts. Still, it's better to get a ringing endorsement like that from the team's coach than to not get it at all. For Agostino, it shouldn't be taken as a reason to relax or get complacent, but to realize that he's doing something right and will need to continue if he wants to make the team.
Praise All Around
It wasn't the first time that the Bruins gave Agostino a ringing endorsement either, as general manager Don Sweeney did so after signing him to his contract as well.
"He's been prolific in the AHL over the last couple of years. Our guys have followed players of that nature and felt that he really deserves an opportunity to play at the NHL level and put forth his skillset that he's displayed there," Sweeney said on July 1. "Even in a small sample size at the NHL, he's done well. So, we're going to give him an opportunity. I think the internal competition piece I spoke of [at forward positions] will be interesting come training camp."
Looking to prove both Cassidy and Sweeney right, Agostino will need to build off of his strong performance and aim for a day-one spot on the team. Making the team wouldn't solve all of the questions surrounding Agostino, however.
Where Would Agostino Play If He Makes the Roster?
If Agostino does make the team, the million dollar question deals with where he would fit on the team. The Bruins' look heart-set on giving Bjork every opportunity they can to succeed on the team's top line alongside Patrice Bergeron and Brad Marchand. They also look like they want to give DeBrusk ample opportunities alongside David Krejci and David Pastrnak. If Agostino makes the team, the logical place for him to start the year would be somewhere on the team's third line – another interesting premise that would create even more questions in the process.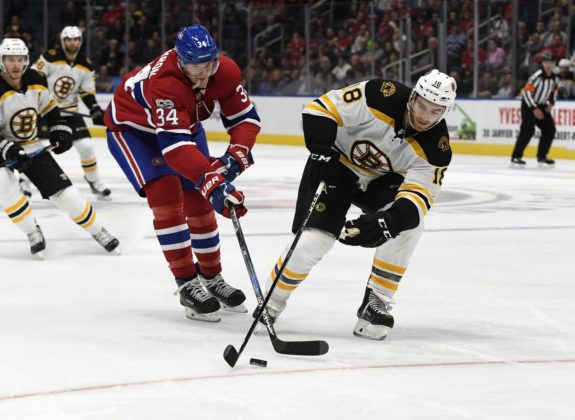 For starters, who else would be playing on the team's third line? David Backes seems like a lock to start the year on that line, be it as a center or on the wing. Ryan Spooner is still a member of the team, as is Frank Vatrano, and though they're day-to-day with injuries, both Matt Beleskey and Jakob Forsbacka Karlsson are also competing for a role on that line. Agostino will have his work cut out for him if he plans on making the team on the third line, assuming both Bjork and DeBrusk manage to make the team in top-six roles to start the year. If they don't, then the picture could become a little more clear – as is stands, it's still way too early to start concretely declare players will skate in certain spots.
For now, the Bruins opening night lineup is still up in the air, both in terms of personnel and lines. If Agostino can compete and make an impact at this level for the remainder of the preseason, however, it wouldn't be surprising to see him make the team in some capacity. Agostino's combination of size, speed and work ethic with his undeniable high-hockey sense should benefit him in the long-run, though.
Brandon Share-Cohen has covered the NHL and various professional sports for six years. Working with The Hockey Writers, Brandon works extensively on covering the Boston Bruins in addition to his role as the News Team Lead.