Boston Bruins fans are a unique breed. They are passionate, outspoken and often irrationally excitable. As such, there is an unfair amount of pressure on a player's first impression and expectations are usually high. Here are four Bruins who are likely to disappoint fans this coming season based on their anticipated production.
1. Charlie McAvoy
This is not an indictment of McAvoy. He is and will be an incredible player. He showed a tremendous amount of poise taking over as the de facto number-two defenseman in last season's playoff series against the Ottawa Senators. His first taste of the NHL was so impressive that the expectations for him this season are sky-high.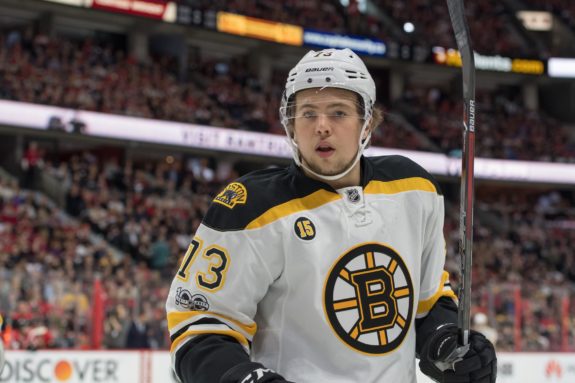 Consider how long it took David Pastrnak to become the player he is today. In 97 games over his first two seasons, he managed only 53 points. He looked every bit the part of a future NHL star but had trouble finding the score sheet. In the 2016-17 season, he found his groove and notched 70 points in 75 games.
Now, consider that the development of a top defenseman usually takes longer than it does for a winger. McAvoy is already a special case, so maybe the growing pains will be dulled. However, Drew Doughty — the player to whom McAvoy is most often compared — only tallied 27 points in an 81-game rookie season.
Bruins fans would undoubtedly be disappointed by a 27-point season, but anything in the 30-point range would be encouraging. McAvoy only has six games of NHL experience. Despite how poised he looked in the playoffs, there will be bumps in the road. The key is not to get frustrated and hope that in 2018-19 he can mimic Doughty's 59-point sophomore season.
2. Tuukka Rask
This has less to do with Rask than it does a specific segment of the Bruins fan base. Rask is one of the best goalies in the NHL and he will continue to be that. Since he won the Vezina, he has been expected to perform to that standard, and anything less has been met with derision from fans and the media.
In the years since their last Stanley Cup appearance, no Bruin has endured more undeserved criticism than Rask. He's been blamed for playoff series losses and been called mentally soft. However, in each of his last two seasons, he's managed a 0.915 save percentage despite a below-average defensive corps in front of him and no legitimate backup goalie to help him.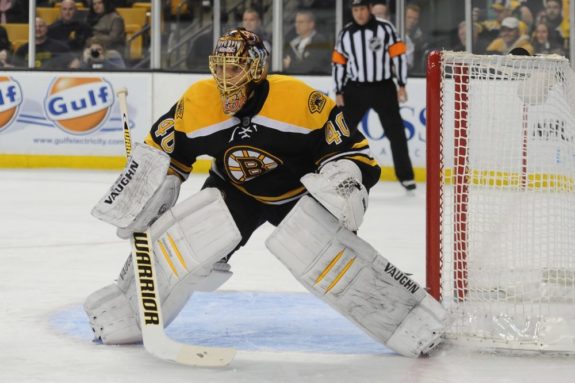 This season, the expectation is that the blue line will be much improved. The emergence of Brandon Carlo and the addition of McAvoy are reasons for optimism. However, it takes a lot of time for young defensemen to fully develop and the Bruins don't have four reliable forward lines to push possession, either. Additionally, Anton Khudobin still hasn't shown that he can consistently back up Rask. He should fare better than he has the past two years, but fans expecting Rask to bounce back to his peak form are bound to be disappointed.
3. Anders Bjork
Nobody knows exactly what to expect from Bjork. Projecting which players will jump straight from the NCAA to the NHL is a fool's errand. The Calgary Flames' Johnny Gaudreau made the leap very successfully. He was able to put up 64 points in his 80-game rookie season. The New York Rangers' Jimmy Vesey, however, struggled. He only notched 27 points in 80 games. Bjork is somewhere between them in terms of size and skillset, and his rookie output should fall in that range as well.
Put one on the board for Anders Bjork. 🔥 pic.twitter.com/7I95BuaBDn

— Boston Bruins (@NHLBruins) July 9, 2017
The assumption is that Bjork will slot in as a winger on one of the top two lines — most likely on David Krejci's left wing. In that role, he would have ample opportunity to succeed. However, he isn't the only player vying for a spot. Danton Heinen, Peter Cehlarik, Jake DeBrusk, Zach Senyshyn as well as incumbent Frank Vatrano could all push for top-six minutes at some point during the season. If Bjork falters, he may see his minutes diminish in favor of one of the aforementioned prospects.
With so many prospects to evaluate, it remains to be seen how long Bjork's leash will be. While it's probable that one or more of the Bruins' forward prospects will succeed this season, the highest expectations are on Bjork. Whether it's unfair or not, he is the likeliest of the bunch to disappoint.
4. David Backes
Backes already left Bruins fans disillusioned after his first season as a Bruin. Failing to eclipse the 40-point mark after signing a monster free-agent contract will do that. There's a prevailing narrative, however, that he's poised for a rebound season. Those expecting one are sure to be let down. Backes is 33-years-old and plays a style of hockey that ages poorly.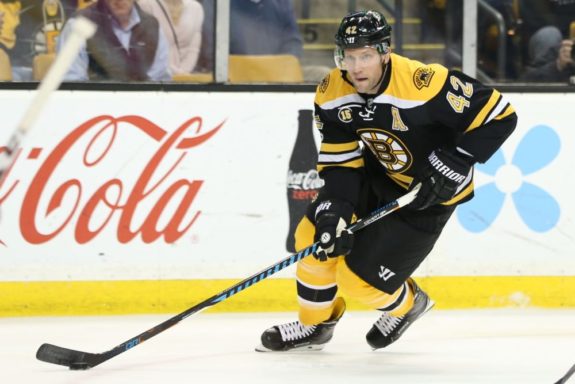 For much of the 2016-17 season, Backes rode shotgun on the top line. Brad Marchand and Patrice Bergeron are so prolific at both ends of the ice that they can carry almost anybody — as evidenced by Reilly Smith's 2013-14 season. Backes isn't so bad that he needs their support, but it certainly felt like head coach Bruce Cassidy was shielding him when he struggled to produce on the second line.
In an effort to balance lines and open up opportunities for young players, Backes may be asked to play on the third line at times. He should also see a diminished role on the power play in favor of more skilled players. If that's the case, even with a bounce-back season his point total will top out in the mid-40s. His leadership and toughness are valuable qualities, but for $6-million against the salary cap, Bruins fans will expect more this coming season.