Last week, I mentioned that the New York Islanders appeared to be a tailor-made partner should Boston look to make the increasingly-rare, in-season "hockey trade." Should the Bruins instead opt for the more common negotiations with an established "seller," look no further than the perennial "sellers from the cellar" Arizona Coyotes.
Why the Coyotes?
As mentioned above in my pseudo-clever play-on-words, the Arizona Coyotes figure to once again be watching the playoffs from the comfort of their living rooms. A spirited stretch of hockey (5-3-3 in their last 11) has taken the Desert Dogs out of the league's basement and into….30th place out of 31 teams. With a first-year head coach, the league's second-youngest roster and five-consecutive seasons without playoff hockey it was never about this season for the 'Yotes.
Or was it?
The offseason additions of Derek Stepan, Niklas Hjalmarsson, Antti Raanta and Jason Demers signaled, at the very least, a desire to compete. Perhaps an appearance in the playoffs was internally deemed a bit of a pipe-dream. However, the moves illustrate an intent to cobble-together a roster that was capable of taking the next step, out of the basement and toward the ultimate goal of relevance.
The moves were likely indicative of larger issues faces the club than even its own lack of success. As the most unstable franchise in the league by a country mile, the ongoings sagas of changes in ownership, unsuccessful attempts to secure funding for a new arena and annual loss of revenue, in conjunction with a series of woeful teams have left the organization and city in a lurch.
The buzzards will be circling the Coyotes leading up to the deadline. The Bruins would be well-served to be among them.
Note: The following is purely speculative. Let's have fun.
Niklas Hjalmarsson
Niklas Hjalmarsson spent eight full seasons as a key cog on the Chicago Blackhawks' back-end. The now-30-year-old excelled in a shut-down role with the 'Hawks, playing a largely unheralded role on three Stanley Cup winning teams before becoming the organization's most recent cap casualty this past offseason.
Shipped to Arizona in exchange for fellow defenseman Connor Murphy and center Laurent Dauphin in a pre-draft shocker, Hjalmarsson has been one of many 'Yotes whose season hasn't unfurled according to plan. His 13 games-missed to date have already equaled his career high, and a player once insulated by the presence of Duncan Keith, Brent Seabrook, Johnny Oduya Corey Crawford, and an all-star cast of forwards has found himself surrounded and isolated by inferior talent.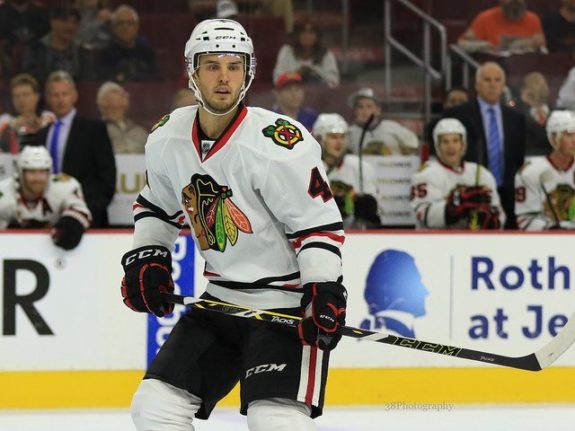 Nevertheless, he still grades out as a legitimate second-pairing defender. His 40 blocked shots in 17 games (2.35 per contest) put him on par with the league's best in that category. He's a gritty, tenacious defender, capable of logging big minutes in a shut-down role. He's a battle-tested winner; the kind whose low-maintenance style of play and attention to detail can fly under the radar until the playoffs commence.
Though he's never been much of a point producer, he serves as the perfect complement to that style of defenseman, making him a candidate to ride shotgun alongside Charlie McAvoy. Should the Bruins opt instead to continue riding the McAvoy-Zdeno Chara pairing (which has been marvelous of late) Hjalmarsson could unite with Brandon Carlo, giving the Bruins another formidable pairing that figures to yield few quality chances nightly.
The left-shot Swede's arrival would allow Torey Krug to slide back onto the third-pairing, where he can receive the favorable assignments and start-zones befitting his skill-set.
Cost of Acquisition
Fortunately for us, there's a blueprint just six-months-old for comparison's sake.
Murphy and Dauphin were first and second-round picks (respectively) in the 2011 and 2013 drafts. The 24 and 22-year-olds currently grade as a four/five defenseman and bottom six forward.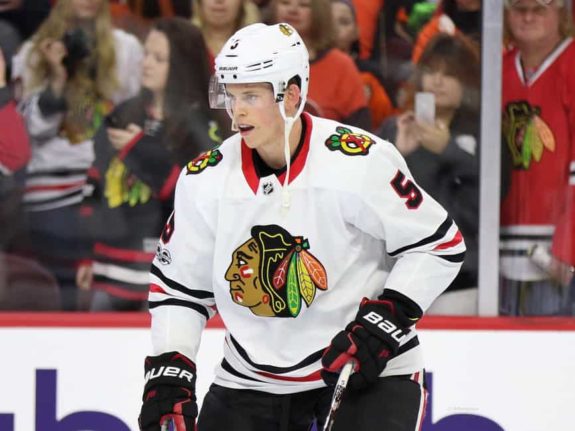 Murphy is currently averaging less than 15 minutes of ice time per contest, with four points to his name. Dauphin has 10 points across 19 contests with Rockford at the AHL level. Murphy has four years remaining on a six-year, $23 million deal, while Dauphin's ELC expires at year's end.
As such, replicating this value shouldn't be too difficult for a Boston organization loaded with prospects and depth.
The Coyotes would likely ask for a defenseman prospect in return; perhaps Ryan Lindgren would satiate GM John Chayka's desire. Frank Vatrano or Jesse Gabrielle seem likely candidates to round out the deal as Dauphin's comparable. Additional mid-tier prospects could be necessary to complete the hypothetical trade.
Bear in mind that future draft picks (specifically a second-round selection) could substitute for the aforementioned defenseman prospect.
Hjalmarsson himself carries a cap hit of $4.1 million this season and next, making him more than a rental and, because of that, marginally more expensive. Furthermore, he carries a modified NTC/NMC, which entails a 10-team trade list.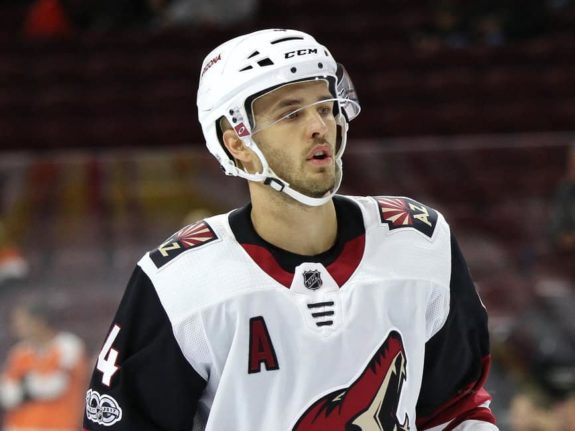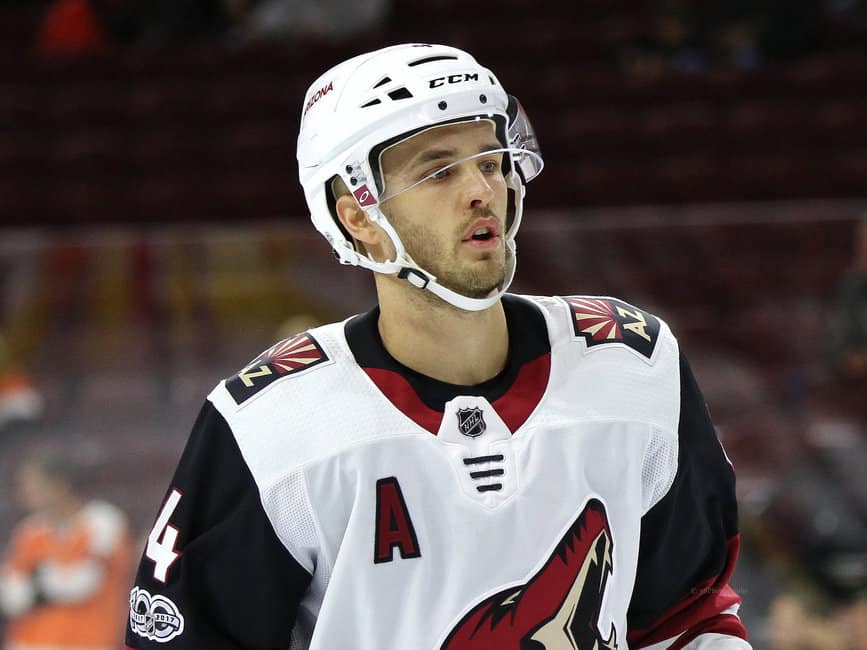 Whether or not he could be coaxed into joining the Bruins remains to be seen. Should joining another Original Six franchise be amenable, his services would go a long way toward bolstering Boston's blue line without clogging-up the pipeline beyond next season.
Zac Rinaldo
Just kidding. Move along.
Oliver Ekman-Larsson
This is the "pie-in-the-sky, wouldn't it be nice" inclusion to the list.
Despite consistent assertions from John Chayka that he has no desire to trade the 2015 All-Star, it ultimately may not be entirely up to him.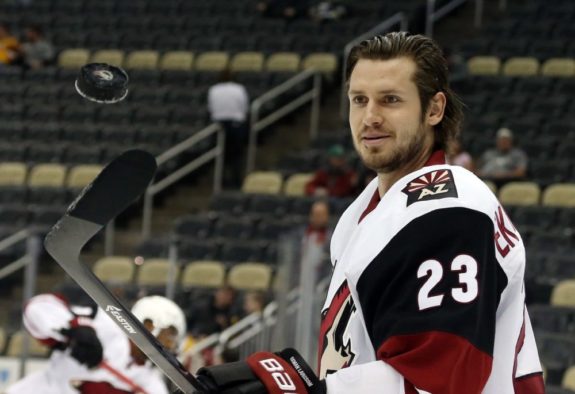 I'm sure that prior to last season Joe Sakic had no desire to trade Matt Duchene. But a struggling franchise, swirling rumors, and a noticeably unhappy player forced his hand into trading the 2009 Lottery Pick.
Oliver Ekman-Larsson and Duchene may play different positions, but have virtually everything else in common. The two were Lottery Picks in their draft years, and were viewed then (and later on) as franchise cornerstones. They've both played in All-Star Games and the Olympics. They've both been stuck on woeful franchises during their still-young careers. Perhaps most importantly, they're both on the penultimate year of their contracts.
"OEL" figures to receive a hefty increase from his current deal which pays him $5.5 million annually. The 26-year-old has eclipsed 20 goals from the blue line twice in his career – that's rarified air. He's an elite puck-mover who also manages to make few mistakes. He's a brilliant, effortless skater while also possessing great size at six-foot-two, 200 pounds.
There's little doubt that Arizona would move Heaven and Earth to retain him as their franchise cornerstone. Whether he wishes to continue to toil in a market known more for its financial woes and poor attendance than success (one playoff appearance during his seven-year career) is another story altogether.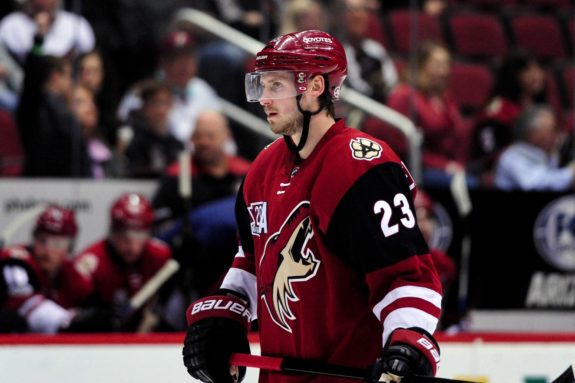 So, rather than playing "will they, won't they" regarding Boston's potential interest, I instead shift focus to "could they?" As in, does Boston have the pieces to facilitate this potential blockbuster?
Yes, they do.
Cost of Acquisition
A lot. As in, "You know Boston's excellent and exciting pipeline? Say goodbye."
Again, this is not a move that I am personally advocating, so save your comments regarding my sanity. This is merely an examination of what it would cost in terms of both pieces going to Arizona as well as Ekman-Larsson's extension. Which, for the record, would be an absolute must for any trade to transpire.
The Bruins would likely have to part ways with multiple defenseman prospects for starters. Two of Jakub Zboril, Jeremy Lauzon, Urho Vaakanainen and Ryan Lindgren would head for the desert as the Coyotes attempt to make up for the loss of "OEL" at the position.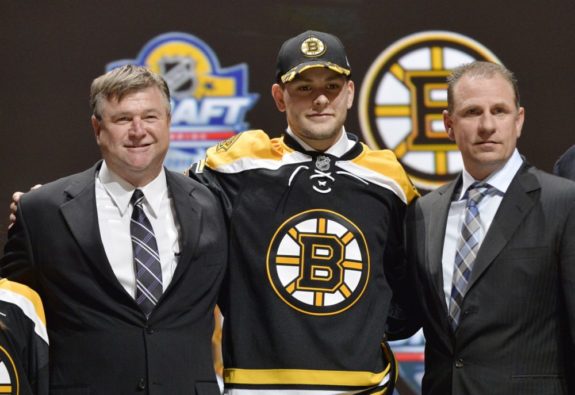 Don Sweeney would also likely be forced to dip into his pipeline at the center position to account for the fact that the Coyotes organization hasn't had a top-flight center since they were in Winnipeg and Thomas Steen was centering a young Teemu Selanne. Derek Stepan is a quality player, but grades out more as a second-line pivot. Plus, the guy could use some help at the position. So say goodbye to one of Ryan Donato, Trent Frederic or Jack Studnicka.
Finally, a cornucopia of draft picks would fly out the door as well. At least one first-round pick, if not two would be included, not to mention one or two second-round selections.
After all of that is said and done, commit six-to-eight years at $7-8 million annually for his contract extension.
Trading for Oliver Ekman-Larsson figures to be exorbitant to the point of being prohibitive. Regardless, the thought of a blue line featuring him, Charlie McAvoy and Brandon Carlo for years to come (not to mention Torey Krug and whatever prospects are left) is enough to make any Bruins fan salivate at the possibilities.
Lawson Crouse
This one is based significantly more on a personal "want" than a team "need." But anyone who has ever seen Lawson Crouse play can attest to this – the kid was born to wear Black and Gold.
As of now, the only notable affiliation Crouse has with the Boston Bruins is being on the receiving end of a devastating Charlie McAvoy hit  during a summertime exhibition tilt between Canada and the United States. It's a moment Crouse would like to forget, if the check itself didn't already do the trick.
The six-foot-four, 220 pound left wing plays a bruising, physical game. He's equally unafraid to both finish checks with authority as well as "answer the bell," should his opponents take umbrage at the hit. It's a rare trait in an era of NHL hockey chock-full of speed and skill, but growing increasingly deficient in accountability.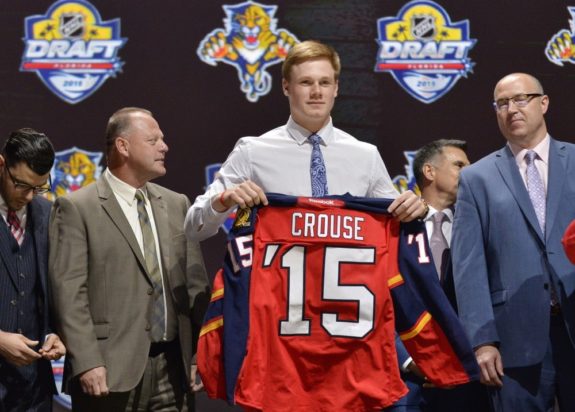 But he's more than just a bruiser, or a thug on skates; he carries quite the pedigree as well.
As the 11th overall pick in the 2015 NHL Draft, Crouse has the tools to be an excellent power forward. He's as strong as an ox, and knows his bread will be buttered in front of the net and in the corners; he's a worker, with good hands.
He may not skate like Chris Kreider, but for a man of his size he still grades out as a plus-skater. He received commendations in his draft year for his attention to detail, particularly defensively.
To date, the 20-year-old has compiled five goals and seven assists over 79 contests with the Coyotes.
Cost of Acquisition
It's unlikely that Crouse lives up to his draft spot (he was considered by many at the time to have been a reach), but there is still ample time for the Ontario-native to develop into a forward capable of contributing regularly from a team's second or third line.
Halfway through his ELC and just two years removed from his draft year, it's not as though Arizona will just be giving him away. The impetus to trade Crouse may not exist, unless Chayka feels his value will only deteriorate further as time transpires. As of now, his pedigree and contract may be propping up his value.
Above all else, Chayka is an analytics guy. It was his work with the analytics firm "Stathletes" which made him the youngest GM in NHL history.
Lawson Crouse's analytics weren't his friend in his draft year, and the numbers are even less kind now. It's also important to note that Crouse was drafted by Florida GM Dale Tallon, and subsequently traded to Arizona.
A solid offer from Don Sweeney could persuade Chayka to pull the trigger. Perhaps an offer of Austin Czarnik (Corsi and Fenwick darling buried on the depth chart), Frank Vatrano and a mid-round pick would suffice.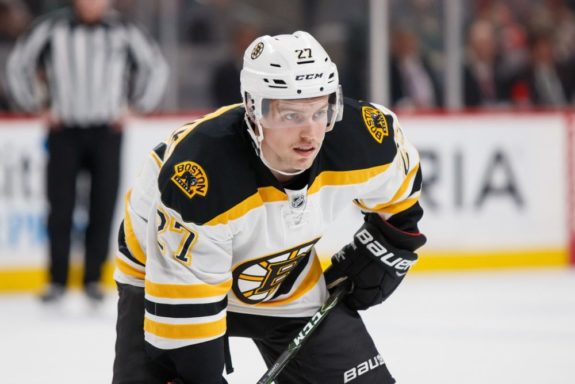 His acquisition would bring immediate malevolence and toughness to the organization. Furthermore, the team is under no obligation to carry him on the NHL roster while they foster his development, hopefully into a middle six forward.
Fourth-liners Tim Schaller and Riley Nash are both slated to hit unrestricted free agency at year's end. Should either or both play their way out of Boston, Crouse could be banging bodies on Causeway very shortly.
Matt Beleskey
Things haven't gone Matt Beleskey's way over the last 14 months. Once signed to replace Milan Lucic, Beleskey has since lost the ability to crack an injury-decimated lineup. Some writers made themselves look foolish in believing in a bounce-back 2017-18 campaign. It didn't happen, and Boston is on the hook for this year and two more at 3.8 million annually. After all, who would take him at this point?
Maybe Arizona. And no one else.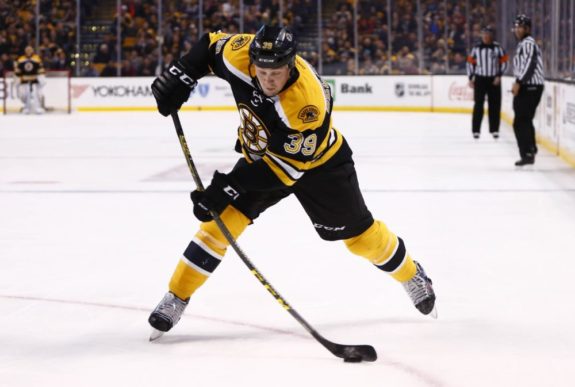 Blessed with a league-leading $16.3 million in cap space, Arizona could be willing to swallow the remainder of Beleskey's contract should he be paired with a high draft pick or prospect in a lopsided trade. They don't figure to be competing anytime soon, could use an additional future asset, and currently employ Zac Rinaldo. So, it's not as though his style and level of effectiveness would be terribly out of place.
With Jimmy Hayes and Dennis Seidenberg's buyout hits still on the books for this season and next, a Beleskey buyout is not an option.
In fact, there are no other options at this juncture for Boston than Arizona. So if Don Sweeney should decide that an extra $3.8 million in cap space for the next two seasons is more valuable than, say, a second-round pick, he knows who to call.
Or, he could talk to him face-to-face when the Coyotes visit the Bruins on Thursday.
Despite being New England's Son (hailing from the Great State of Connecticut), Joe currently resides in Los Angeles, California. One of his earliest memories is of the Bruins losing in the 1990 Stanley Cup Finals, setting up a lifetime of crushing disappointments. He feels genuine sadness for those without a passion to rival his unwavering love for the greatest game on earth.