Collecting the pass with his feet flying through the neutral zone, Brad Marchand prepared to attack the Flyers' defense. He slid the puck from the heel of his stick across to his backhand and flicked it off of sliding defenseman Michael Del Zotto. Steve Mason, sprawling across the crease, was unable to save the deflection and the rubber trickled in to lift the Bruins to a key overtime victory.
Brad Marchand just swiped right on Del Zotto harder than anyone's swiped right on Del Zotto before.

— Pete Blackburn (@PeteBlackburn) March 7, 2015
No other player on the Bruins roster has the offensive abilities that Marchand utilizes. His creativity, nose for the net, and instincts separate him from others and make him a hassle to defend. Simply stated, his importance to the Bruins cannot be overlooked.
Just a day later, Marchand stripped Steven Weiss and froze Red Wings goaltender Jonas Gustavsson with a pretty backhand-forehand move while the Black and Gold were shorthanded to take the lead. It was an incredible effort from the "Nosed Face Killah", who showed off his patience and moves while Gustavsson looked like he pulled his hamstring in the process.
Marchand is the heart and soul of the Bruins offense, and arguably the most talented skill-wise of the forwards. He leads the Bruins with 22 goals and a 14.5 shooting percentage, easily the highest on a team that chronically struggles to convert their shots into goals.
Only Patrice Bergeron has a better ratio of shot attempts for versus against than Marchand, who boasts an impressive +228 when he is on the ice. Marchand has scored in 16 games. In those contests, the Bruins have a sterling 11-2-3 record. When Marchand scores, the Bruins have a great chance at winning.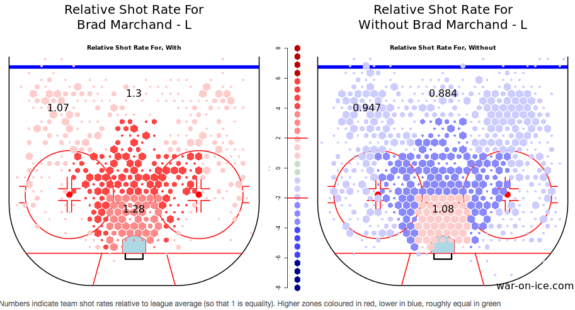 The chart above, courtesy of war-on-ice.com, showcases that when Marchand is on the ice, the Bruins' overall shots for ratio skyrockets and when he is taken off, their shot production plummets below league average. In all parts of the zone, Marchand rests comfortably above the league average, which is one. In addition to being an accurate shooter, shooting creates rebounds and chances, which can be pounced upon and converted into goals. Marchand's instinct to shoot makes his teammates better by creating opportunities to score.
| | | | | |
| --- | --- | --- | --- | --- |
| Name | CF60 w/Marchand | CF60 w/o Marchand | GF60 w/ Marchand | GF60 w/o Marchand |
| Patrice Bergeron | 67.60 | 59.50 | 2.99 | 1.50 |
| Reilly Smith | 64.88 | 55.84 | 3.34 | 1.95 |
| Dougie Hamilton | 75.62 | 55.66 | 3.80 | 1.88 |
As evidenced in the chart above, with stats courtesy of stats.hockeyanalysis.com, Marchand makes his teammates better. The jump from players' goals for per 60 and Corsi per 60 is astronomical when number 63 is playing with them. Using his speed and vision, Marchand can control the tempo or become the second and third option and beat goaltenders with pinpoint accuracy on his shot. Marchand is really the key to the Bruins offense.
The former third round pick is dynamic, with and without the puck. A sparkplug on offense, Marchand opens lanes and finishes plays. A noted agitator, the 5'9″ forward gets under opponents' skin with his hard-nosed style of play. With a diligent work ethic, Marchand is needed to be hot down the stretch if the Bruins want to make the playoffs.
You can follow Cam on Twitter (@camkerryPRS) for tweets that will change your life.
Cam joined The Hockey Writers in July of 2014 as a Los Angeles Kings writer. He has since transitioned to writing about the Boston Bruins. Growing up in Titletown, Cam bleeds the color of Boston sports teams. In addition to writing about his passion, the fastest game on earth, he is the co-founder of Press Room Sports. Cam is a junior at Phillips Academy, where he plays soccer, hockey, and golf.