The NHL playoffs will soon be upon us; the league will celebrate its most exciting phase of the season. But is there a widespread concern that the game's decline in enforcers could undermine the season's greatest spectacle?
In the 2013 American dystopian horror movie, The Purge, a far-right political party is voted into office in response to an economic collapse. This radical party, which bears a scary resemblance to 2017 America, passes the 28th Amendment, 'The Purge'. During the purge all crime is legal, and all police, fire, and medical emergency services remain unavailable.
The comparison is harsh and facetious; the higher powers of the NHL have not mimicked the purge. But by gradually rrginalizing the role of hockey's enforcer, they have created a league in which a facet of the game's emergency service is close to redundant, if not completely unavailable.
To better understand the landscape of today's NHL, I spoke with former enforcer Brian McGrattan, now of the Nottingham Panthers.
At 35, McGrattan's days policing the ice of the game's top flight are behind him. His name, however, is still recognised as one of the game's most intimidating figures. Such was his body of work; his American Hockey League (AHL) record for most penalty minutes in a season still stands some 13 years later at 551.
The journey of an enforcer is not an easy one. Often it requires players who have no history of fighting to develop that skill to maintain a place in the top flight.
The Beginning
"I knew I wouldn't score a tonne of goals, so I had to do something to stand out. A lot of guys got injured, and I lucked out – I started fighting and got noticed," said the former Calgary Flame.
"I made the decision to fight. I figured if I got good at it, it was the best way to fast track into the NHL where everyone loves a fighter, and if I become one of the best of them then everyone is going to want you – that's the way it was back then."
As junior level, a huge emphasis is placed on the arts of stick handling, skating, shooting and developing an IQ for the game. In stark contrast, there is no school of fighting as McGrattan points out.
"How did I get better at fighting? By losing," said McGrattan.
"I wasn't very good at first, but I stuck with it. I was fighting 20 times a year in my first few seasons in the AHL, losing a bunch but in my third season I fought 46 times and don't recall losing one.
"That season set me up for a good crack at the NHL. I led the league in fights and set a record for penalty minutes, so my name was really out there as the next guy to take on NHL enforcers and paved the way for my career."
Fighting on the ice has a steep learning curve. It also has its unwritten code of ethics of which McGrattan is quick to remind us.
"If an opponent's knee hits the ice it's over for me; you don't hit a guy when he's down. Eye gouging, biting is a no-no – you have to respect the guy you are going against if you do that it will come back on you."
McGrattan's time in the NHL is over, but looking back on his career he is no doubt that the top flight is also home to game's toughest fighters. However, he is also quick to point out that the impact of marginalizing enforcers has affected the standard of the game's current crop of tough guys.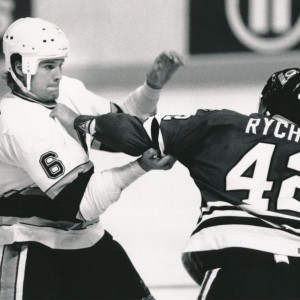 "Those guys in the NHL are the best, especially in the time when I came up. I mean not now, though, those guys in the NHL now I don't even know what I'd call them, but they are not fighters.
"Minus Bob Probert, Joey Kocur, Tony Twist – the group of guys I came up with could be the best fighters in the history of the NHL. Every game you had to be ready knowing it could be your last day, your last day on earth!"
McGrattan became noticeably animated when discussing the future of the game, specifically on the blurred lines between fighting and concussion protocol.
Concussion Protocol
"I had four [concussions] in a 15-year career and fought over 300 times. Fighting is the easiest thing to blame for concussions, but it provides the least amount – three percent caused from fights and 97 percent from hits and other parts of the game.
"It's frustrating but for me I don't really care, I'm 35, and in the glory years of my career, it'd be very different if I was 23 or 24 trying to break my spot into the league and my career would be over at 27.
"It's starting in the minors, every fight after your third fight is a suspension in the Ontario Hockey League (OHL). Guys 15-16 simply won't be fighting anymore, maybe within the next generation fighting will have been pushed completely out of the game. It's gonna be like watching pond hockey in about five years," warns McGrattan.
Increased fines and suspensions are affecting grassroots of fighting. Meanwhile, on the game's biggest stage, officials are now putting their bodies on the line to prevent fights from happening.
Refs straight up preventing fights now pic.twitter.com/N68jSJBa6I

— Pete Blackburn (@PeteBlackburn) December 28, 2016
A Dangerous Future?
There are arguments for and against the inclusion of fighting in what is otherwise a phenomenally highly skilled sport. With statistics implying enforcers are soon to face total extinction, McGrattan exercises caution for the future of the sport and specifically the safety of the game's elite performers.
"Just watch the highlights, last night I saw Henrik Lundqvist get his head taken off! Probably a hall of fame goalie and nobody did anything.
"Every morning I watch the highlights, and the same thing is happening, you are gonna see cheap shots, and the department of player is safety is going to have a busy time going forward – it was easier when they left to us guys but now it's out of our hands.
"The game is going to get dangerous, the anti-fight crew will never admit to that, but the respect level of players will be gone. Players will feel free to do whatever they want.
"F**k it, I'll get a three-game suspension and a $5000 fine, who cares, I make $4m a year, so I can whack a guy, and he'll be out, but in three games I'll be back and won't have to worry about anybody coming to get them (retribution)," said the current Panthers' tough man.
If hits like Cody Eakin's are hard to watch, only weeks after speaking with McGrattan Gustav Nyquist of the Detroit Red Wings delivered a sickening high-stick to the face of Minnesota Wild Defenseman Jared Spurgeon.
What is worse? Getting speared in the face or not one guy on the team sticking up for you? It is really sad on what our game has become!

— Brian McGrattan (@bigern10) February 13, 2017
Nyquist served a mere six-game suspension for nearly removing the eye of a fellow hockey player. In today's version of the game, it's highly unlikely he will face any retribution on the ice.
Has removing the sports specialist fighters ironically made the game more dangerous? While purely fictional, this week was the date of the first purge.
Next month sees the beginning of the postseason. The playoffs are famous for delivering the games very best performances, and passions often boil over. After a gruelling 82 game schedule, the best of seven series begin, without the on ice emergency services all hell could break loose.