There was no hiding the top storyline going into the Tampa Bay Lightning 's matchup against the New York Rangers Monday night. With only one game on tap, all eyes (or those not watching the Hall of Fame induction speeches) tuned in to watch Callahan's return to MSG.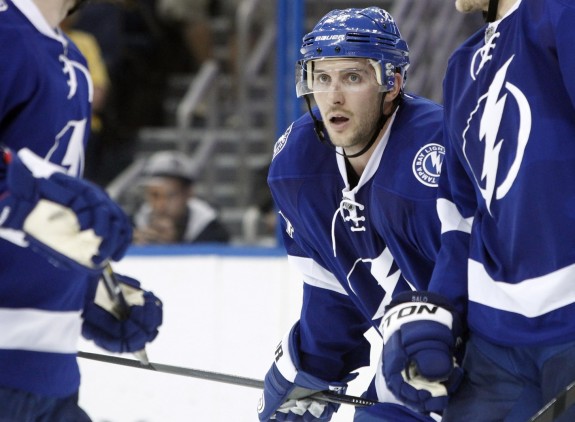 Callahan's Return
A veteran of 254-regular season and playoff games at Madison Square Garden, Ryan Callahan made his first appearance in the Big Apple as a visiting opponent.
Callahan wasn't the only player in the game with ties to the opponent, as former captain Martin St. Louis played his first game against the Lightning since January 8, 2000. They of course were swapped for each other at the deadline last season.
As teams swapped the two players, they did goals late in the third both of which were power play markers for their new respective teams.  Callahan scored to put the Lightning up 2-0, after receiving a beautiful pass from Steven Stamkos.
After the current Lightning captain toe dragged around a Rangers defender, drawing in the rest of the penalty kill team, he was able to pass it off to Callahan who had more than enough time to knock into the open net.
That goal would go on to be the game winner for Tampa Bay, as they controlled the game pretty much from start to finish.
The receiver of early game boo birds when he touched the puck, Callahan would later add on an assist and another goal late in the game quickly quieting the home town crowd.
 Reunion For Others As Well
St. Louis and Callahan weren't the only two with past ties to the opposing team, as four other players spent some time in the opponent's jersey at some point in their career. Most notably was Dan Boyle, now with the Rangers, played in 355-games as a Lightning and along with St. Louis was a part of the team that won the Stanley Cup in 2004.
Dominic Moore played in 133-games with Tampa, and scored 22-goals in that span. All together, the three combined for 1,499-games and 453-goals as members of the Lightning.
Anton Stralman changed from a pure offensive defenseman to a solid two player over the span of 182-games with the Rangers before leaving this past season. Joining him was Brian Boyle, who played in 355-games as a Broadway Blue.
No other players other than Callahan and St. Louis factored into any of the scoring. The two teams will play two more times in the coming two weeks, the next time the day before American Thanksgiving.