There's a couple of things to keep an eye out for when Bruins training camp begins next week. Of all of the positional battles that will be taking place throughout training camp, you can be pretty sure that Boston's backup goalie role will have the heaviest load of competition.
Boston's need for a consistent backup goaltender will be even more important this season, after Claude Julien and company sent Boston starting goaltender Tuukka Rask out for 70 games last year. The Finnish netminder, as good as he is, was undoubtedly overworked, which played an unfortunate role in Boston's demise last season.
As we enter the 2015-16 season, Rask will certainly have a lot of work ahead of him. However, Julien will probably be a bit more cautious about playing Rask as much as he did last season, considering he received quite a bit of heat for it over the offseason.
That means that whoever is behind Rask is going to be getting quite a look this season. The question is, who will that be?
As of now, Boston has four contenders who will be looking to lock up the crease behind Rask. Malcolm Subban, Jeremy Smith, and North Dakota stand-out Zane McIntyre were all predictable candidates to compete for the spot earlier this offseason. However, Boston made things even more interesting by adding Jonas Gustavsson, who appeared in seven games with the Red Wings last season, to the scrum. (Gustavsson posted a 3-3-0 record last season with a .911 save percentage, and a 16-5-0 record in 2013-14 campaign, in which he posted a .907 save percentage).
As you could probably expect, training camp could be a little stressful if you're competing for one of those roles. However, as Zane McIntyre pointed out, a little competition will only benefit the contenders.
"You understand that there's competition on a daily basis, and I think that's where a lot of people will really shine." McIntyre said, according to nesn.com. "If you get pushed, you get pushed to the next level, and you can show your true colors and everything.

"I think this will be a good test for everyone here. You look at any position, goaltending, the defensive corps here, forwards, we got a bunch of guys pushing for spots and competing for spots, which will be pretty special."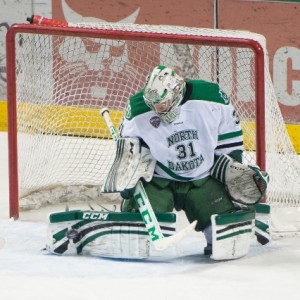 In McIntyre's first pro season, he'll be looking to make a splash and earn a role on the Bruins' roster. However, given the competition he'll be facing, that will be no easy task. That being said, he knew exactly what he was getting into when he signed with the Bruins back in July.
"You understand the beast you're going to deal with signing a pro contract and going from there," he said.
The truth is, this sort of competition is exactly what the Bruins' brass were looking for. With four viable contenders for the backup role, each netminder will be forced to really stand out, and prove that they deserve the spot. At the same time, there'll be a lot of pressure on these guys, so it should also give the Bruins some insight into who can perform under pressure.
So what's a goalie gotta do? Zane McIntyre shared some wisdom on that as well:
"Right now, just trying to control what I can control, and go out there and have a good time and really just play hockey," McIntyre said. "That's the best part about it. That's the beauty of the sport and everything. You get to compete with a lot of friends you know and also a lot of guys you will be playing against. So, it will be pretty tough as well."
Who do you think will earn the spot behind Rask and why? Let us know in the comments, or reach out to me on Twitter @CamHasbrouck and we can chat.
Cam is a Broadcast Journalism student at the University of Maryland. He's the Boston Bruins Beat Writer at The Hockey Writers, and is an avid college hockey fan. Find him on Twitter @CamHasbrouck!