With the press conference this week regarding the 2016 World Cup Of Hockey taking place next September there is a lot to be excited about with the tournament returning after a 12-year absence.
However with the tournament no longer being a traditional eight-nation tournament and instead a six-nation tournament with essentially two all-star teams added there is a new element.
Team North America and Team Europe poise some exciting prospects in regards to the tournament but are hardly seen as a true contender due to the roster makeups, North America  more so.
Upfront the team has an exciting core with Connor McDavid, Ryan Nugent-Hopkins joining a two-time Stanley Cup champion in Brandon Saad and the exciting duo from Calgary in Johnny Gaudreau and Sean Monahan.
On defence there's promise headlined by Aaron Ekblad, Seth Jones and Dougie Hamilton making up the core with potentially Griffin Reinhart and Darnell Nurse having opportunities to make the team.
The biggest issue for Team North America is between the pipes.
John Gibson, Connor Hellebuyck and Malcolm Subban headline the list but between them there is a total of 27 NHL games played, 26 of them being from Gibson alone.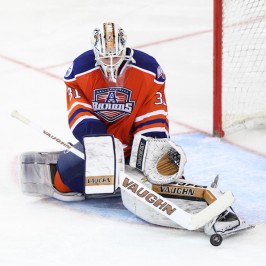 The field is limited due to the rules.
The roster is comprised of players born on or after October 2 1992 and unfortunately goaltending development doesn't exactly peak during these years.
Edmonton Oilers GM Peter Chiarelli was named the GM for Team North America and has his work cut out for him as he essentially has to pick from a group of AHL goaltenders to compete against the likes of Alex Ovechkin, Evgeni Malkin, Nicklas Backstrom, Henrik Zetterberg and the list goes on.
Chiarelli even has an in-house option to bring to the tournament in the Oilers top goaltending prospect Laurent Brossoit who will likely be the starter for the AHL Bakersfield Condors.
Brossoit, 22, is entering his third pro season and was a third-stringer for the Oilers last season even getting into a game when Viktor Fasth went down with injury. You can't put a lot of stock into one NHL  game but if you were you can't write off Brossoit's 49-save performance in a 3-1 loss that could've been a lot worse than it looked had it not been for him.
Still it's early to say and Brossoit is knocking on the door for a roster spot, enough so that you'd have to consider he has an outside shot at making Team North America.
Even if it is as a third-goalie Brossoit ran with the ball playing in 53 games for the Oilers AHL affiliate in Oklahoma City and improved on concerns about his inconsistency and reputation as being a hot and cold streak goaltender. He enters 2015-16 looking to build off a 2.56GAA and 0.918SV% season.
"Long-term, if Brossoit can put all of his physical tools together and get stronger mentally as he matures he should become a dominant NHL goaltender." – Hockey's Future
So if Brossoit is to have a shot at Team North America, who is his competition?
Here is a list of his top five competitors for a roster spot.
Brossoit's Top 5 Competitors
---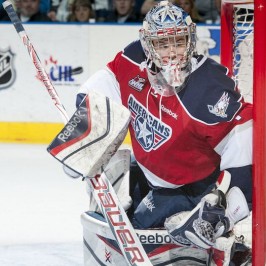 #5 Eric Comrie
Winnipeg Jets (AHL Manitoba Moose)
Comrie officially turns pro this season and development is going to be really important for the 20-year-old who has a gold medal with Team Canada at the 2015 World Junior Championships.
He's got five games at the AHL level to Brossoit's 65 games. The other aspect is size where Brossoit has the edge.
Another factor that falls in Brossoit's favour is his playoff record vs Comrie's where Brossoit was a starter for a perennial Memorial Cup contender.
All said Comrie just simply needs to outperform Brossoit in his rookie season to get consideration over Team North America's in-house option.
---
#4 Zach Fucale
Montreal Canadiens (AHL Saint John's Ice Caps)
It's been a tough two seasons for the 2013 second-rounder who hasn't exactly flourished and has seen his development take a step back for the time being.
He enters his first pro season and might need a little time adjusting to pro shooters at the ECHL level where he'd get heavy-minutes and experience, the very thing Brossoit holds over him.
Fucale will be a 21-year-old by the time the World Cup starts up and if you think going from junior to minor pro is an adjustment, what about going  from junior to facing Sidney Crosby, Alex Ovechkin and Zach Parise?
Fucale has promise and needs to get his(Bruce Fedyck-USA TODAY Sports) confidence under him at the pro level before being thrown into a pressure cooker.
Yes he backstopped Team Canada to a gold medal at the 2015 WJC but he also posted a 4.75GAA and 0.872SV% at the Memorial Cup in the same year.
---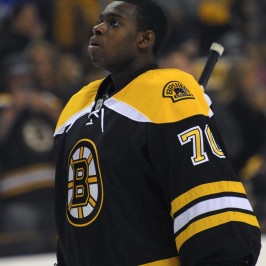 #3 Malcolm Subban
Boston Bruins (AHL Providence Bruins)
Subban will be a 22-year-old before the tournament gets underway and already has 68 AHL games to his credit, a slight lead over Brossoit, but both have only played one NHL game.
Both enter their third pro seasons and both are each franchises starting goalie at the AHL level.
Subban's draft status as a 2012 first round pick gives him a little more cache over Brossoit and his numbers have been a little better at the AHL level.
In the end it ultimately comes down to this season between, Hellebuyck, Brossoit and Subban and which two of the three have stronger seasons and snag the spots after Gibson.
---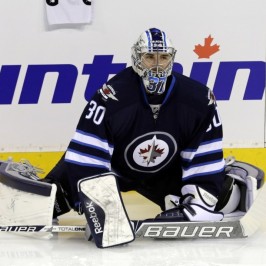 #2 Connor Hellebuyck
Winnipeg Jets (AHL Manitoba Moose)
It's hard to find a prospect that had a better year last year than Hellebuyck who played 58 games in his first year as a pro down in the AHL and posted 2.58GAA and a 0.921SV%.
Add to that he was arguably one of the best goaltenders at the 2015 World Championships for Team USA winning a bronze medal and you have a shoo-in for Team North America.
He's Brossoit's biggest competition right now next to Malcolm Subban for a spot with all things considered and Gibson being a lock for the starting job.
Hellebuyck though is good enough to unseat Gibson as the starter, even more so if he has another solid year in the AHL this season.
---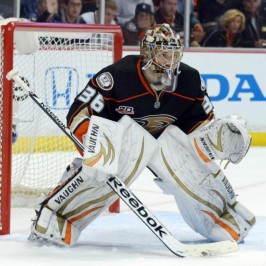 #1 John Gibson
Anaheim Ducks (AHL San Diego Gulls)
Gibson will be a 23-year-old entering his fifth pro season who split last season between the AHL Norfolk Admirals (11GP 2.07GAA 0.935SV%) and the Ducks (23GP 2.60GAA 0.914SV%).
Even with Frederik Andersen and Anton Khudobin on the main roster don't count on Gibson being dealt this season and likely spend the entire year developing in the AHL this season.
So in a nut shell you can call him a potentially elite starting goaltender in the future, but in the present time the North American young stars starting goalie is currently an AHL starter who lost his job as an NHL backup this off-season because his organization felt he needed more time to  develop.