In this latest edition of Boston Bruins News & Rumors, Bruins defenseman Matt Grzelcyk is once again being discussed in the NHL rumor mill. In other news, the Bruins notably revealed three of their jerseys for their Centennial season, and they were met with mixed results from hockey fans. Lastly, 2019 first-round pick Johnny Beecher is entering a crucial year in his development. Can he sneak onto the Bruins' roster, whether directly out of training camp or during the season? Let's discuss all of this in today's Bruins News & Rumors column.
Grzelcyk Once Again Listed as Potential Trade Candidate
For a good portion of the offseason, Grzelcyk has been the subject of trade rumors. Although the chance of him being traded before the start of the season is quite unlikely, he is starting to generate some buzz as a potential in-season trade candidate. The Athletic recently published an article discussing the player most likely to be traded by each team in 2023-24, and Fluto Shinzawa listed Grzelcyk as the Bruins' choice. Here's what Shinzawa wrote on the matter.
"Grzelcyk is unrestricted after this year. So is Derek Forbort, also a left-shot defenseman. While Grzelcyk pushes the offensive pace more than Forbort, the latter is a heavy-rotation penalty killer and a five-on-five stopper. Grzelcyk is neither of those things, especially in the playoffs. The Bruins also have Mason Lohrei, an offensive-minded lefty defenseman, pushing for a spot."

Source: 'Which NHL players could be traded in 2023-24? Our experts pick one from all 32 teams,' Fluto Shinzawa, The Athletic, 9/16/2023′
If Lohrei breaks out in 2023-24, it certainly could open the door to a Grzelcyk trade, as Shinzawa notes. Furthermore, adding the Massachusetts native's $3,687,500 cap hit in a move could also help the Bruins acquire a top-six center near the deadline. The two most obvious trade targets for the Bruins down the middle are Mark Scheifele and Elias Lindholm.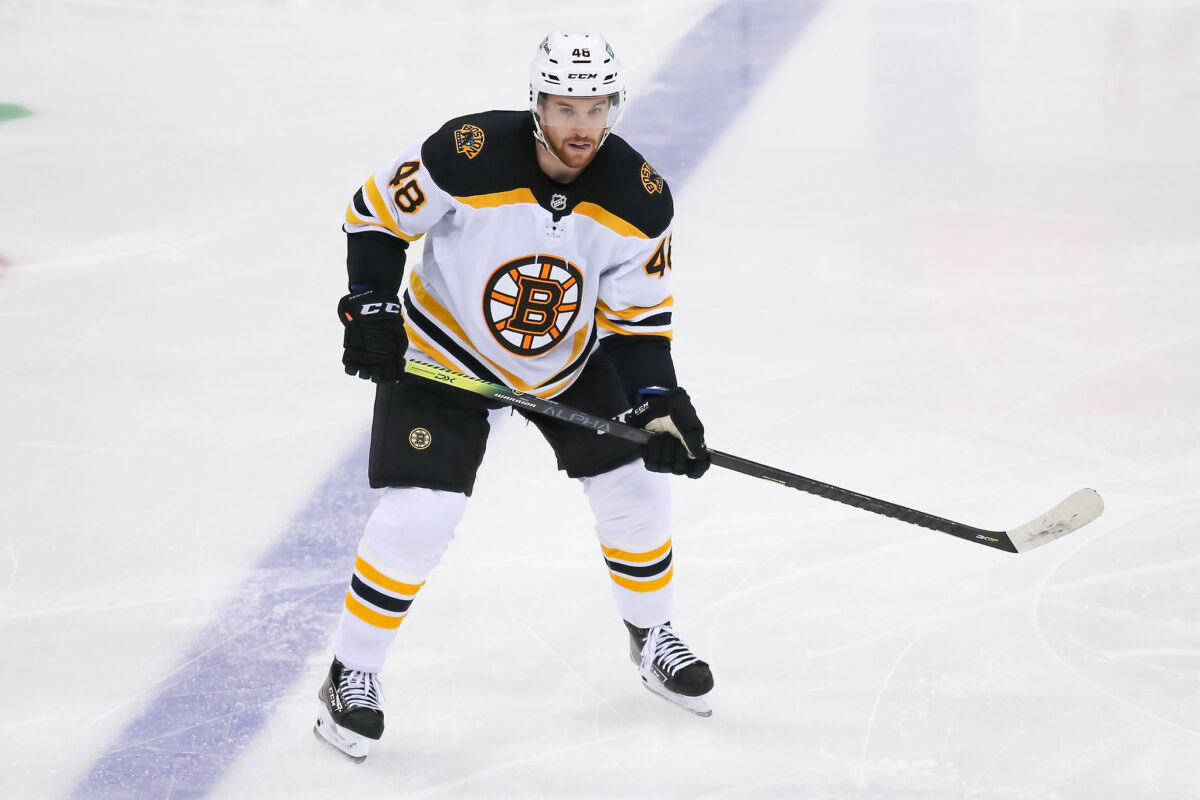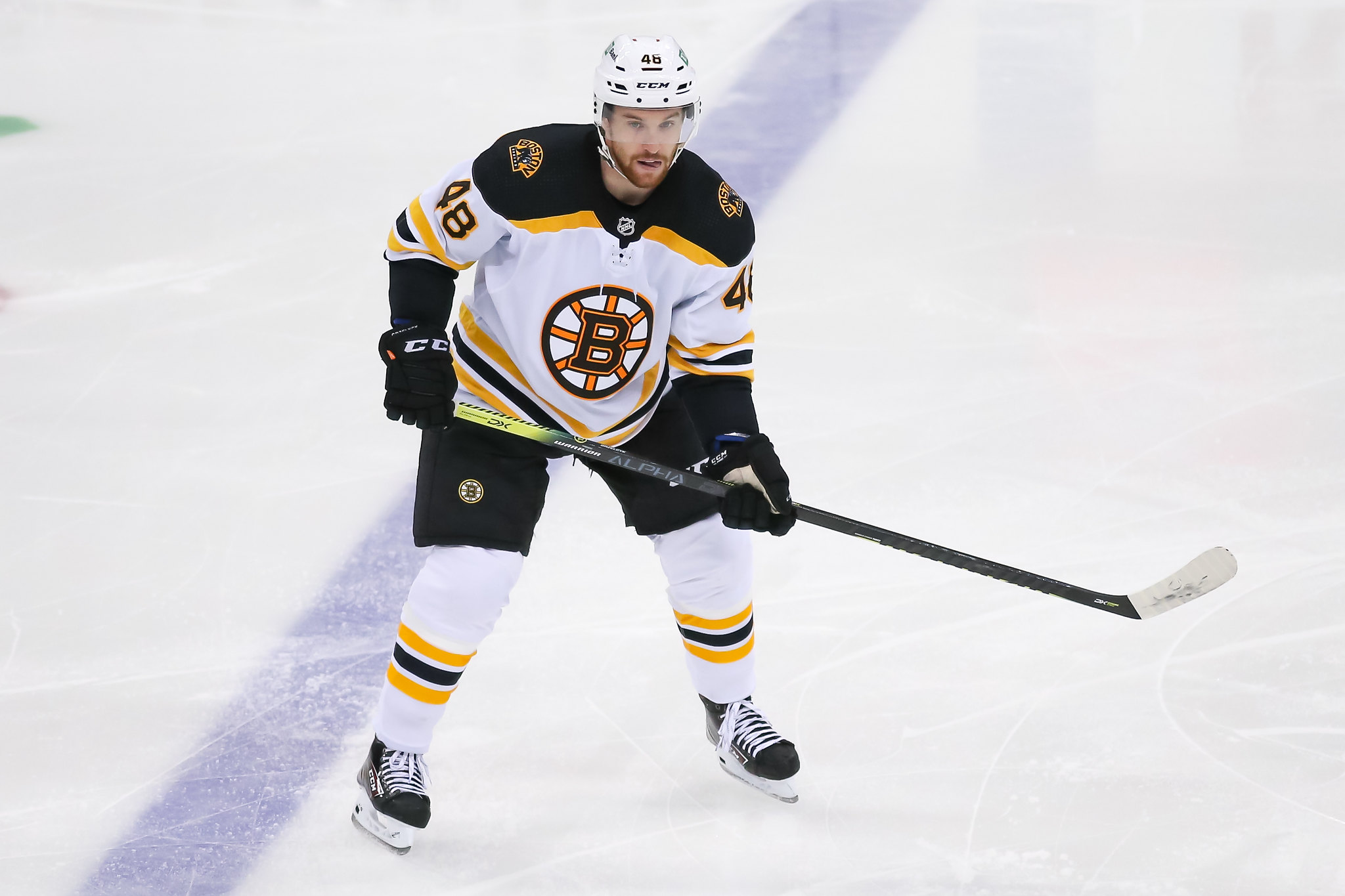 Ultimately, the Bruins will have a decision to make with Grzelcyk this season. If they feel that he is not going to be a long-term part of their defensive group, moving him to improve their roster elsewhere or for futures would be worth some consideration. Yet, at the same time, he has worked well with Charlie McAvoy on the top pairing, so they would need to weigh all of their options carefully.
Bruins Unveil Centennial Jerseys
After much anticipation, the Bruins finally unveiled their jerseys for their Centennial season. Here's a look at each of them, modeled by Brad Marchand, Milan Lucic, and Brandon Carlo.
The Takeoff Trio 🛫 @JetBlue | #NHLBruins pic.twitter.com/ToGg3gLHz2

— Boston Bruins (@NHLBruins) September 17, 2023
Overall, the Bruins went in a pretty interesting direction with these jerseys. Most notably, the home and away jerseys have several stripes on the sleeves and the spoked B is sparkling gold. These elements of each sweater have gotten some criticism from the hockey community, while others are all for it.
Related: Bruins News & Rumors: DeBrusk, Captain Talk, Flames & More
---
Latest News & Highlights
---
The jersey that seems to be getting the most love from NHL fans is the third jersey. It possesses a more traditional Bruins look, but it also gives us something new with it being off-white, brown, and gold. Regardless if you love these three jerseys or not, it will be fun to see them in game action.
Big Season for Beecher
One Bruins prospect whom fans will need to watch closely at training camp and onward is Beecher. It is not a secret that this season is a crucial one for the New York native's development. Given the Bruins' offseason additions, it seems more likely than not that he will start the season in the American Hockey League (AHL). Yet, if breaks out, there could be a spot available for him in Boston's bottom six.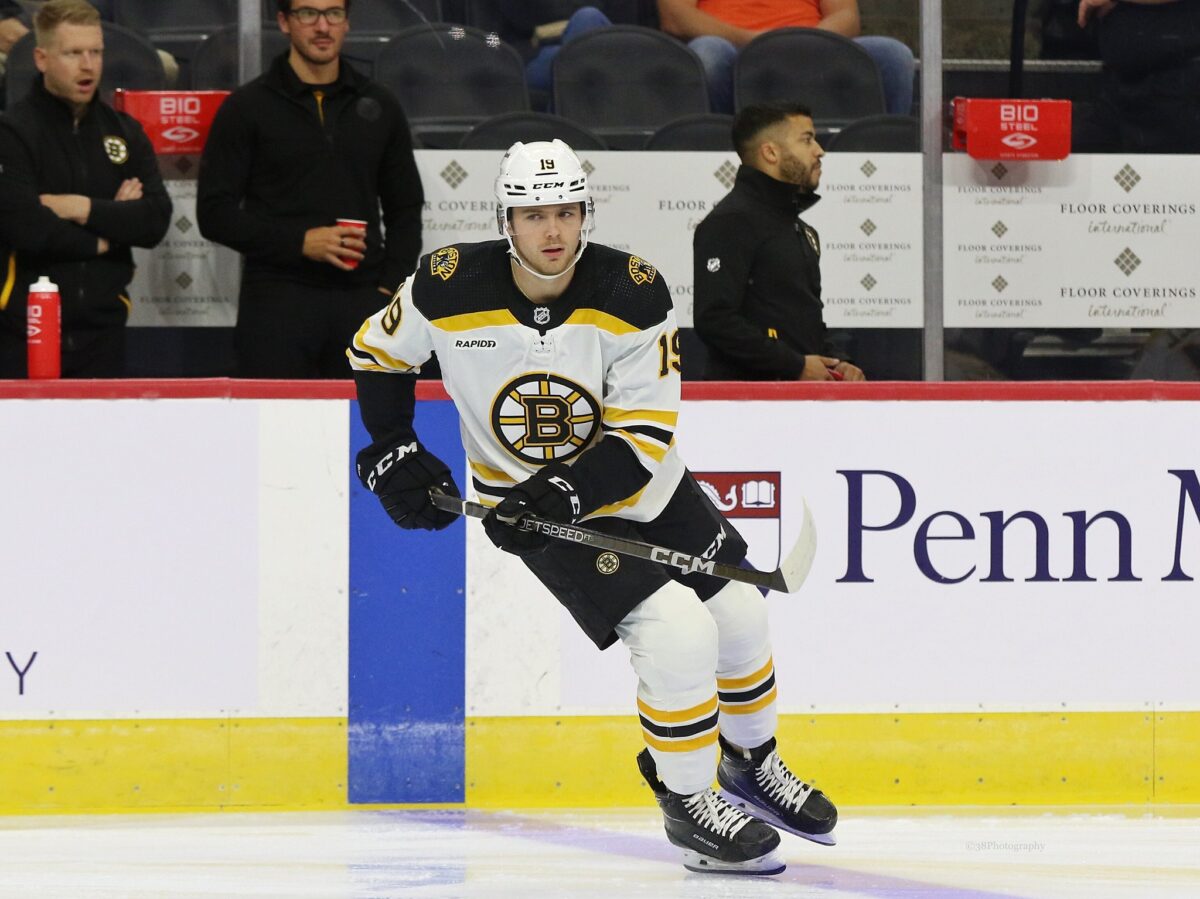 Beecher, 22, spent all of last season with the Providence Bruins, posting nine goals and 23 points in 61 games. From an offensive standpoint, it was a quiet year for the 6-foot-3 center, and he will be aiming to up his production from here. If he becomes a bigger scoring threat in 2023-24, it surely should lead to him getting time in the NHL this season. This is especially so if players like Patrick Brown and Jesper Boqvist struggle in bottom-six roles for the club.
It will be fun to see how well Beecher performs this season. The potential to become a legitimate bottom-six forward is still there, and the Bruins will be hoping that he takes a big step forward closer to being one in 2023-24.