Throughout the 52-year history of the Buffalo Sabres, they have never won a Stanley Cup and only produced one Hart Trophy winner, Dominik Hasek, who won back-to-back MVPs in the late 90s. The Calder Trophy, however, has had its fair share of finalists from the Sabres. The most recent of which was by Owen Power, who was named a finalist for the award on May 3. How does Power's 2022-23 season stack up among some of the other Sabres Calder finalists?
2022-23: Owen Power (79 Games Played, 4 Goals-31 Assists-35 Points, Plus-10)
The 2021 first-overall pick was one of a few Sabres players that finished with a plus rating for a team that allowed 297 goals in 2022-23, seventh-most in the league. Power's point production may be a little lower than some would like, but posting these numbers as a plus player in your first full NHL season as a 20-year-old is a good indicator of things to come. Add into that his pairing with another former first-overall pick and Calder finalist in Rasmus Dahlin and you have a potential game-changing duo on the back end for years to come.
2018-19: Rasmus Dahlin (82 GP, 9G-35A-44P, Minus-13)
The Swedish defenseman broke into the league at just 18 years old as the first overall pick in the 2018 NHL Draft out of Frolunda from the Swedish Hockey League. Dahlin had an instant impact for a mediocre Sabres team in his first season putting up the second most points of any teenage defenseman in NHL history passing the likes of Bobby Orr (41) and trailing only his head coach at the time, Phil Housley (66), who will also be making an appearance on this list. Dahlin, however, was not honored with the award placing third behind St. Louis Blues goaltender Jordan Binnington and winner Elias Pettersson of the Vancouver Canucks.
2009-10: Tyler Myers (82 GP, 11G-37A-48P, Plus-13)
The Sabres have consistently produced solid rookie defensemen and their most recent Calder Trophy winner, the 6-foot-8 Tyler Myers, was no different. The 19-year-old won the trophy with a 48-point performance, but little did the Sabres know at the time, that season would consist of Myers' career highs across the board as the defenseman's play steadily declined before he was dealt to the Winnipeg Jets in 2014-15 for a package that was headlined by Evander Kane.
1987-88: Ray Sheppard (74 GP, 38G-27A-65P, Minus-6)
After three seasons in the Ontario Hockey League with the Cornwall Royals and one more with the American Hockey League's Rochester Americans, Ray Sheppard finally got his chance in the NHL. In his first full season, he was the Sabres' top goal scorer playing on a line with Christian Ruuttu and Hockey Hall of Famer Dave Andreychuk and was rewarded with a runner-up finish in Calder voting. He never really had a chance to win the award though, as he was up against Calgary Flames rookie centerman Joe Nieuwendyk, who had just completed a 92-point, 51-goal campaign.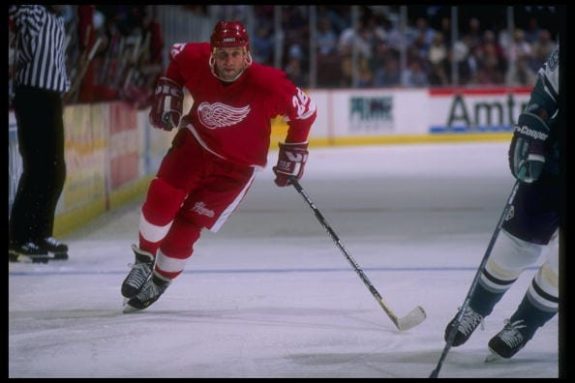 Sheppard only spent three seasons with the Sabres and was traded to the New York Rangers in the offseason of 1990. From there he signed with the Detroit Red Wings and had his best statistical seasons of his career, topping out at 52 goals in 1993-94. Sheppard played for six total teams across his 13-year career and recorded a 20-goal season for all of them.
1983-84: Tom Barrasso (42 GP, 26-12-3, 2.85 Goals-Against Average, .893 Save Percentage, 2 Shutouts)
The second of the three Sabres Calder Trophy winners, Tom Barrasso was selected fifth overall by the Sabres in the 1983 NHL Draft as an 18-year-old. Unlike goalies today, he stepped into an NHL job immediately, albeit in tandem with former Vezina co-winner Bob Sauvé, who won the award with another goaltender on this list. He posted one of the most unlikely Vezina-winning seasons in NHL history playing only 42 games and being a rookie. Only one goalie, Ed Belfour in 1991 for the Chicago Blackhawks, has won the Calder and Vezina in the same season since. He continued to put up solid numbers for the Sabres through his first five seasons, but was traded to the Pittsburgh Penguins early into his sixth season and went on to win two Stanley Cups with the team led by Mario Lemeuix.
1982-83: Phil Housley (77 GP, 19G-47A-66P, Minus-4, 34 Power Play Points)
Phil Housley's offensive ability as a defenseman is something that very few have been able to match since his selection in the 1982 NHL Draft. He still ranks fourth in both the most career points by a defenseman (1,232) and points by a rookie defenseman. His rookie season still was not good enough to give him a Calder win however as he finished runner-up to Chicago Blackhawks winger Steve Larmer who had just finished a 90-point, 43-goal season.
Related: Buffalo Sabres 2022-23 Season Report Card: Eric Comrie
---
Latest News & Highlights
---
Housley's offensive-mindedness was shown throughout his entire 21-year career, eight of which were spent with the Sabres, and although he never won a Norris Trophy and only made one All-Star Team, he was inducted into the Hockey Hall of Fame in 2015.
1977-78: Don Edwards (72 GP, 38-16-17, 2.64 GAA, .906 SV%, 5 SO)
Sauvé's Vezina co-winner from the 1979-80 season finished third in Calder voting in 1977-78 with a great stat line for a goaltender in this time period. Don Edwards led the league in wins and games played missing only eight games throughout the course of the season. He was nearly named a Hart Trophy finalist in addition to the Calder, but just missed the cut and placed fourth. The two players in front of him were runner-up Barry Beck of the Colorado Rockies, and winner, the late Hockey Hall of Famer Mike Bossy, who scored 53 goals in his rookie season.
1974-75: Danny Gare (78 GP, 31G-31A-62P, Plus-39, 75 Penalty Minutes)
Danny Gare's goal 10 seconds into his first season set the tone for a solid career from the goal-scoring winger. He finished with 31 goals in his rookie season, tieing him for second among all rookies trailing only the eventual Calder winner, Eric Vail of the Atlanta Flames. He went on to lead the league in goals for the Sabres a few seasons later in 1979-80 with 56 and scored 267 goals with the team over eight seasons and 506 games.
1971-72: Richard "Rick" Martin (73 GP, 44G-30A-74P, Minus-39)
Rick Martin's minus-39 rating is one that makes him seem like a player who just cherry-picked for easy goals, and not someone who was worthy of a Calder finalist spot. However, when you realize just how bad the Sabres were during their worst season in franchise history, and how poor this rookie class was, it becomes a lot more understandable how he was named a finalist with such a low plus/minus. He still netted 44 goals for Buffalo playing alongside Gilbert Perreault and was named runner-up for the Calder Trophy losing only to one of the best goaltenders in NHL history, Ken Dryden, who put up a ridiculous .930 save percentage over a league-leading 64 games played.
1970-71: Gilbert Perreault (78 GP, 38G-34A-72P, Minus-38)
How fitting that the first draft pick in Sabres history is the best non-goalie in franchise history. Perreault was selected first overall in 1970 and was instantly the most-skilled forward on the expansion Sabres. He proved it by leading the team, and all NHL rookies in points on the way to a Calder Trophy win. He spent his entire career with the Sabres and played nearly 1,200 games and scored 1,326 points over 17 seasons. He was honored with a call to the Hockey Hall of Fame in 1990 and was named to the NHL's 100 Greatest Players list during the 2017-18 season.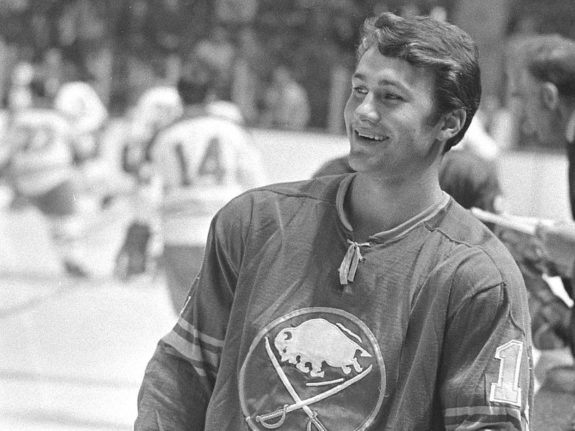 The Sabres have had an incredible history of rookie players, and as a team that continuously missed the playoffs during the 2010s, they were able to add a lot of talent through the draft with two first-overall picks. As such, it finally looks as if all the years of playoff drought are setting them up for their most talented crop of players in over 10 years. While Power and Dahlin will continue to patrol the blue line for Buffalo for the foreseeable future, it's easy to forget that they are just the latest in a long line of successful, young Sabres players.
---
---