Forget about defenseman Kevin Shattenkirk and his long-term, big-money deal. I want the ageless Jaromir Jagr in blue and gold next season.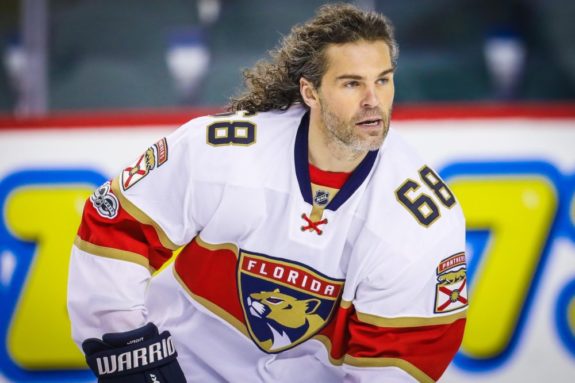 Signing the 45-year-old Czech wouldn't be a public relations move akin to the Buffalo Bills' signing high-maintenance Terrell Owens to a one-year deal back in 2009 — there are real benefits to it. Jagr is a living legend that is not only still productive on the ice, but could add some attitude adjustment to the locker room. If he could be signed to a reasonable two-year deal, perhaps for $2 million per year, I'm all over it.
Still Going Strong
The durable veteran winger played in all 82 games for the Florida Panthers last season, posting 16 goals and 46 points. That total would've ranked him fourth on the Sabres' scoring chart last year.
Jagr averaged seventeen minutes of ice time with the Panthers last year, playing mostly with Jonathan Huberdeau and Vincent Trocheck.
His careers numbers are staggering. He ranks second on the NHL all-time list in points (1,914), third in goals (765), fifth in assists (1,149) and fourth in games played (1,711). There's no wonder his legend increases every year.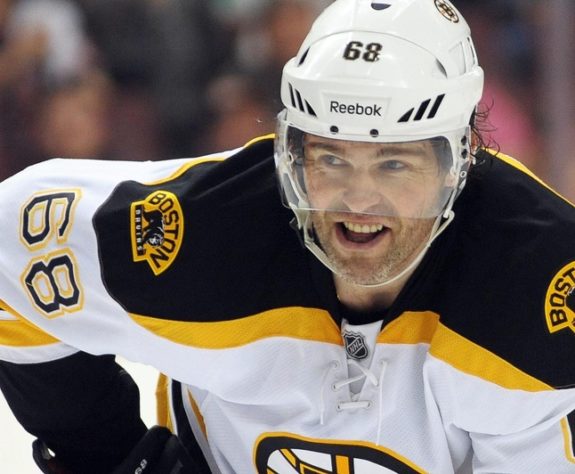 A two-time Stanley Cup champion with the Penguins, Jagr has seen it all in his 22-year career. He's suited up for the Panthers, Penguins, Washington Capitals, New York Rangers, New Jersey Devils, Boston Bruins, Dallas Stars and Philadelphia Flyers.
Feasting on the Sabres
No one in the NHL is more experienced than Jagr. And no player has more of a field day against the Sabres than the 1990 fifth overall draft pick. In 91 career games against the Sabres, Jagr has 46 goals and 63 assists.
On October 19, 1990, Jagr played his first game in Buffalo at Memorial Auditorium as a rookie with Pittsburgh Penguins. He scored a goal and two points that game and he's better than a point-per-game player since. "I remember the old rink," Jagr said. "I hated that noise when they scored a goal."
That quote, referring to Buffalo's Memorial Auditorium, puts into perspective how long the mulleted wonder has been playing.
His Strength and Butt
Jagr is talented, but his parents also gifted him a prized asset–his butt. He uses it to his advantage more than J.Lo.
"I've never seen a player use (his butt) to the degree of success that he does," said Tom Renney, a former coach of Jagr when he played for the New York Rangers. "He's such a big, strong, imposing man. Other guys sort of do that tactic, but they don't have the same strength, they don't have the same size, and they don't have the puck skills that go along with that combination. He's really big through the glutes and quads, he's really massive."
In fact, he's often double-teamed, with one person taking his body while the other goes for the puck.
"If you try to play him one-on-one, he'll eat you up," added Renney.
The affable winger is still in incredible shape and is obsessed with working out. He claims this dedication is what enables him to compete against men barely half his age in today's NHL.
Florida is Trying to Keep Him
Florida general manager Dale Tallon has been in touch with Jagr's agent, Petr Svoboda, and is still trying to lure the him back to the Panthers. If not signed by Saturday, July 1, Jagr will become an unrestricted free agent. That looks to be the path he's heading down.
The jokester recently posted on social media, complaining that no team wants him.
FA 1994- all GMs called , FA 2017- 0 calls🏆😀 pic.twitter.com/7uLJm95CAB

— Jaromir Jagr (@68Jagr) June 29, 2017
"I don't want to talk about anything," said Jagr when asked if he's returning to the Panthers back in April. "Just wait and see and whatever happens, happens. Of course, there's going to be some kind of changes. That's what the owners want and it's already starting."
Just Imagine
The Sabres have already added some depth to their defense, having signed Viktor Antipin from Russia's Metallurg Magnitogorsk and Nathan Beaulieu from the Montreal Canadiens.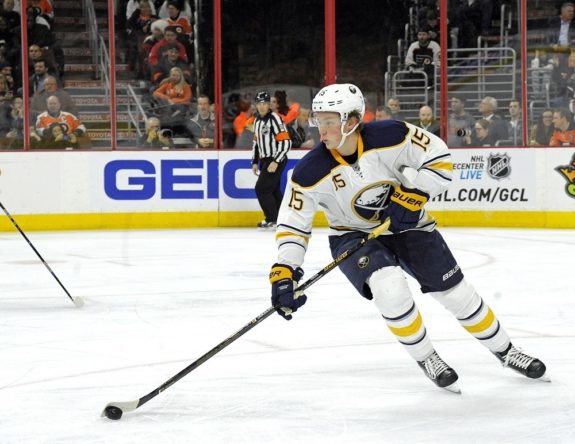 Now, they need to add some help on offense. Last year, they ranked 26th in the league, netting only 201 goals. If they can bring in Jagr at the right price for two years, I say go for it.
Just imagining a player of Jagr's caliber alongside Jack Eichel is enough to bring the team and the KeyBank Center back to life.
Jeff has been covering the NHL for over a decade for various sites. He's been with The Hockey Writers as a lead Sabres writer three years, while also writing a satire column called "Off the Crossbar."