Finding something that works night in and night out is an extremely difficult task in the National Hockey League.  The Buffalo Sabres are all too familiar with that so far this season.  In 33 games, the Sabres have had one "win streak" that lasted two games.  They have had losing streaks of three or more games five times this season with a chance to make it six Tuesday night against the Winnipeg Jets.  They have marched out numerous different line combinations so far this season, but haven't found enough consistency to have them stick.  Until now.
The Sabres have found a GEM in their top line.  Rookie Zemgus Girgensons is starting to make a name for himself, not only in Western New York, but the rest of the league with his hard work and his even harder hits.  He is starting to get a scorers touch registering a point in four of his last five games and five of his last seven.  He has been paired with newer Sabre Matt Moulson and pesky center Tyler Ennis and it seems to be working.  (Girgensons, Ennis, Moulson) GEM.
http://youtu.be/hSr4EYFkuM4
Buffalo's second line as of late has been waiver claim Matt D'Agostini paired with call-up Brian Flynn and Ville Leino.  Although they aren't lighting up the scoresheet, they do seem to be meshing well and working hard.  If that continues good things should happen but are never promised.  Sabres fans have been waiting to find something to be excited about with Ville Leino since he signed here, and now they might be on the verge of finally seeing it.
One of the toughest Sabres players, Marcus Foligno, was bounced around most of the season trying to find a line to stick with until recently when finding a landing spot with Sabres Captain Steve Ott and 7-year veteran Drew Stafford on the team's third line.  This gritty in your face combo has shown signs of promise more for their hard work than scoring, but nonetheless it is consistency that will get this team going in the right direction.
One of the things that has seen the most change so far this season is the team's defensive pairings.  When the season started players like rookie Rasmus Ristolainen and Nikita Zadarov were getting some time as well as Mark Pysyk and now all are gone.  Ristolainen and Pysyk are now in Rochester in the American Hockey League and Zadarov is back playing junior hockey in Canada.  Brayden McNabb who has been called up to step in has also been sent back down to Rochester.
During the offseason, the Sabres re-acquired Henrik Tallinder from the New Jersey Devils in hopes to turn things around for former Calder Trophy Winner Tyler Myers.  I think it has helped but Myers is not even close to the level he was at when he first entered the league.  He has flashes of brilliance but followed closely with clumsy giveaways.  If the Sabres are ever to be successful on the blueline this needs to correct itself.  Christian Ehrhoff and Jamie McBain have been paired together and have played well.  Ehrhoff, not unlike Myers, has been brilliant some nights and forgettable other nights.  Consistency is the name of the game and it goes for everyone.  The rest of the defensive pairings have been more of a mix-match grab bag which won't be changing in the near future considering the recent promotions and demotions.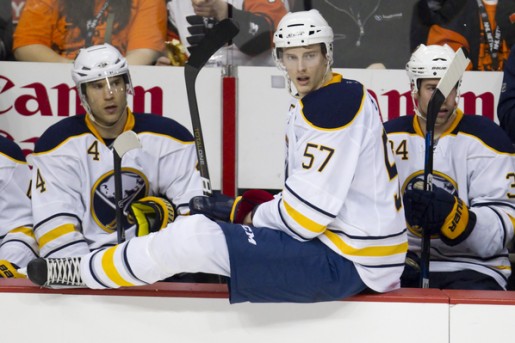 The Buffalo Sabres a team in transition and we all know that.  What they need to do is figure out what works moving forward and stick with it for a few games.  At this point there is nothing more to lose.