Overview: This group was already looking solid as a unit before the Sabres used two first-round draft picks to select talented, hulking defensemen. After that, there was a humongous logjam and somehow, they had to find six or seven defensemen to carry at all time.
They did, sort of, at first. They went with a rotation consisting of the two rookies to see if what they could do before eventually sending Nikita Zadorov back to Junior and Rasmus Ristolainen to Rochester of the AHL.
This is still a unit full of decent to solid guys, with Ehrhoff standing out as the best of the group over the course of the last year and a half or so. Tyler Myers is still fairly maddening but may always be given the fact that most Sabres fans expect him to be the guy he was as a rookie. Just stop turning the puck over in your own zone and we're cool, Tyler.
Though I didn't grade guys with less than 10 games under their belts for the forwards, I added Zadorov for this group despite his seven games.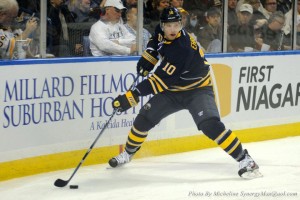 Christian Ehrhoff
Stats: 27 GP, 2-5-7, 24:01 TOI/G
He's far and away been the best defenseman the Sabres put on the ice. He plays in every situation – power play, penalty kill, late in tied or close games – and is defensively solid despite all we'd heard before he arrived in Buffalo.
You'd like a little more offense from him, but at this point, you could say the same about just about any Sabre not named Cody Hodgson. Hard to find much to complain with in regards to The 'Hoff. He's been one of the few bright spots. Grade: B+
Jamie McBain
Stats: 16 GP, 2-3-5, 19:30 TOI/G
He's gotten more of a role since all of the kids were sent to places where they can play well and be appreciated. McBain is still on my bad side, but that's mostly because I liked Andrej Sekera and didn't want him traded.
McBain is a strong puck-mover, but his small size seems to get him pushed around far more often than not in the Sabres zone and he's frequently been caught watching the puck and not his man. Needs to amp up his game a bit. Grade: C+
Tyler Myers
Stats: 28 GP, 2-6-8, 21:20 TOI/G
I almost feel like he's taken huge steps because I'm not screaming at him via my television every game for committing a horrendously egregious turnover in his own zone. He's gotten better at just pushing the puck forward instead of holding it for far too long.
Offensively, it's hard to judge any of these guys anymore. Can you really punish defensemen on the league's worst scoring team? A little bit, but really only so much. He's leading the defense in scoring, but barely. It'd be nice for him to find the back fo the net with that booming shot a little more. Grade: B
Mark Pysyk
Stats: 27 GP, 0-4-4, 20:25 TOI/G
I've become a big fan of Pysyk over the course of the last year. It was seeming like he would get a cup of coffee last season before going back to Rochester, but the guy has played his butt off and earned his spot.
Not the biggest or strongest, Pysyk is smart and solid in his own end and has displayed a skating ability I didn't know he had by leading a few really nice rushes. He still hasn't found the net, but probably should have at least a few times by now.  Grade: B+
Rasmus Ristolainen
Stats: 19 GP, 1-0-1, 17:13 TOI/G
The first of the two picks the Sabres used in the first round on defenseman. The huge Finn didn't look out of place in the least could probably have stuck with the team if the circumstances were a little bit better.
He's big, skates well, uses his positioning well and though he isn't terribly physical, he still uses his size to help him get between skaters and the puck. His future is very bright and, hopefully, some seasoning will do him a lot of good. Grade: C+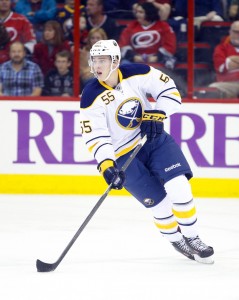 Henrik Tallinder
Stats: 23 GP, 2-2-4, 19:03 TOI/G
The basic understanding was that the Sabres brought back Tallinder for the good of Myers, who did so well with the veteran Swede next to him. Myers has looked marginally improved, but Tallinder has looked…aged.
His first stint in Buffalo was quietly efficient. Now? He looks old and over the hill. He's struggled quite a bit and seems like he'd be better served helping Myers off the ice rather than on it. Grade: C-

Mike Weber
Stats: 15 GP, 0-0-0, 16:34 TOI/G
Weber dealt with injuries earlier in the year and is being slowly brought up to speed as he makes his return to the lineup. His M.O. is the same as it's ever been: solid defense, solid physical game, solid leadership, no scoring. You just come to expect those things from Weber these days and you take the good with the bad. Grade: B-

Nikita Zadorov
Stats: 7 GP, 1-0-1, 17:10 TOI/G
Zaddy got a brief stint with the big club before ultimately being sent back to his Junior team in London. Advertised as "physically elite" during the draft, the 16th overall pick acquitted himself a little better than Ristolainen simply because he looked like a man out there.
He laid heavy hits with regularity and didn't look like a teenager out there for much of his time in Buffalo. With a little experience and a little more weight on him, he's going to be a scary, scary thing for opposing forwards. Grade: B-
With the talent issues up front and the general youth of the team, I'm trying not to be too hard on the defense. That being said, they surrender the second most shots per night and have subsequently given up the sixth most goals.
Something needs to improve in regards to how many chances they surrender or it's just going to be more of the same.
Ryan is the editor of Mile High Sticking as well as co-owner of The Farm Club. Follow him on Twitter to talk Avs, Sabres, hockey in general, or to let him know what a yutz he is.
A long-time (and long-suffering) Buffalo sports fan. Sometimes optimistic, always weary. I write other stuff for a lot of other people.