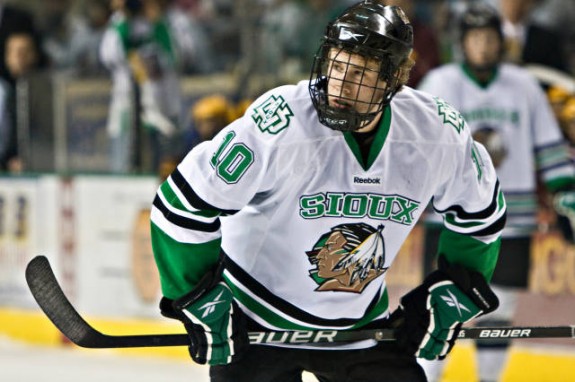 Traditionally, faceoffs have been a strong point of the UND hockey team. Last season, the UND hockey team went 1460-of-2782 in the faceoff circle (.525). Individually, they were led by All-American center Corban Knight, who won an impressive 623-of-1090 faceoffs (.572).  Knight has graduated, and there's no heir apparent.
What a difference a year makes
This season, the UND hockey has been below average in the faceoff circle, going 457-of-916 (.499). While .026 might not look like much on paper, it's noticeable to the UND coaching staff.
"It's something we'll work on," Hakstol said. "If you look at some of the experience level we have up the middle. It's an area of the game that will improve with maturity. It's easy for us to go back to Corban Knight in his junior and senior years. It's a skill that he worked on and improved during his time here."
Hakstol continued, "All of our centermen need to improve. We've been inconsistent. We've had guys that on Friday night had good nights. Then on Saturday night, you look at the stats, which sometimes are a little bit skewered, and all of a sudden they're at 3-for-11.  So, we've been inconsistent there. Each centerman has to improve on what they're doing on a consistent basis, and our five man effort on faceoffs has to improve."
For a younger hockey team trying to find its identity, faceoffs are most noticeable on special teams and in the defensive zone. Starting in the offensive or defensive zone with the puck can be troublesome.
"Probably the biggest area where I notice is in our defensive zone," Hakstol said. "Five-on-five face offs. In a real spot on specialty teams – with that offensive zone faceoff – for the team with the power play. It's a big difference if you're starting with possession with the puck in the zone, versus chasing two hundred feet and giving the PK opportunity to build some momentum. Whichever side of that specialty team you're on, that faceoff is a difference maker to that next two minutes."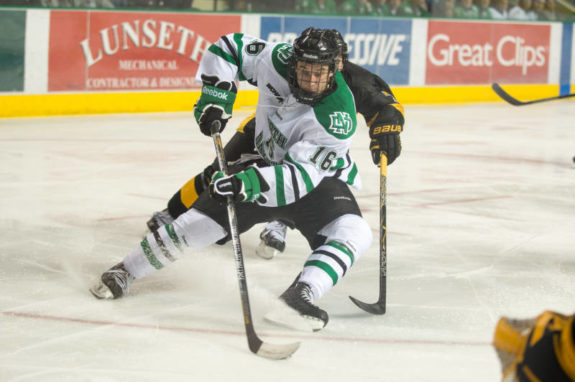 The UND coaching staff is hopeful that they can get junior forward Mark MacMillan back from an undisclosed lower body injury this weekend. Getting MacMillan back could help UND improve their sub-par faceoff numbers.
"He's a guy that's pretty good in the faceoff dot," Hakstol said. "He makes a pretty big difference for us on the penalty kill."
Looking at the numbers, UND has room to improve in the faceoff circle.
Injury Update
Dave Hakstol says junior forward Mark MacMillan has practiced all week and he's "hopeful" he'll be available this weekend.

— North Dakota MHockey (@UNDMHockey) December 4, 2013
Hakstol added that Colten St. Clair remains out this weekend. It's possible he returns next week but most likely back after Christmas.

— North Dakota MHockey (@UNDMHockey) December 4, 2013
Eric is a 1996, 1999 graduate of the University of North Dakota. Eric covers the University of North Dakota Hockey and Division I college hockey. Eric is the Contributing Editor for Inside Hockey.