The Buffalo Sabres 2011/12 season was one to forget for Sabres fans, a year that started with high expectations and ended with them battling for the final playoff spot. But what is done is done and the Sabres can't change the fact they missed the playoffs, it's time for the boys to rest, heal their injuries and be ready for the start of next season.
But true hockey fans always find something positive in their team that will help sustain them until their team begins playing again. Since the Sabres are not likely to win or even be nominated for any "official" NHL awards it's time to announce our own Buffalo Sabres awards.
MVP: Jason Pominville
This one was easy. The MVP award for the Sabres couldn't go to anyone other than Pominville, the newly named captain took his game to the next level and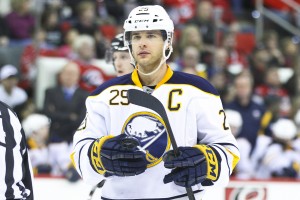 stepped into his new leadership role quite nicely. Besides maybe Vanek, Pommers was the only player keeping the Sabres afloat after a horrible 1st half of the season. Without him scoring goals and winning games for the Sabres early on in the year the Sabres wouldn't have had a chance at the postseason.
He finished the season with; 30 goals, 43 assists and 73 points and was one of few Sabres players that played in all 82 games!
Rookie of the year: Marcus Foligno
Despite not playing a full season in Buffalo (He played just 14 games) he made a tremendous impact. When he came up and was paired with Tyler Ennis and Drew Stafford the three of them made magic happen, and who could forget the famous Foligno leap? Marcus managed 6 goals and 7 assists for 13 points in 14 games pretty darn good! Simply amazing for the young rookie!
Most Improved Player: Tyler Ennis
Ennis had a fantastic season for the Sabres and was crucial in the late season push toward the playoffs. Although his numbers were slightly down from last season, due to injury he only played in 48 games. But his numbers in those 48 games would surpass his numbers from a full 82 last season. Ennis managed 15 goals and 19 assists for 34 points. The move to center had fans wondering why it hadn't happened before, the kid was a natural. But it wasn't just his offensive ability that improved as he also took a larger role in terms of leadership, he wasn't given an "A" to wear on his jersey but he was a vocal leader who went out and showed the boys how it was done. He wasn't afraid to take on players much taller and stronger than himself and really helped bring the team chemistry together.
Could this have been Ennis' coming out party?
Best Forward: Jason Pominville
Pominville was on a mission all season to prove why he was given the role of team captain and he did indeed prove it. A fairly silent leader who leads by example, he led the team in points (73) and in goals (30). Pominville was consistent all season long and never really endured a slump, he carried the team offensively through the first half of the season and may have even had higher numbers with some better line mates!
Best Line: Foligno-Ennis-Stafford
Although they were together for a short time, they were a pivotal part in the success the Sabres had down the stretch. After the trade that shocked the hockey world and sent Zack Kassian to the Vancouver Canucks in return for Cody Hodgson the Sabres recalled rookie Marcus and deemed "Marcus was the reason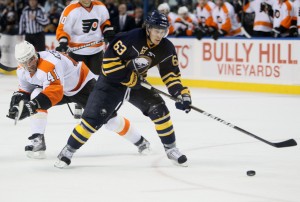 they felt comfortable getting rid of Kassian." The line found instant chemistry and the goals started raining in and they quickly became the Sabres and one of the leagues most dangerous lines and caught a lot of opponents off guard!
Upon the arrival of Foligno on March 10th the trio combined for 21 goals, 28 assists and 48 points in just 13 games!
Best Defenseman: Christian Ehrhoff
It was a tough year for the Sabres blue line, as Tyler Myers suffered numerous injuries and missed the majority of the season. With all the injuries on the blue line there were lots of new faces, that caused major confusion.
Ehrhoff had a solid season and missed just a handful of games at the end of the year, and lead all Sabres defenceman in scoring with 5 goals and 27 assists for 32 points. It was a great season for the new Sabre, who proved to be a solid and reliable man on the blue line and a great penalty killer!
Biggest surprise: Other than Tyler Ennis, there wasn't really a player that surprised fans in a good way for the Sabres. So this award goes to the man upstairs Darcy Regier for his amazing deadline wheeling and dealing. He came out on deadline day and said he would only accept a first round draft pick for power forward Paul Gaustad. Everyone in the hockey world immediately mocked him and said he was dreaming. But son of gun he managed to pull off a deal that sent Gaustad to the Nashville Predators in exchange for a first round draft pick! (the Sabres have 4 of the first 44 draft picks at the draft)
Then there was the deal that really shocked the hockey world prying Cody Hodgson away from Vancouver in exchange for Zack Kassian in a trade that seemed to have tons of upside for the Sabres and not a ton for the Canucks. Hodgson is already a much better forward than Kassian is or ever will be, the Sabres got a little bit of a break after Hodgson had given the Canucks "More trouble than he was worth" so they were willing to ship him out-of-town and Buffalo welcomed him!
Also, Regier landed a solid defender in Alexander Sulzer from the Canucks at the deadline as well. Although, Lindy Ruff admitted he didn't know much about the big German before he landed in the line-up he quickly found someone who played the game simply and effectively. For the short-term this was probably the best of the deals made at the deadline.
Biggest Dissapointment: This has to be Ryan Miller, unlike Ville Leino and Derek Roy there was great deal of expectation riding on Miller this season. Many pegged him to have an amazing bounce back season and win his 2nd Vezina Trophy in the last 3 years, and if that wasn't enough many expected him to carry the Sabres right through to the Stanley Cup. Before the season had even started, before they even played a game there expectations set on Miller that he just couldn't accomplish, those expectations messed with his head and ultimately weighed him down. Expectations mixed with emotions led him to be far more vocal in the media than he should have been, and going into the all-star break Ryan Miller was an unstable wreck waiting to explode. Whether people want to admit it or not the hit from Lucic had a real effect on Miller, and he wasn't able to get his game back to the level it needed to be!
The No Show Player: Even more so than other players who had rough patches but turned things around, Derek Roy did nothing spectacular this season and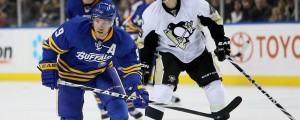 may have played his last season in Buffalo. He was one of the few players that remained healthy for the majority of the season, but did almost nothing and at times looked lost out there. He managed to finish the season with 44 points but had just 17 goals, a far cry from what the Sabres needed out of Roy.
He heard his name dangled in several trade rumors and Regier even came out to say he was looking at trades for Roy, but that did little to motivate him and he was not the reliable number one centre that the Sabres needed!
There you have it, the Buffalo Sabres players that are bringing home hardware, some good and some not so good. Sabres fans are hoping the Sabres can take season and use it as a learning tool and motivation to have a much better season next year.
If you disagree with any of the picks leave a comment below!