Have you ever wanted to get to know your favourite hockey player?  "Get to know", as in grab a beer, play some shinny, share feelings about the collective bargaining agreement over dinner kind of "get to know"?  Fantasized about watching the game with Henrik Zetterberg and finding out you both hate the same players?  (- You: "Marian Hossa! What a tool!" – Zetterberg: "He wears thick socks in his skates" – Together: "lol!").  We've all had daydreams about getting the opportunity to ask one question, or to simply say "thank you" for being a local hero.  Inevitably, our cruel imaginations tell us we would probably end up stuttering, drooling, or begging for a job:
Lately, I haven't been as intimidated by new generation players like Sidney Crosby, Steven Stamkos, or Jonathan Toews.  I picture standing in line for 90 minutes waiting for an autograph while writing and rewriting my one question.  I get to the front to see Sid and ask him how a player union full of 20-somethings is able to manage and delegate so much responsibility.  I hear a few words about "challenges", "moving forward", and "pumping tires" before I pass out and hit the floor, asleep.  Only then will The Kid open up a little on the topic of concussions.
Media training is paramount in the growth of young NHL talent and the results are that a large group of scarily composed and well-coiffed youngsters represent the face of The New NHL (est. 2005).  What their frosh handbooks fail to prepare them for however, is Cabral "Cabbie" Richards.
Cabbie, known originally for his work at The Score Television as "Cabbie On The Street", has made a career out of peeking under the hood of a well-oiled, professional sports PR machine.  He plays the over eager super-fan in all of us that hopes that all athletes are talented, cool, and brotherly.  That being buddies with Byfuglien is entirely possible.  Cabbie aims to find the bro in Brodeur and seems a part of the audience more than the journalistic media.  But when Cabbie gets as close as the inside of Ryan Getzlaf's house, becomes a self-appointed Staal brother, or hitches a ride on Kobe Bryant's helicopter, we realize Cabral Richards is treading on new kinds of territory.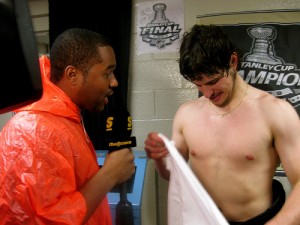 Since his regular appearances on The Score, Richards has acquired two high profile gigs.  One as a correspondent on The Marilyn Denis Show, the other – the host of "Cabbie Presents" on TSN.  His tendency to get close to athletes through unconventional methods (see above for "helicopter" link) provokes both comfort and anxiety.  But mostly comfort:  "The athlete always feels comfortable…they get the chance to have the upper hand" says one of his producers from The Score, David Krikst.*  Still, some are reluctant.  When Ben Eager refused to reveal his middle name to Cabbie, the host asked meekly "No? We can't get that close right away?".  Awkward is the right word to describe the time Mario Lemieux left him in his dust in an interview gone wrong during a golf tournament.  A nearby Tie Domi exclaimed: "Did he ever blow you off!".  Certainly not everyone's brand of interview.  But what Cabbie does in his brief, heart-to-hearts, is tear away at the mask of "Sidney Crosby The Institution" in order for fans to take pleasure in having a real glimpse at "Sid The Kid".
It may appear like an opportunity for highly secluded athletes to gain positive publicity in a light-hearted way.  In fact, it very likely is the point.  However, getting Crosby to talk about the size of his (stick's) knob or encouraging Captain Serious (Toews) to admit he's having "so much fun", is Richards' favour to the NHL.  When Crosby finishes giggling at the word knob, his next answer is more genuine, his shoulders sag and relax.  After all the post-game interviews, press conferences, and public appearances, it's still impossible to relate to that gosh-darn hockey player gloss that so many young players wear.  Since the draft years that featured names like Crosby, Evgeni Malkin, and Alex Ovechkin, there has been a renewed interest in the draft and thus more youthful, frontier-destined talent.  Cabbie, now with TSN, can make the New NHL a place where interviews are fun again, where "pumping tires" can produce meaningful journalism, and where close-talking is not a reviled approach exclusive to Pierre McGuire.
Major hockey broadcasters like TSN have, for years, given the audience its share of experts asking "How did you use the forecheck effectively tonight against a strong breakout team?" to which we can all predict the answer.  Cabbie takes a question from the audience when he asks: "How are you so pimp, dude?".
(I recommend watching Cabbie's top 25 hockey player interviews)
* Quote courtesy andrewchinwritesgood.blogspot.com
Follow me on Twitter @_Joe_Pack_