by Jas Faulkner,  senior correspondent,  Nashville, Tennessee USA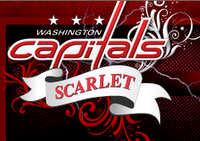 The Capitals' Hockey and Heels events are what glue gun goddess Martha Stewart would call "a good thing".   They have always provided a strong turnout and a nice bit of change for the club's charitable  foundation.  After all, what's so positive about robust sales, positive press and feelgood moments for women who love The Kremlin on the Potomac?  Everything.  The 2010 Hockey and Heels lineup included ice time with Capitals alumni and current roster members, a pregame happy hour, fitness demonstrations, a chalk talk, and a film talk with Bruce Boudreau,  any of which would be a dream come true for a fan.  The plan was to sell around three hundred tickets and expect a healthy turnout, all for a good cause.
They expected a sellout.
They were figuring the tickets might be gone in a couple of days.
What they didn't anticipate was that every last ticket would be snapped up in five minutes.  They also  didn't  foresee the waiting list that would eventually be three-deep for every person who got in the door.
For Washington's Director of Promotions, Kim Frank, this was when she saw that the Caps' female fan base went beyond the NHL's continual notion that female attendees consist primarily of the usual compliment of wives and girlfriends, puckbunnies and the few hardcore hockeygrrl faithful who Peppermint Patty their way through the mass of male bonding and "Didja see that sick move by Ovi?".   This was all the organisation needed to see to know they should be acknowledging the women who proudly rock the red for the Caps at Verizon Center.
"This was when we realized that we had a large female following and wanted to find a way for them to connect with the Capitals as well as other female hockey fans. Hockey 'n Heels is an event for only 300+ women and we wanted to scale and move from reaching 400 women to 15,000."   For Frank it was also a compelling argument for a relaunch of the Caps' "Club Scarlet" website.
Club Scarlet Reborn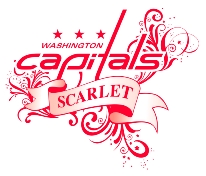 The original Club Scarlet page, with it's romance novel typeface and glamour shots of players, had the distinctly superficial appearance of being "for the ladies".   Under Franks' supervision, the boudoir atmosphere is gone, lost in the internet ether and replaced by a site that more closely reflects the sensibilities of the clubs' female fanbase.  The content is now geared more towards the game and the women who love it, with features that will appeal to both new fans who are just learning the finer points of puck handling as well as the seasoned faithful who can tell just by looking if Knuble's blades need a pass over the grinding wheel.
Two of the most important innovations are the links to Capitals Bloggers and the Twitter feed tracker, both of which underscore the importance of the fan community in general and the women who follow DC hockey in particular.
For Frank and the members of Club Scarlet, this affirms the often underestimated extent of women's presence in the arena. "We were looking to find other female fans and were talking about ways to meet up with one another. After working with multiple focus groups and discussing the ideas with some of our long time female fans, we developed Scarlet.  They had a say in the name, the type of club we developed and some of the event ideas."
The site also features the necessities of a hockey fans' online life: links to the Capitals' main news feed, the team's schedule, and ticket information.
Are all vestiges of those tributes to the delights of the boys in Red in and out of uniform gone?  Fear not.  The players' pictures are still there, along with stats and information.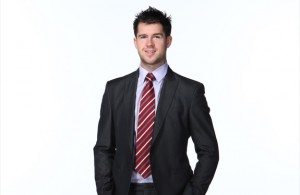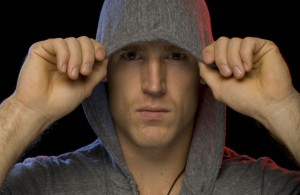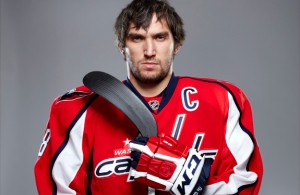 It's a small part of the site and one which may not suit all fans.  Most of the pictures feature the players in uniform, posing with sticks or a Capitals logo or shot in mid-action while on the ice. The action shots are stunning and their popularity indicates that while the pretty may draw some of the fans in; it's what happens from the time the puck drops at center ice to the final buzzer that keep members of Club Scarlet coming back.
These Numbers Don't Lie
While many clubs boast a strong female presence among it's followers, Washington is the front runner in terms of growth and proportionate composition of its fan base along gender lines.   According to Capitals Director of Media Relations  Ben Guerrero, "a recent Scarborough Research study, female support for the Capitals has increased 144% since 2008, climbing from 147,899 that year to 361,234 female Capitals fans in the D.C. area in 2010. In fact, that rate of growth actually outpaces the male demographic, which grew 128% during the same time frame."
Kim Frank sees Scarlet as an important part of  Washington hockey's history and a vibrant part of its culture.  At 12,000 fans and growing, she sees it as an important movement within the fan community.
"I know it's the oldest and one of the biggest women's fan clubs in the NHL.   We launched this club right when the Caps were starting to take off. The success of our team has really helped make this club a success. The women seem to be embracing the team and have really been a large part of our overall increase in fan base.    Since 2008 our women's fan base has grown more than our men's fan base.
We have one of the most passionate fan bases already, and this gives our female fans an outlet to express it."
Ask any Caps fan and they'll tell you Club Scarlet is a woman thing. It's also a hockey thing and for those cheering The Kremlin on the Potomac, something that could only happen in Washington.
This is Jas Faulkner, who aspires to play like a girl.  Confidential to Anne, 'dre and Kevin, I love y'all but no, you can't be my art director. 
Jas Faulkner is a minimally socialised writer and artist who lives and works in Nashville, Tennessee. She hearts her attitude problem.