The Calgary Flames did something no other team could do thus far this season. They beat the Montreal Canadiens in regulation by a score of 2-0. The Flames former Norris Trophy winner and team captain Mark Giordano had a simple explanation for the victory.
Related: Calgary Flames News & Rumors: Lucic, Monahan, Gaudreau & More
Giordano gushed in praise when he noted, "When your goalie plays like that you're not going to lose, ever."
Giordano said it well. Newcomer this season Jacob Markstrom made a season-high 37 saves and recorded his second shutout of the season. Offseason and perhaps current trade-bait Johnny Gaudreau scored, as did Mikael Backlund, and that was all the Flames needed to send the Canadiens to the loss column.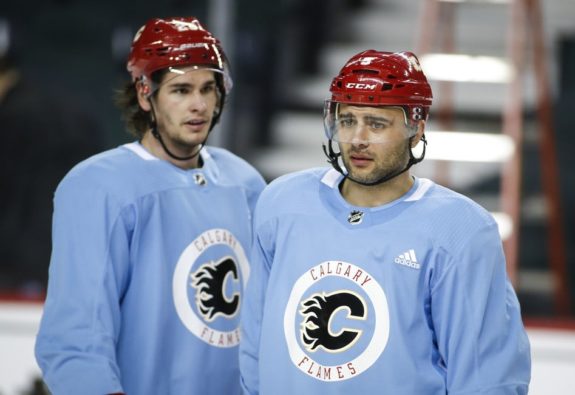 Perhaps better for the Flames, the team improved its own record to 3-3-1, and snapped a three-game losing skid. It was also payback, because that skid had been extended when the Flames lost 4-2 loss to the Canadiens on just two nights before.
In this edition of Flames News & Rumors, I'll share some insights from the Flames' victory. I'll also try to keep Flames' fans up-to-date on news and rumors emerging from the organization.
Item One: Johnny Gaudreau's Game-Winning Power-Play Goal Pushes His Point Streak to Seven Games
Johnny Gaudreau scored a power-play goal during Saturday's 2-0 win in Montreal against the Canadiens. Gaudreau's goal came early in the game and lasted as the game-winner for the entire three periods. In fact, Saturday's goal was his first game-winning goal since March 1, 2020, against the Florida Panthers.
Related: Shelly Stays Strong in Net, But Riveters Fall to Whitecaps Late
As I noted in the introduction to this post, there seemed to be a ton of buzz during the offseason about trading Johnny Hockey, because his scoring had waned so much during the 2019-20 season. Rumors still abound that Gaudreau might be headed out of town – maybe even much closer to his family home in New Jersey, but these are only rumors.
Whatever Gaudreau did over the offseason seems to have rejuvenated his play. The goal pushed his point-scoring streak to seven games. During his hot start, in which he's scored at least a point in every game this season, he's scored five goals and four assists (for nine points) in the team's first seven games.
He'll look to keep scoring tonight in the first a back-to-back against the Winnipeg Jets.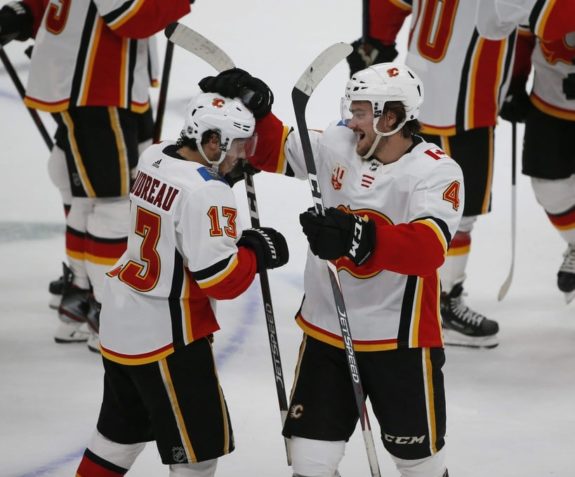 Part of the reason for Gaudreau's scoring success is that he's firing the puck at an unusually high shooting percentage, which stands at 29.4 percent. That pace seems unsustainable; however, has the 27-year-old Gaudreau doused the rumors of his being moved as part of a trade or actually flamed them with his hot start? Until Flames' fans find the answer to that question, they have to hope he's put his disappointing 2019-20 season behind him.
Item Two: Jacob Markstrom Posts Second Shutout
Jacob Markstrom stopped a season-high 37 shots during Saturday's 2-0 win over the Canadiens. It was Markstrom's second shutout of the season; and, obviously when the other team can't score they can't win. That loss represented the Canadiens first regulation loss in their first eight games.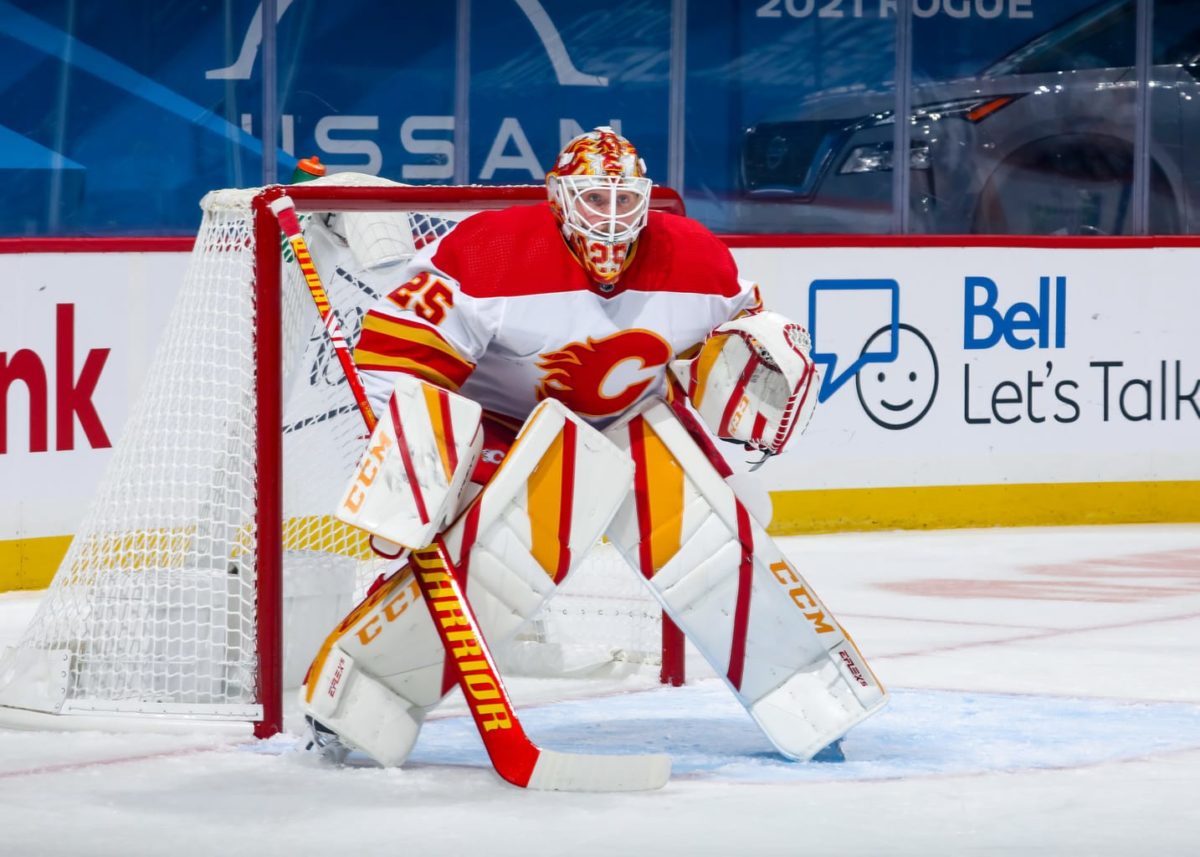 With the victory, Markstrom improved to 3-2-1 with a goals-against-average of 2.18 and save percentage of .929 in his first six starts with the Flames. Markstrom rebounded well from Tuesday's 4-3 loss to the Toronto Maple Leafs and did it against the highest-scoring team in the NHL in Montreal. Against the Maple Leafs the 30-year-old struggled, giving up four goals in only 21 shots.
 Item Three: Does Sam Bennett Want Out of Calgary?
According to Sportsnet's Elliotte Friedman, the Flames' Sam Bennett has asked to be traded out of Calgary. Bennett was the Flames' first-round draft choice (fourth overall) during the 2014 NHL Entry Draft. Although Bennett has had some solid seasons with the Flames and has become a postseason force, he's never shown enough offensive consistency to warrant the team moving him into a regular top-six forward position.
Related: The Best of 'Mr. Goalie' Glenn Hall
Instead, Bennett's made his reputation with the team as a physical bottom-six forward. Obviously, Bennett believes changing teams would help him get a new lease on his hockey life. Perhaps that's true, but the Flames probably won't rush to trade him.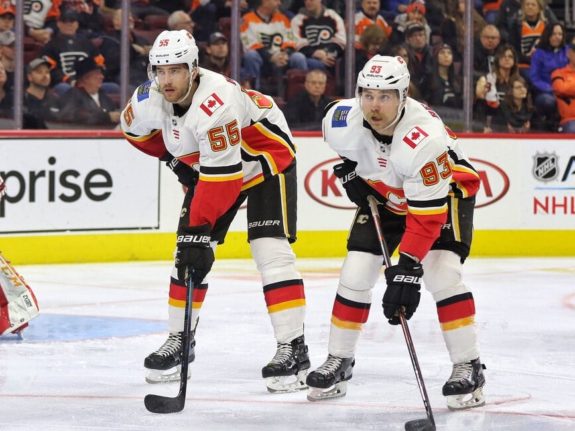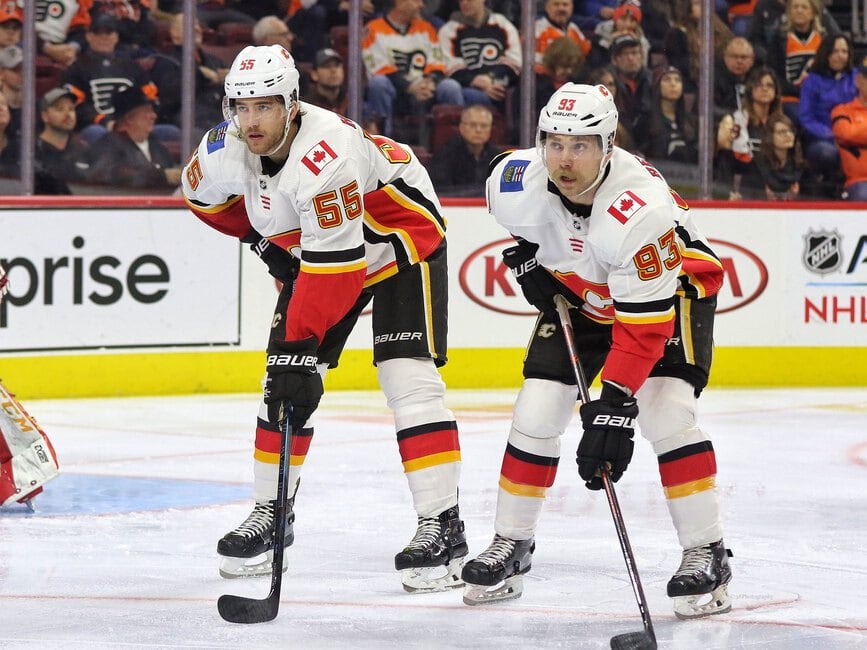 Bennett's only scored a single assist in seven games this season but, as I noted earlier, was a force in the 2020 postseason bubble when he scored five goals and three assists (for eight points) in the Flames' 10 games. Is it because the officiating is not as tight in the postseason? (from "Markstrom spectacular as Flames snap skid with win over Habs, Daniel Austin, Calgary Sun, 31/01/21).
What's Next for the Flames?
The Flames play back-to-back road games on Monday and Tuesday nights against the Winnipeg Jets. Look for Markstrom to get at least one of the starts. It's also likely that David Rittich will get another chance in the net during one of those games as well.
Related: Flames News & Rumors: Bennett, Kylington, Lindholm, Markstrom & Lucic
What an odd season: before COVID-19 teams seldom played back-to-back games and then not against the same team. However, the Flames will actually play four straight games against the Jets. After the Monday and Tuesday games, both teams play again on Thursday. Then the Flames have a few days off and play the Jets again at home on Tuesday, Feb. 9.
It's almost like the playoffs.
---
---
The Old Prof (Jim Parsons, Sr.) taught for more than 40 years in the Faculty of Education at the University of Alberta. He's a Canadian boy, who has two degrees from the University of Kentucky and a doctorate from the University of Texas. He is now retired on Vancouver Island, where he lives with his family. His hobbies include playing with his hockey cards and simply being a sports fan – hockey, the Toronto Raptors, and CFL football (thinks Ricky Ray personifies how a professional athlete should act).
If you wonder why he doesn't use his real name, it's because his son – who's also Jim Parsons – wrote for The Hockey Writers first and asked Jim Sr. to use another name so readers wouldn't confuse their work.
Because Jim Sr. had worked in China, he adopted the Mandarin word for teacher (老師). The first character lǎo (老) means "old," and the second character shī (師) means "teacher." The literal translation of lǎoshī is "old teacher." That became his pen name. Today, other than writing for The Hockey Writers, he teaches graduate students research design at several Canadian universities.
He looks forward to sharing his insights about the Toronto Maple Leafs and about how sports engages life more fully. His Twitter address is https://twitter.com/TheOldProf